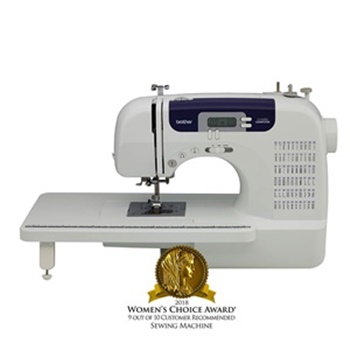 Having a solid sewing machine that can complete many different projects is the prerequisite for any tailor, whether professional or a hobbyist. It doesn't matter whether you want to design your own fashion, modify and spruce up clothes you own, create original home décor, or simply patch up a pillowcase. Whatever the reason, getting a reliable, multipurpose sewing machine can be a great investment in your quality of life.
However, choosing the right machine can be a daunting task. The sewing machine market is well-saturated, and the machines are quite affordable, so it's not surprising that there are so many options to choose from. Today, we're going to take a closer look at one of those options. Read our Brother CS6000i review to learn more about this model, its specifications, features, and warranty. Perhaps it's exactly what you were looking for! Let's dive right in.
Brother CS6000i Sewing Machine Specifications
This smooth-edged machine is impressive from the first time you set your eyes on it. It has a sleek and modern design, which goes hand-in-hand with its modernized performances.
This computerized sewing and quilting machine comes with many options, but it remains easy to use. In fact, we recommend it to beginners due to its clean and simple design. You can choose from 60 built-in stitch styles, allowing you to seam and hem, but also add buttons and accessories, and decorate your garments and cloths with simple embroidery stitching.
You can run this machine with a push-start button and slider speed control. You don't have to use a pedal at all, but if that's what you prefer, the included pedal is quite good as well. Setting up and threading this model is very easy. It comes with an automatic needle threader, which helps you get the thread through the needle eye easily. Simple, straightforward, step-by-step directions for threading are printed directly on the machine.
Additionally, the unit supports quick bobbin winding, and it has an easily accessible front drop-in bobbin system which reduces tangling and jamming. With three speed options, this machine can make a maximum of 850 stitches per minute, which is quicker than many other models from its category. To learn about these features in more detail, you can consult our beginner's sewing machine buyer's guide.
The unit has a free arm for tough and tight parts, like sleeves, cuffs and pant legs. It also has a wide extension table which makes it easier to handle large projects like quilts or bedding.
This unit comes with a plastic protective case for safe storage, and with an accessory bag with several sewing necessities and 8 extra presser feet, among which are the walking, spring action, overcasting, monogramming, zipper, blind stitch, buttonhole, and button sewing feet.
Customer Support and Warranty Policy
Being a well-known and reputable brand, Brother intends to earn and keep their customers' loyalty. To achieve that, this Japanese manufacturer made sure that its products are well-made and reliable, their warranties reasonable and their customer support top-quality.
This model is covered with 25 years of limited warranty. The chassis casting of the machine is covered the longest – 25 years since the purchase date of the machine, while the warranty on the electronic components lasts for 2 years.
You can access Brother's customer support service online or by phone. We also found that they have a well-organized knowledge base of user manuals, tutorials, and FAQ on their website.
What to Expect from Brother CS6000i Sewing Machine?
The manufacturer of this unit, Brother, is a company with a century-long experience in producing sewing equipment. They are known for high-quality, durable and precise machines, and this model is not an exception. You can expect this machine to serve you well for many years to come.
Pros
Supports both button and pedal speed control.
It offers a wide variety of stitches to choose from.
It comes with an extension table that makes working with large projects easier.
Cons
It can only handle light and medium weight fabric, it won't sew thick and heavyweight fabrics.
Some owners report issues with thread tension.
Wrap Up
Finding the perfect machine for yourself is not an easy task. We think that the best approach is assessing your own needs, and then choosing the machine accordingly. Sewing is a fun and useful pastime and a valuable profession, but it can be very frustrating when the sewing machine you use can't fulfill your needs. We recommend this model due to its high performances, good build, and material quality, and for the many options, you can pick from to express your creativity.
We hope that you found our Brother CS6000i review useful and that we covered everything you wanted to know about this model. If we left any of your questions unanswered, or you'd like to share your own experiences and thoughts about this particular unit, feel free to leave us a comment below, and we'll make sure to get back to you soon.