With the best sewing chair, you can prevent many back issues. Sewing is a fun and useful hobby, but as you sit for hours on end, it can be tough on your back. Your job doesn't have to revolve around a computer for you to be in danger of the "office syndrome" – the numerous health issues that can arise due to prolonged sitting in an uncomfortable chair. Chronic pain, intervertebral disc disease, and spine abnormalities are common issues that tailors suffer from all too often, because they sit, working on their machines for extended periods.
Keeping a good posture while you sew is the only way to help your back stay healthy and pain-free, even as you age. That's why we prepared our sewing chair reviews and buying guide where you can learn everything you need to know.
See The Quick Comparison Chart
Benefits of a Great Sewing Chair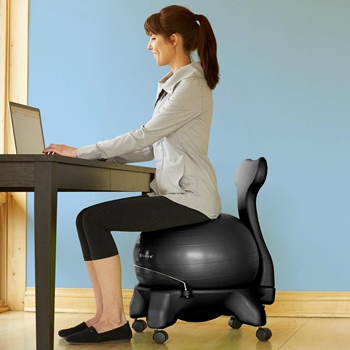 We've all heard that good posture is important, especially while sitting. But what are the benefits of having a good chair to do your sewing in? Lets' take a look.
1. Less Pain
Sitting for hours on end can be quite tough on your back. When focusing on your work, you will naturally slouch. The problem is made even worse because tailors need more precision for their work, so your posture will get even worse when you're dealing with small details like getting your thread through the needle eye, embroidering (which you can see from our embroidery sewing machine reviews), or sewing small pieces like pearls and other decoration in.
The back pain that appears due to slouching while sitting can be episodic or chronic. Sometimes, your back will simply start hurting when you sit for too long in an uncomfortable position. However, after a couple of years of episodic pain, you may end up with a bigger problem – chronic back pain that appears even when you're sitting straight, and even when you're standing and walking as well.
Sitting straight, with a good sewing chair to support your good habit, will prevent both episodic and chronic back pain.
2. Save Your Back
Apart from pain, bad posture while sitting, especially if you sit for prolonged periods, can also result in other health problems too. Some even go as far as to say that sitting is the new smoking. Hip joint issues, gluteal and leg muscle deterioration, varicose veins, and back issues like intervertebral disc disease, spine abnormalities, and so much more can all appear due to sitting for long periods.
A good chair you can use while sewing will help keep your body in a good posture, minimizing the issues that appear because of sitting too much. Combine that with sufficient activity and moving your body (even if you're elderly!) can do wonders for your health, energy levels, and overall wellbeing.
3. Improved Mobility While Sewing
Finally, a good chair choice can make a huge difference and make your sewing easier as well. A chair can dramatically improve your mobility, helping you reach everything you need easier. With a swivel chair that also has caster wheels, you don't have to lean and struggle to get your spare bobbins, thread spools, pins, scissors, and other accessories from their storage places. You can simply swivel or roll to get them!
Best Sewing Chairs Comparison Chart
PRODUCT
DETAILS

Arrow Height Adjustable Hydraulic Sewing Chair

Price:

$$$$

Customer Rating:

4.4

Weight Capacity:

250 pounds

Back Panel Adjustability:

No

Armrests:

No

Headrest:

No

View On Amazon

Reficcer Bonded Leather Chair

Price:

$$

Customer Rating:

4.5

Weight Capacity:

250 pounds

Back Panel Adjustability:

No

Armrests:

Yes

Headrest:

Yes

View On Amazon

Gaiam Classic Balance Ball Chair

Price:

$

Customer Rating:

3.8

Weight Capacity:

300

Back Panel Adjustability:

No

Armrests:

No

Headrest:

No

View On Amazon

Zenith Berlman Ergonomic High Back Mesh Chair

Price:

$$

Customer Rating:

3.8

Weight Capacity:

250 pounds

Back Panel Adjustability:

No

Armrests:

Yes

Headrest:

Yes

View On Amazon

SOFTaCARE Seat Cushion Coccyx Orthopedic Lumbar Support Pillow

Price:

$

Customer Rating:

4.3

Weight Capacity:

N/A

Back Panel Adjustability:

Yes

Armrests:

No

Headrest:

No

View On Amazon

Homall Gaming High Back PU Leather Chair

Price:

$$

Customer Rating:

3.9

Weight Capacity:

260 pounds

Back Panel Adjustability:

Yes

Armrests:

Yes

Headrest:

Yes

View On Amazon

AmazonBasics Low-Back Chair

Price:

$

Customer Rating:

4.4

Weight Capacity:

225 pounds

Back Panel Adjustability:

No

Armrests:

No

Headrest:

No

View On Amazon
Best Sewing Chair Reviews (Updated List)
1. Arrow Height Adjustable Hydraulic Sewing Chair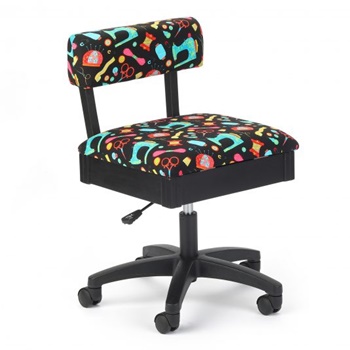 Arrow is one of the rare manufacturers that create chairs with the tailor in mind. This chair is ideal for many sewing professionals since it doesn't restrict your movement at all. However, if you're getting a chair that will help you reduce back pain, this chair is not an ideal choice, since it offers minimal back support. The low back panel does provide some lumbar support. The height of the seat is adjustable, and the chair comes on five caster wheels. The seat itself is very good, with rather firm yet soft padding. Under the seat, you can find a hidden compartment for all of your odds and ends that you might need for sewing. From scissors to yarn and thread, the compartment is an ideal solution if you have a limited workspace and don't have another storage unit for your sewing tools. Designed by Riley Blake, the fabric that the chair is covered in is a thick, heavy-duty material. The four available designs are all absolutely delightful in their own rights. If you're looking for a chair that gives you a lot of rooms to move your arms and maneuver large projects, this is a great solution.
2. Reficcer Bonded Leather Chair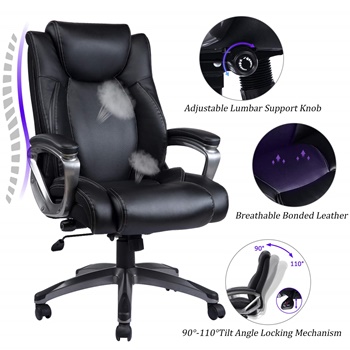 Our next pick is a large, comfortable chair made by Reficcer. The seat of this chair is padded with high-density memory foam, which is soft, but supportive. Some people like the fact that the seat cushions are divided so that particular pieces are supporting each part of your leg with rising sides to reduce sliding, while other people don't enjoy this feature. The chair is covered in black bonded leather, which is a common choice for furniture – it's breathable and comfortable, but starts peeling after a couple of years of use. When it comes to adjustability, you can set up the height and the tilt, but also the built-in lumbar support. The weight capacity of this chair is 250 pounds, and the overall build in sturdy. One known issue with this chair is that it can get quite squeaky and loud. This chair has armrests, which are also padded with a bit of foam and bonded leather. It also incorporates a headrest into its design, so you can lean back and relax. It's mounted on five fair-quality castor wheels.
3. Gaiam Classic Balance Ball Chair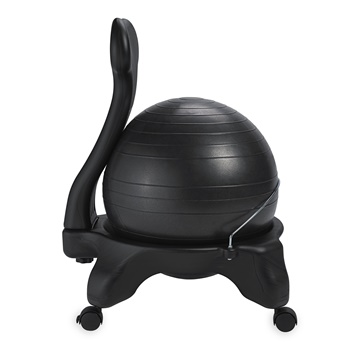 You have probably already heard about the benefits of replacing your desk chair with a Yoga stability ball. However, this is a rather uncomfortable thing for most of us, because the ball often just slides under you, and you end up on the floor. Gaiam's stability ball chair solves this problem, and lets you reap all the benefits of sitting on the ball, without the danger of falling off – because the ball is mounted on a handy, specially designed frame with four caster wheels. If you just can't fix bad posture while you sew, or you're suffering from back pain, this stability ball chair might be just the thing for you. It can handle up to 300 pounds of weight. The chair is designed for people between 5 feet and 5 feet 11 inches tall, but you can get leg extenders separately if you're taller. Initially, the ball might seem small, but you're supposed to inflate it, deflate it, and inflate it again to let the ball stretch to its full size. It's intentionally a bit smaller than your regular yoga ball, and the material is much thicker and sturdier. One known issue with this chair is that the metal piece which stabilizes the ball can break, but the company readily replaces the part. The best part is – you can take the ball out of its frame for a bit of exercise.
4. Zenith Berlman Ergonomic High Back Mesh Chair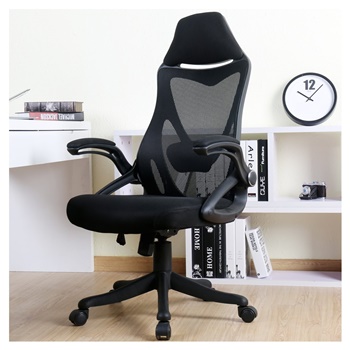 Next up, we have a big, comfy chair made by Berlman and sold by Zenith. If you're looking for a large chair that has the ability to support all of your body, this is a solid choice. The back panel is very tall, and it has an integrated headrest. The panel is made out of thick, sturdy plastic and mesh material, so it's very breathable and won't make your back sweaty in the summer. The back panel has an integrated, specially designed lumbar support section. Apart from adjusting the height, you can set it up to rock back and forth, or lock the chair into the most comfortable position. This chair has armrests, which have an adjustable height. This is a great feature because you can set it up so that you use them when you need them, and get them out of the way when you need more elbow space. However, due to the flimsy armrest mechanism, customers complained that the armrests are the first to go in this chair. The chair is positioned on five caster wheels, and it swirls 360 degrees. The maximum weight that the chair can handle is 250 pounds, and it's quite large, so even tall people will enjoy sitting in it.
5. SOFTaCARE Seat Cushion Coccyx Orthopedic Lumbar Support Pillow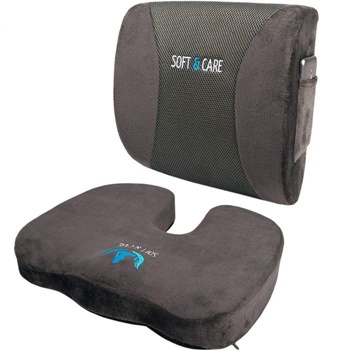 If you already own a chair, but it doesn't feel comfortable or offer sufficient support to your bottom and lumbar parts, we recommend getting a set of SOFTaCARE cushions. This product is easy to attach to any chair, and it can even fit your armchair or car seat. It comes in two pieces – a lumbar support back cushion, and a seat cushion with a coccyx (tailbone) cutout, which can really help people who have issues with pain in their tailbone. This product is made out of memory foam, so it will quickly adjust to your body shape, and it will feel more comfortable the more you use it. However, the bottom cushion can get a bit flat when you use it for extended periods. The lumbar support cushion is adjusted with two adjustable straps, and it's lined with a breathable mesh that prevents uncomfortable sweating. Both cushions are covered in velour, which is simply unzipped and taken off once you need to wash it – just like a pillowcase. The bottom side of the cushions is lined with bits of rubber, which helps the cushions stay in place and avoid slipping. The ergonomic design of these will help you if you're battling back pain, and make sewing much more comfortable.
6. Homall Gaming High Back PU Leather Chair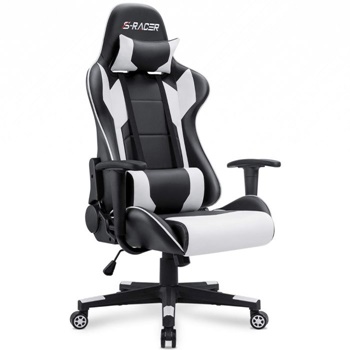 Homall brings you one of the most popular chairs on the market. The reason why this model is so widely used is that it's designed specifically for the group of people who tend to sit day and night – video game enthusiasts. While it has an aggressive, futuristic design, this chair is astonishingly comfortable. It's padded with dense foam, and it even has a steel frame for stability. The entire chair is covered in PU leather, which is breathable, but it can be quite cold when you first sit on it in the winter. It comes with adjustable armrests and a tall back panel with a headrest. Along with the headrest, you get two adjustable pillows, one to hold your head when you lean back, and another to serve as lumbar support. Both are completely removable and adjustable. The lumbar support pillow can really help people who experience back pain. You can tilt the back panel of the chair back until it's nearly in a horizontal position, so you can even nap in it. This can be a very comfortable feature if you get tired quickly.
7. AmazonBasics Low-Back Chair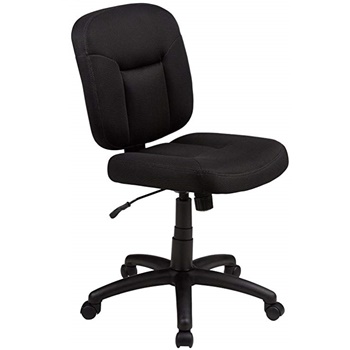 If you're in search of a super affordable model, AmazonBasics has got a basic chair for you. Available in 4 colors – black, blue, green, and red – this chair is a good choice for anybody who weighs under 225 pounds. Since it's quite small, with its seat measuring 16 x 16 inches, tall people might find it uncomfortable to sit in. It's a simple model without headrest or armrests. This is suitable for most tailors since it allows ample movement and mobility for your arms, which is very needed when you're working with large sewing projects such as quilts. In this chair, you can only adjust the height, thanks to its hydraulic base with five caster wheels. Your back will be well supported with a mesh-covered back panel. The seat itself isn't extremely comfortable, but it's good to sit on for a couple of hours every day. Most importantly, this chair is sturdy, and it won't break as soon as you sit on it. In fact, it's backed by a year-long limited warranty.
What Kind of Chair is Good for Sewing?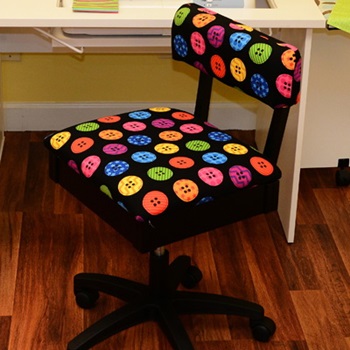 Everybody knows that you ought to sit straight. However, this can be extremely difficult, especially as the time you spend sitting goes on and on. You may even remind yourself to straighten up from time to time, only to find yourself slouching just minutes later. It happens to the best of us.
While your chair won't do your sitting for you, it can definitely help you keep your body in a healthy, comfortable position. To do that, it needs to give you proper support.
You've probably heard of the term "ergonomic". It's used to describe an engineering principle, which says that it's immensely important to make any product fit humans that use it. Ergonomic products are designed with the focus on the user – and the goal is to make the product comfortable, adjustable, and pleasant for the person using it, as much as possible. The principle of ergonomics combines two important factors – comfort and functionality.
What Should Your Posture Look Like?
Keeping this in mind, you can already guess that an ergonomic chair makes the best sewing companion. But the trouble is that we all differ from each other, and there's no one-size-fits-all when it comes to an ideal chair.
To know what an ideal chair is, you should be mindful of how your body should be positioned when you sit.
So, bear with us as we go through the basics. We recommend using this as a sort of checklist once you're trying out various chairs.
When you sit, you should sit like this:
Your feet should be resting on the floor comfortably, and you should be able to reach your sewing pedal with your heel resting on the floor. If you're shorter, this might be an issue.
Your spine should be balanced, straight up over your pelvis as you sit. Avoid curving, anterior or posterior.
Your hips should be even or a bit higher compared to your knees. This is a common issue for tall people.
Your forearms should be parallel to the table or slightly above.
Visit our homepage if you want to learn more about other sewing equipment.
Sewing Chair Buying Guide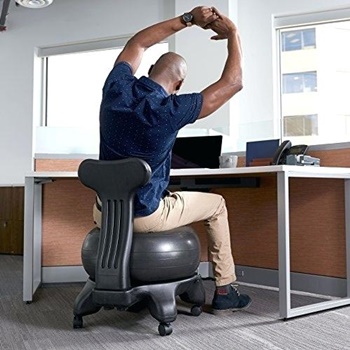 Even though it may seem simple when you first think of what you need form a chair, actually choosing and getting the right chair can seem like complex science once you put your mind to it. That's why we decided to compile a buying guide which will cover everything you need to know about choosing an ideal chair. Consider these factors when making your purchase, and you can't go wrong!
1. Adjustability
Finding a chair that fits your body perfectly the first time you try it is nearly impossible. Consider yourself extremely lucky if that did happen to you.
For those of us who are less fortunate, the most important factor which will separate amazing chairs from the mediocre ones is – Adjustability. How much you're able to fine-tune, modify, and adjust your chair and the individual parts on it will make a huge difference in how comfortable you are when you actually sit in it. Many of the factors we will discuss further down are adjustable in chairs, and you should know exactly what you can, and what you can't fine-tune.
However, you should know that highly adjustable chairs also cost a bit more – but they're well worth the price if they'll support your body perfectly while you spend hours upon hours sewing.
2. Seat Height
When you sit, your hips should be on the same level or a bit higher than your knees, when your feet are resting on the ground. Correct height is especially important for tailors since you also need to use your foot to press the pedal. When pressing the pedal, your heel should be resting on the floor comfortably, which will give you more control over the pressure you put.
Your own height and limb length play a big role in determining the correct height for your chair. Luckily, most chairs on the market today have an adjustable seat height. Pay special attention if you're getting a chair for your child who is learning to sew since kids require extra low seats.
3. Back Panel Type, Height, and Tilt
The back panel is responsible for supporting your back as you sit, whether you want to lean back to relax, or you're simply sitting up straight.
3.1. Lumbar support
Many high-quality chairs have either a slight bend, a bump, or an attached pillow where your lower back would be. This feature promotes good posture and provides support to the lumbar part of your back. If you're not sure if you'd enjoy a chair with lumbar support, test it out with your current chair by putting a small rolled towel between your back and the back panel somewhere around belt height. You can adjust the height to find the best position. Lumbar support is very helpful to people who suffer from lower back pain.
3.2. Back panel height
That being said, the models which have a fixed place lumbar support, like the chairs with a bend or a bump, should ideally have adjustable back panel height. If you're not able to adjust height here, you may be stuck with lumbar support which is too low or too high for your back.
3.3. Back panel tilt
When sitting leaning back in your chair, your shoulders should lean back slightly compared to your pelvis. In other words, the back panel of your chair should have a slightly reclined position. Many chairs allow you to control how much the back panel tilts when you lean back in your chair. You can usually control the ease with which the back panel leans back with your body, from very loose to completely locked in place.
4. Dynamic Back Movement
Dynamic back movement is a feature of the more high-end chairs. Essentially, the back panel is set in the way which follows your back as you move side to side. Dynamic back movement is not common in office or sewing chairs, but if you can afford it, you should get a chair with this feature because it gives you greater mobility and support, whatever you're doing in your product. You can move side to side, or lean a bit to the right or left, and the back panel of your chair will follow you, without putting pressure on your shoulders or back rotators.
5. Seat Pan Depth
The position of the seat pan of your chair is also important for your posture. First off, while you're sitting, you should have enough room for your bottom when you lean on the chair, creating a natural spine arch when sitting.
Furthermore, there should be about an inch or two between the edge of the seat and the back of your knees. If the seat pan is too deep and too far away from your knees, your legs don't get the support they need, and you may put too much pressure on your knees and ankles. On the other hand, if the seat pan is too shallow and leans to the back of your knees, you may cut off the blood circulation in your legs.
Because of this, a seat pan that slides in and out will help promote good posture and keep both your back and your legs healthy.
6. Caster Wheels
Most of the office, computer, and sewing chairs come with caster wheels. That's simply because the wheels are a very convenient feature that improves your mobility, and doesn't affect stability. You can find chairs with legs and wheels on the bottom, but these are not very popular because this style of a chair doesn't give you height control. On the other hand, the most popular type of wheeled chairs come on a star-shaped bottom with anywhere between 4 and 7 wheels.
Caster wheels give you a lot of mobility since they let you roll around the room instead of getting up each time you can't reach something from your seat. Additionally, most caster wheels can swivel 360 degrees, which helps you move in any direction. Make sure that the wheels are made out of good material since they can leave marks on a wooden floor if they're lined with cheap plastic or rubber.
7. Armrests and Headrest
Armrests and headrest are both optional, and many basic models don't have them. On the other hand, even if you opt for a more expensive chair with these features, you can choose to simply not install them in most cases. The exception is armrests which are an integral part of the chair construction, but that's not very common.
Armrests that go up and down are ideal since they allow you to adjust to your table and the position you're most comfortable in. They are invaluable when sewing due to quick arm and shoulder fatigue. However, they can be difficult, especially if you're working on large quilting projects.
A headrest is a common feature in computer chairs, but it can be quite useful for tailors as well. The headrest provides ample shoulder and neck support when you decide to take a breather and lean back in your chair.
8. Materials
8.1. Seat padding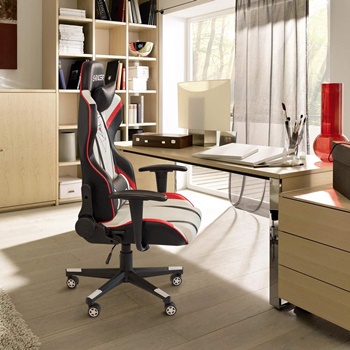 Your chair seat should be comfortable but firm. Soft padding is not a good thing even if it sounds heavenly at first since it needs to support most of your weight and help you keep your back straight. On the other hand, a seat that's too tough can quickly become painful, and even give you visible bruises. We recommend going with a high-density foam padding which is soft but remains quite firm when you press it.
8.2. Fabric
The fabric of the chair is very important, especially in the summer heat. The fabric should definitely allow your skin to breathe, minimizing sweating. You should also make sure that the fabric won't irritate your skin if you sit on it in short or thin clothes in the summer. Natural fabrics are the best choice. Fabrics such as chenille, tweed, canvas, but also vinyl are a rather good choice. Leathers and faux leathers can either be a good or a bad pick depending on your personal feeling – just remember that it can get quite cold in the winter, and a bit sticky in the summer.
9. Weight Capacity
Sometimes, the chairs can be too flimsy and break under too much weight. If you're heavier, you may want to make sure that the chair you picked is rated to handle your weight. In general, if you weigh up to 200 pounds, you have nothing to worry about. Most chairs are completely safe for people weighing at most 250 pounds. Heavier people should look for specially constructed, sturdier chairs with higher weight capacities.
FAQ About Sewing Chairs
1. Should my sewing chair have armrests or not?
Before you can decide whether you want armrests or not, you should consider your sewing habits and the rest of your sewing setup.
First off, you should know that even if you purchase a chair that comes with armrests, you don't necessarily have to install them. That also means that you can try out how your chair feels with armrests first, and opt-out if you decide they're not useful. However, it would definitely be a better choice to go with a chair which is designed for full stability without armrests, since they can play an important role in keeping the construction of the chair sturdy (though this is not very common).
The good thing about sewing with armrests is that they give you stability. This can be useful if you're struggling with making a straight seam, which is quite common for beginners in sewing(you can check our beginner sewing machine reviews). Furthermore, it's a good way to have a little break when your arms and shoulders get tired.
On the other hand, armrests may limit your mobility, especially when it comes to reaching things you may have on your sides, or if something falls on the floor. If you're used to picking up your scissors and other sewing tools from a table on either of your sides, it may be difficult to keep the practice with a chair which features armrests.
Consider your unique sewing habits and set-up, and see whether or not you'd prefer to have armrests or not.
2. How can I help save my back after a long time sitting in a sewing chair?
Building healthy habits is just as important as sitting in a good chair.
One of the most important pieces of advice is to get up and stretch every 30-60 minutes. Luckily, as you sew, you will likely need to get up to make adjustments and go to the other parts of your workstation. You should take these opportunities to stretch your back, shoulders, and legs.
Regular exercise will help keep your back strong and healthy. In many cases, it will alleviate the bad effects of sitting too much. If you have the time to go to the gym, try incorporating exercises that focus the strength in your lower back. You can try deadlifts, planking, and locust pose. If you're not a gym regular, taking brisk walks and doing daily home chores can be sufficient. Do that along with regular stretches and making sure you sit, sleep, and stand in healthy, balanced positions.
3. Can I assemble my new sewing chair by myself?
Yes, chair assembly is generally very simple, and you likely won't need any help. In the box, along with all of the parts and tools, you will also get instructions for assembling the chair. If you need more help, you can search for assembly instructions for your chair model on video services like YouTube. You will likely get a box with all of the screws and screwdrivers or wrenches you need for the job. However, these will likely be low quality. Because of that, it's a good idea to have your own screwdriver or a set of hex keys lying around.
Wrap Up
Sewing can be much more enjoyable when you feel comfortable and snug. A good chair will give you the proper support, and help keep your body in a natural and pleasant position. In the long run, the best sewing chair will help keep you feeling healthy and vigorous. Most importantly, you can prevent (or relieve) back pain and fatigue by sitting straight, and being comfortable while you work.
We hope our sewing chair reviews and buying guide helped you find that perfect model. A chair should help you feel good while sewing, for years to come. We gave our best to bring you the most accurate information and the most honest reviews. We did that because the way you sit, and what chair you sit in truly matters! If you have any questions left, don't hesitate to send us a message or leave a comment down below!