Wondering what the benefits of getting the best embroidery sewing machine are? Embroidering is an elegant way to make any piece of fabric more beautiful and personalized. It's perfect for labeling garments, making them recognizable and unique. However, embroidering by hand is a tedious and time-consuming task. Luckily, in this day and age, we can use technology to make one-of-a-kind embroidery quickly and effortlessly.
The market is vast, and there are a lot of choices you will need to make in order to get your money's worth. Read our embroidery sewing machine reviews and buying guide to make the best decision!
See The Quick Comparison Chart
What is an Embroidery Machine and Who Needs It?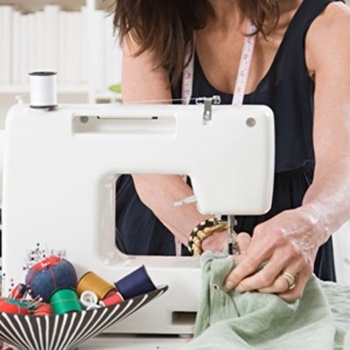 So, what even is an embroidery machine? As the name suggests, it's a machine that can be used to embroider fabric. When it comes to home-use models, embroidery machines look very similar to the standard sewing machines. However, in contrast to classic sewing machines, the models made for embroidery have an extended table with a system for a mountable hoop. That hoop holds the fabric while the needle above it does the stitching, and the extended table system moves the hoop in directions that the design dictates.
Most embroidery machines are automated to a large extent, unlike standard sewing machines. While there are still some tasks that require a craftsperson's attendance, stitching is completely automatic and very fast. The artisan's tasks include preparation for stitching, controlling the thread color and refinement after stitching is done. Of course, the amount of work depends on the machine itself. For example, when the design requires the machine to skip from one spot to another, there is some thread between the spots that need to be removed later.
Who Should Get an Embroidery Sewing Machine?
Considering the fact that home-use models start at only a couple hundred dollars, anyone who wants to decorate their clothing and home-use cloths with a unique design should think about investing in an embroidery machine.
1. Complete beginners
The best thing about embroidery machines is that knowing how to sew is not a requirement at all. The machine embroidering is automatized to a large extent, so skills like straight stitching and fabric control don't play a vital role. In fact, we think that learning how to use an embroidery machine is even easier than learning how to sew, so even complete beginners can benefit from getting an embroidery machine.
2. Skilled dressmakers
Advanced tailors can gain great advantages from getting an embroidery machine as well. Embroidering and monogramming is an incredibly intricate, yet elegant and beautiful addition to any garment, towel or tablecloth. Adding a small embroidered detail from any style can make a garment much more unique and valuable.
Embroidery machines let tailors craft highly-personalized items.
3. Professional tailors
If you're a professional and you sell your creations, using embroidery can greatly help you in establishing your brand and personal voice. Adding special designs and patterns is not the only way it can help you. Embroidered labels and logos are much more stylish than the ones printed on paper or textiles. Not to mention that personalized items with your logo or customer's monogrammed name on it can help you sell more and sell at a higher price, from the start.
In summary, embroidery machines are very popular because they're remarkably easy to use and they can help you create something completely unique and beautiful. Furthermore, they're in many cases quite inexpensive, which makes them great for people who just want to try out a new hobby. But they can also provide great value to advanced seamstresses by adding that little bit of pizzazz that can make any project special.
Best Embroidery Sewing Machines Comparison Chart
PRODUCT
DETAILS

Brother PE770 Embroidery Machine

Price:

$$

Customer Rating:

4.0

Weight:

27.1 pounds

Size:

21.2 x 16.9 x 17.3 inches

Largest Hoop: 5

x 7 inches

Warranty:

2 years

View On Amazon

Brother SE600 Embroidery Sewing Machine

Price:

$

Customer Rating:

4.4

Weight:

26 pounds

Size:

21.2 x 15.5 x 16.5 inches

Largest Hoop:

4 x 4 inches

Warranty:

25 years

View On Amazon

Brother PE535 Embroidery Machine

Price:

$

Customer Rating:

4.5

Weight:

11 pounds

Size:

16.5 x 7.8 x 12 inches

Largest Hoop:

4 x 4 inches

Warranty:

25 years

View On Amazon

Janome Memory Craft 400E

Price:

$$$

Customer Rating:

3.0

Weight:

34 pounds

Size:

126.1 x 21.2 x 22 inches

Largest Hoop:

7.9 x 7.9 inches

Warranty:

25 years

View On Amazon

Singer Futura XL-580 Embroidery Sewing Machine

Price:

$$$

Customer Rating:

3.5

Weight:

24.5 pounds

Size:

21.5 x 9.5 x 13 inches

Largest Hoop:

10 x 6 inches

Warranty:

25 years

View On Amazon

Brother SE400 Embroidery Sewing Machine

Price:

$

Customer Rating:

4.4

Weight:

24.1 pounds

Size:

20.3 x 15 x 15.2 inches

Largest Hoop: 4

x 4 inches

Warranty:

25 years

View On Amazon
Best Embroidery Machine Reviews
1. Brother PE770 Embroidery Machine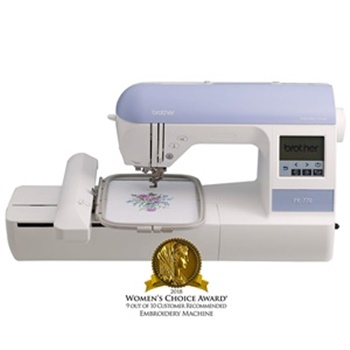 Embroidery designs look amazing on any fabric, and with Brother PE770. You can make your own embroidery designs! One of the reasons why this unit will be great for your embroidery projects is its expansive field. This sewing machine comes with a 5×7-inch expansive field, which means you can take on larger projects with ease.
You can simply choose one of the 136 built-in embroidery designs that come with the unit, or you can import others via USB memory stick. Another great ability that this embroidery sewing machine has shines through when you want to edit the designs. You can rotate, resize, use the mirror-image effect, and more.
Read More: Brother PE770
2. Brother SE600 Embroidery Sewing Machine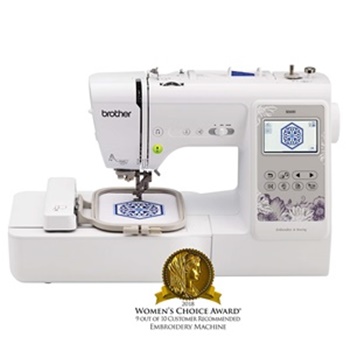 Here we have another solid sewing and embroidery combo model by Brother. With 80 embroidery designs, 6 lettering fonts, and 103 sewing stitches, this unit is a good choice if you're looking for a reliable machine to both embroider and sew on. The maximum dimensions of the embroidery hoop this unit can work on are 4 x 4 inches, and the model comes with an embroidery arm and foot. The touchscreen display is a 3.2-inch color LCD, which comes with various on-screen editing capabilities, including changing the thread color and monogramming letter manipulation. The work area is well-lit with a bright LED light, which helps you sew and embroider with precision. You can transfer any custom pattern you want to use via a USB port, which is very easy to use.
As with other home-use models by Brother, this digital sewing machine is covered with 25 years of limited warranty.
3. Brother PE535 Embroidery Machine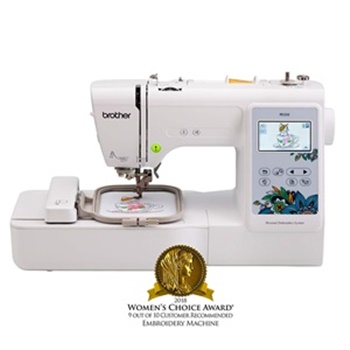 This model that comes from Brother is a dedicated embroidery machine with overall pretty good capabilities. It comes with 80 built-in designs, along with an additional 9 fonts for lettering and border patterns. With a USB stick, you can transfer and use new patterns. You can also save them to the machine's own internal memory and use them later, without looking for your USB drive again.
This model has a 3.2-inch LCD touch screen which displays color, making embroidering complex images much easier. This unit also supports various on-screen design editing options, which are especially good for lettering. However, it only supports a 4 x 4-inch big hoop, which is the smallest hoop in the industry standard. However, if you don't plan on decorating large surfaces, this solid model can be a great choice for you.
This unit is covered with 25 years of limited warranty issued by the renowned Brother.
4. Janome Memory Craft 400E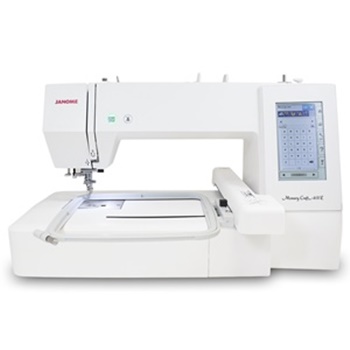 Janome found their place on our list with their semi-professional and powerful embroidery-only machine. This model offers large embroidering space for ambitious projects, with a nearly 8 x 8-inch large hoop as the largest one.
There are also three other hoops that come with the machine: a 5.5 x 7.9, a 5.5 x 5.5, and a 4.3 x 5-inch large hoops. The hoop holder has an interesting design, as it's placed in the opposite direction to the traditional embroidery machines. This unit comes with 160 built-in embroidery designs and 6 fonts for lettering and monogramming.
It supports a USB drive for updates and pattern transfer. Also, it has a full-color LCD touch screen to display and manipulate the patterns on-screen. This machine can run up to 860 stitches per minute, making it much faster than many others on the market. Along with being extra fast, it can slash the time that you will often waste on refinement since it has a programmable jump thread trimming option.
This solid embroidery-only model is covered with 25 years of warranty by Janome.
5. Singer Futura XL-580 Embroidery Sewing Machine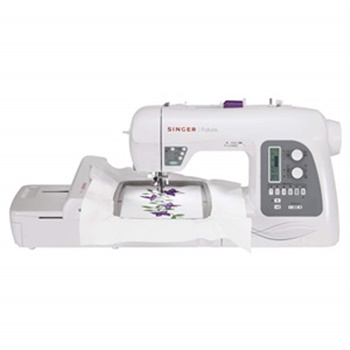 This solid model by the world renown manufacturer Singer comes with both embroidery and sewing options. It includes 250 embroidery designs, 5 lettering fonts, and 215 sewing stitches. The unique features of this model are its knee lifter and endless hoop.
The knee lifter is a system that lets you lift the presser foot without using your hands, which is useful for quilting and sewing. The feature that embroiderers will enjoy the most is the 6.75 x 4 inches big endless hoop, which lets you move the fabric within it. As a result, you can embroider long strings of a repeating design, which is an amazing decorative element on almost any type of cloth. The largest embroidery hoop that this model supports is a 10 x 6-inch hoop. However, this unit also has a multi-hooping capability with the end result reaching up to 20 x 12 inches.
The machine can receive files through a USB port, and it comes with a dedicated Singer software for manipulating and editing patterns. It even has the capability to convert images and fonts from your computer into designs. This model doesn't utilize a screen like the other models on our list, but it does have a small, informative display.
This model is covered with 25 years of limited warranty, issued by the legendary Singer.
6. Brother SE400 Embroidery Sewing Machine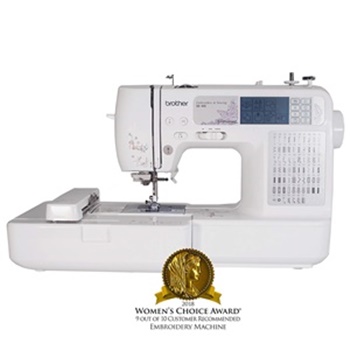 Even though Brother SE400 combines computerized sewing and 4×4 inch embroidery, it's not that hard to use. You can easily quilt, embroider and sew whatever comes across your mind. There are 67 uniquely-designed sewing stitches and 70 embroidery designs already built-in. If that isn't enough, you can always connect it to your computer and download new designs.
Cable connection also lets you update your machine in the future. Don't worry about the memory, this unit can store thousands of designs. The whole menu is shown on a touch-screen backlit LCD screen. This sewing machine comes with a 25-year limited warranty and free phone support during the life of the unit.
Read More: Brother SE400
What Are the Types of Embroidery Machines?
All embroidery machines are designed to do the same thing – follow a pattern to stitch out a shape on the fabric. However, there are different categories of embroidery machines you have to take into consideration. Note that in this article we only discuss home-use embroidery machines and not the industrial sewing machines.
The two most important things to consider before deciding on the model you want are whether you should get an:
Embroidery-only machine
Embroidery and sewing combo machine
1. Standalone, Embroidery-only Machine
Standalone embroidery machines are a great choice if you know in advance that you will need a separate unit just for embroidering or monogramming. Luckily for you, standalone embroidery machines aren't as expensive as they once were, so you can easily select the one that will fit your needs perfectly. Of course, if you don't plan on sewing and you just want to personalize items, it's better to get the standalone embroidery machine.
There are plenty of models on the market, so it won't be hard to choose – just make sure to consult our buying guide so that you will know what features to look for.
2. Sewing and Embroidery Combo Machine
If you know that you need both machines, you can easily just get the combo version and be done with it. This will also help you save space on your work desk, and you won't have to purchase separate, standalone machines for embroidery and sewing. In that case, a combo machine might even save you some money. Keep in mind that combo machines are not necessarily more expensive than the standalone ones.
Embroidery-Only vs. Combined Sewing and Embroidery Machine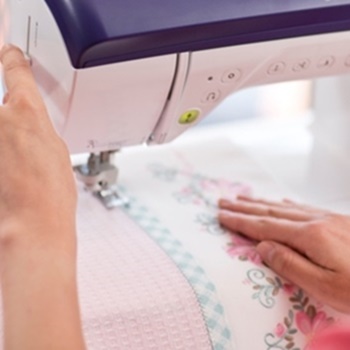 The very first thing you need to decide is whether you'd prefer to get a standalone embroidery machine or one that combines embroidery and sewing. There are a couple of factors that you should weigh in.
First, if you don't have a machine at all, we highly recommend that you invest in a combo sewing and embroidery unit. While combo machines usually aren't overflowing with options for either sewing or embroidering, they usually have sufficient options for any basic operation. If you are a beginner in both sewing and embroidering, a combo machine will easily satisfy all your needs.
However, if you expect to sew a lot, it might be more efficient to have both standalone machines, because you can't use your sewing options while the machine is embroidering, and vice versa. Working with two machines is more efficient, but it's also more expensive. Of course, you can't use a machine for sewing or embroidering when your combo unit is being serviced, naturally.
Think about whether you need to have a backup machine or not. If you are a professional, and you are often working, having a machine serviced can take anywhere from days to weeks. If you can't part that long from your machine, it's good to have any sort of backup at hand.
Also, consider whether the two standalone machines can fit onto your workspace. If you don't have a spacious work area, combo unit will fit better.
Make sure to consider these factors and then first decide whether a standalone or a combo machine is the right choice for you. Only then you can delve deeper into the more intricate details about embroidery functions and features below.
Embroidery Sewing Machine Buying Guide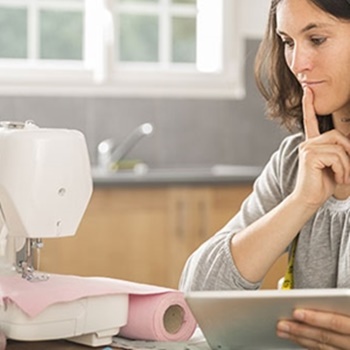 Embroidering is a wonderful way to enrich your clothes, towels, bedcovers, tablecloths, curtains, and quilts. This elegant art does not have to be hard to make, because today we have many virtually automatic embroidery machine models at our disposal.
Once you decide whether you'd prefer a standalone or a combo machine, you can look at the available selection of machines into greater detail. Here, we'll discuss some of the most important things you need to know before deciding on the perfect embroidery machine for yourself. Let's dive into the things you should consider before you choose!
1. Hoop Size
The most important thing to consider is the size of the embroidery you want to make. With home machines, this is determined by the size of the hoop. Embroidery hoops are rectangular, plastic frames that hold and move your fabric while the needle stitches your design. The hoop size limits the dimensions of the designs you can embroider, so make sure to assess your wishes and needs. The most common hoop sizes are 4 x 4, 5 x 7 and 6 x 10 inches. Naturally, you can embroider a smaller design on a large hoop, but not the other way around. However, while it seems like a large hoop is the best possible option, consider that these can't hold smaller pieces of fabric like small handkerchiefs or sleeves.
2. Additional Hoops
Embroidery machines always come with at least one rectangular hoop, and the hoop dimensions that almost every manufacturer includes is 4 x 4 inches. If the machine has the capability to handle larger dimensions, it'd be the best if it comes with a couple of different hoop sizes as well.
However, there are some specialty hoops that are a great addition to your craft that may come with your machine. The most interesting of these are the round and endless hoop.
The round hoop, like traditional hand-made embroidery hoops, is in the shape of a circle. The advantage of this shape is that it ensures even fabric tension on all sides. On the other hand, normal rectangular hoops can have a weaker grip on the fabric along the long sides, causing some puckering.
The endless hoop has a system for easy fabric adjusting. Essentially, it allows you to move the fabric once a pattern is done stitching, and align it to stitch the same pattern again. You can repeat the same pattern as many times as you want, making the endless hoop a great tool for making long strips of an embroidered pattern. This is great for decorating clothes and long tablecloths, curtains and so on.
3. USB Port
A USB port is the most practical way of transferring your embroidery patterns. As thumb drive requires very little space, and they're reliable and easy to use. You can download patterns from your manufacturer's website or from other embroidery pattern databases online, or alternatively, you can make some of your own. With USB transfer, using downloaded patterns is easy.
An alternative pattern transfer option is a direct connection to your computer, which is inefficient for people with smaller workspaces.
4. Jump Stitch Trimming
In embroidery, a jump stitch is made when the needle jumps from one spot to another, leaving a line of thread in between, connecting the two sport. Some machines have an automatized system for cutting these, without you having to intervene or trim and rid your embroidery of jump stitches later. If the model you get doesn't have it, you might have to stop your machine every once in a while or waste time after embroidering to cut jump stitches manually.
5. Size and Quality of the Screen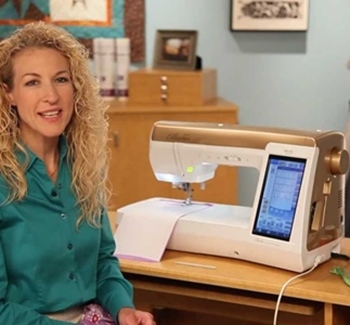 Embroidery machines have a screen that lets you control and manipulate your design. Naturally, you want the quality of the screen to be as high as possible. Here are some elements to take into account.
Some models come with buttons, and some are controlled via a touch screen. While this doesn't make too much of a difference, sometimes it's easier to control positioning on a touch screen. Additionally, touch screens are almost always of a higher quality than button operated screens.
You should also try to get a screen of a larger size. This is not only important for easy readability, but also because of the amount of detail your screen can show.
The costliest, yet the most helpful feature is a screen in color. In home use embroidery machines, a person needs to change the thread manually in accordance with the pattern color. Having a screen that can represent the current and upcoming thread colors can be a lifesaver.
6. On-Screen Design Editing
Finally, embroidery machine screens often have some options for on-screen editing of the pattern. These can be quite useful, as it's nearly impossible to control all of the little details on your computer. The most common on-screen editing functions include pattern size enlargement and reducing, rotation, flipping, drag and drop, pattern element combining, copy and paste and grouping.
7. Pattern Transfer System
The patterns you can use in your projects are mostly determined by the type of the pattern transfer system your machine utilizes. In general, home-use embroidery machines can either:
Only use the built-in patterns
Connect to your computer to download patterns from the internet, or
Have a USB port for pattern transfer
Of course, the machines that only come with built-in patterns do not offer a lot of leeway for playing with design, but they're very affordable and quite sufficient for those who'd prefer to embroider monograms and simple patterns onto their clothes and home décor.
Many embroidery machines can only connect to the computer directly to receive the pattern files. This is a good option that lets you create or download any pattern you like from the internet. However, make sure that your computer desk can fit a large machine such as these along with your computer.
Finally, machines with a USB port are the most popular as this option is very convenient. It's as simple as downloading the pattern you like, transferring it onto a thumb drive, plugging it into the machine port, and starting to stitch.
Additionally, some manufacturers sell or gift additional pattern packs. These can come in a digital format, or on a special disc or memory drive that fits into your machine easily.
FAQ About Embroidery Sewing Machines
We have prepared a list of the most common questions and answers. Those are some common things you should know, even before you choose which embroidery machine to buy.
1. How often should I clean, oil and service my embroidery machine?
Embroidery machines make a large number of stitches for every project. That means that there's quite a lint build-up after each use.
Turn off and unplug the machine, and let it cool down before every cleaning and oiling session. Make sure to brush off lint, and pluck with tweezers any stray pieces of thread from under the needle plate, as well as around the work area after every use.
If you use your machine every day, you should oil it up at least once a month. Only two or three drops of good sewing machine oil should be enough. The most important points to oil up are the needle bar, the presser bar, and the thread take-up lever. Consult your machine's user manual to see where these are located in your particular model, and make sure there aren't any additional parts that should be oiled regularly.
You should take your machine to a certified service shop once a year, or at least every two years. Doing this will ensure your machine serves you well for a long time.
2. How do I update the firmware on my embroidery machine?
This mostly depends on the type of file transfer you can do with your sewing machine. Firmware update differs among manufacturers and different models. However, in general, you need to take the same steps every time.
The updating process is fairly similar for the machines that receive files via a USB drive, and the ones that connect directly to your computer. You should download the update files from the manufacturer's website. Make sure to select the correct machine model!
If your machine receives files through a thumb drive, transfer the update on an empty drive, then plug it into the machine. Otherwise, connect your machine to your computer and select the update files. You should be able to find the update button quite easily in your machine's settings or connection menus.
3. What file format do embroidery machines use for patterns?
Generally, every manufacturer makes their own software and file formats for embroidery patterns. The safest way to make sure you have the correct file formats is to download the patterns from the website of your machine's manufacturer. If you're using other database websites, make sure you download the correct file format for your machine, or it won't recognize your pattern. Here are the most common manufacturers and the handles of the file formats their patterns use:
ART – Bernina
CSD – Poem, Huskygram, Singer
EXP – Melco, Bernina
JEF – Janome
PEC – Baby Lock, Brother, Deco
PES – Baby Lock, Brother, Deco
SEW – Janome, Elna, Kenmore
XXX – Singer
Wrap up
Getting an embroidery machine is a big step-up for your craft. It will let you play with designs and intricate patterns on your clothes, towels, and tablecloths. Even more importantly, it's a great tool for adding identity and uniqueness to what you wear and use in your home. There's no better gift than a personalized item!
Hopefully, you are ready to make the final purchase decision after reading our embroidery sewing machine reviews and buying guide. We went through many of the best embroidery sewing machine models on the market and picked our favorites. If you have any questions, or you'd like to share your own experience with embroidering machines, feel free to leave a comment below, and we'll try to get back to you as soon as possible.
Embroidering is a cherry on top to any sewing project, and we're sure you'll enjoy every second of it!