Whether you want to learn how to sew on a best computerized sewing machine, or you just want an upgrade to your old mechanical one, it's tricky to select the best one for your needs. If you go to the store, clerks will offer you what they have on stock, and tell you what they know about those machines, which may not be much.
Luckily, we have tested a serious number of the digital sewing machines and chose the ones that have a great quality to cost ratio. Keep reading this detailed buying guide if you want to find out more about features, maintenance, and how to select the right product for your needs.
See The Quick Comparison Chart
Should You Choose Computerized Sewing Machines?
Computerized sewing machines come with some benefits that manual machines lack, but that doesn't mean that a computerized sewing machine is better. The main question is – which one is better for you? Let's look at some objective pros and cons.
1. Manual Sewing Machine Pros
Manual sewing machines are great for beginners. When you have hundreds of stitches to choose from in the very beginning when you are just taking up sewing, you might be overwhelmed. Sometimes people don't even explore this hobby because it seems too hard to master. Many manual sewing machines come with a few basic stitches that are selected by a simple knob dial, so the main feature of a manual machine is that it's simple to use.
Manual machines rarely break down. Some units have a 25-year guarantee, and that is not by accident. If something does break, you can easily get it repaired by changing just the faulty part. Mechanical machines
2. Computerized Sewing Machine Pros
Computerized sewing machines give you the power of choice, and you can achieve a lot of creative work with these options. If you want to bring unique projects to life, then you will love the features that these machines provide. Especially when you have time-consuming tasks at hand like making buttonholes. Doing it with a manual machine could easily take hours, whereas a computerized one does everything on its own with one push of a button.
Sewing a buttonhole can take up a lot of time and nerves, and a computerized machine can do it in a heartbeat, adjusting it to the exact size of the button. The price is also a differentiator. Computerized machines with more options are often much more expensive than mechanical ones. But entry-level computerized machines cost as much as a manual sewing machine, so you can choose either one.
Probably one of the best pros of computerized sewing machines is the fact that you can update its software, which means that you can have a modern machine as long as the manufacturer releases updates. Also, you can download new stitches and patterns, so owning one sewing machine doesn't have to limit your creativity.
Some manufacturers also provide software where you can edit, customize and create new patterns, and then download them to your machine.
3. Manual Sewing Machine Cons
Manual machines are limited, and if you learn the skill quickly and want to grow, you will wish you have bought the computerized one. They cannot be upgraded except if you buy a new one. There are common mistakes that can be seen in the final design, that mostly depends on the person who's sewing – thread tension can vary, stitches too, and buttonhole can be wrongly sized and positioned.
4. Computerized Sewing Machine Cons
A computerized sewing machine might be too complicated to absolute beginners, so the biggest con is selecting the wrong machine. One large con is that computerized machines are susceptible to software issues. Luckily, those are easily fixed with an update.
Best Computerized Sewing Machines Comparison Chart
PRODUCT
DETAILS

Brother HC1850 Computerized Sewing Machine

Price:

$$

Customer Rating:

4.4

Weight:

17.5 pounds

Size:

16.3 x 7 x 12.5 inches

Stitches:

130

Warranty:

25 years

View On Amazon

Singer Quantum Stylist 9960

Price:

$$$

Customer Rating:

4.2

Weight:

13 pounds

Size:

17.2 x 8.2 x 12 inches

Stitches:

600

Warranty:

5 years

View On Amazon

Brother XR9550PRW

Price:

$

Customer Rating:

4.5

Weight:

13 pounds

Size:

7 x 16.3 x 12.5 inches

Stitches:

110

Warranty:

2 years

View On Amazon

Singer 7258 Computerized Sewing Machine

Price:

$

Customer Rating:

4.3

Weight:

13 pounds

Size:

14.5 x 7.5 x 12 inches

Stitches:

100

Warranty:

5 years

View On Amazon

Janome JW8100 Fully-Featured

Price:

$$

Customer Rating:

4.4

Weight:

12.6 pounds

Size:

16 x 7 x 12 inches

Stitches:

100

Warranty:

1 year

View On Amazon

Brother CE7070PRW

Price:

$$

Customer Rating:

4.3

Weight:

11.7 pounds

Size:

19.5 x 12.7 x 15.9 inches

Stitches:

70

Warranty:

1 year

View On Amazon

Singer One Vintage

Price:

$$

Customer Rating:

4.2

Weight:

11.7 pounds

Size:

23 x 10 x 13 inches

Stitches:

24

Warranty:

1 year

View On Amazon
Best Computerized Sewing Machine Reviews (Updated List)
1. Brother HC1850 Computerized Sewing Machine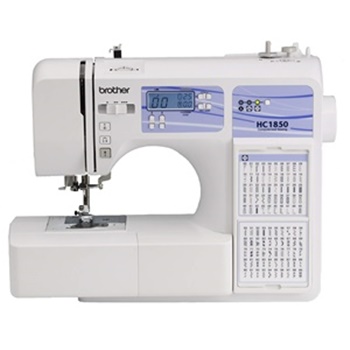 Computerized sewing machines are great for more advanced projects, but are still easy to use so that you can just do basic sewing with ease. This Brother HC1850 sewing machine has more than 130 unique stitches you can choose from, but what makes it so special is its monogramming ability. You can select 55 alphanumeric sewing stitches that are great for basic monogramming.
Sewing is easy with additional accessories like 8 specialty feet, detachable wide table, and free-motion quilting ability. Rest assured that the manufacturer has your back because this sewing machine has a 25-year limited warranty, including the phone and online customer support during the life of the product.
Read More: Brother HC1850
2. Singer Quantum Stylist 9960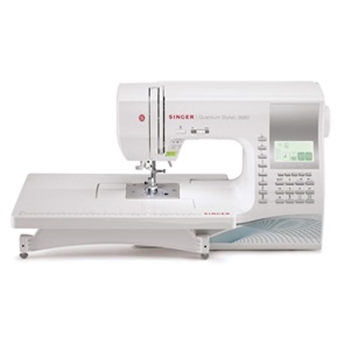 We will not say that this machine has it all, but it is certainly close. With smart computerization, all dreary mechanical actions are mostly automated, so you can save a lot of time. This model comes with no less than 600 built-in stitches and 5 different fonts, so you can mix and match, creating your own unique patterns. If that's not enough, you can also modify some stitches, elongate them and use mirror image style.
This computerized sewing machine lets you determine the speed with its Speed Control feature. Basically, it means that you can slow down the pace if you are doing some intricate work, or speed it up if you are doing long, straights seams. You will get 18 presser feet with this computerized sewing machine, including the buttonhole and button sewing presser feet.
Even though it comes with so many features, this machine is still portable enough, weighing 20 pounds. Warranty is mixed for various parts of the machine, from 25 years for the case to 5 years for the motor and electronic components, but you also get 1 year for all defects and general warranty.
3. Brother XR9550PRW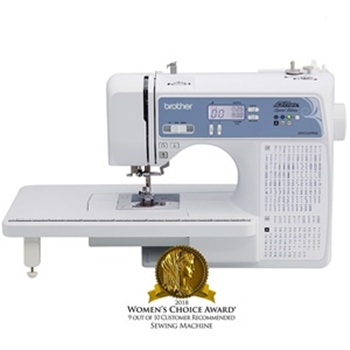 If you need a highly versatile computerized sewing machine, then this limited edition Project Runway is a great choice. It comes with 110 built-in stitches, including decorative and heirloom ones. If you are tired of squinting, rest your eyes with an automatic needle threader. Now all you need to do is use the lever, and the thread will pass through the needle eye.
Making buttonholes is very easy with this sewing machine, thanks to the automatic one-step auto-size buttonhole maker that has 8 styles. Apart from the budget-friendly price, this model has great ergonomics, and sewing is easy on a wide work area. When it comes to user experience, you will be pleased to know that the interface is very user-friendly, especially with the large LCD screen on the front.
You can easily move the unit around because it weighs 19.8 pounds, and even store it away because it comes with a hard case. Free technical phone support is available for this machine during the life of the product.
4. Singer 7258 Computerized Sewing Machine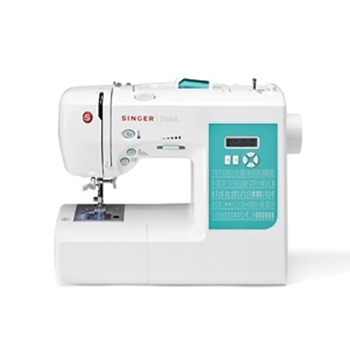 The more options a computerized sewing machine has, the more important is its ease of use. Luckily, you won't have problems learning to use this model. This Singer comes with 100 stitches (76 decorative ones), programmable needle and an automatic needle threader, among other features.
The large LCD screen lets you select the desired stitch, and then you can either use automatic settings for stitch length and width or customize it yourself. If you work in a low-light environment, you will be pleased to know that this sewing machine also comes with 2 StayBright lights that will shed light on your workspace. More features include jam-proof top loading bobbin with a clear cover, 7 built-in one-step buttonholes, and an automatic stop of a bobbin winder.
When it comes to warranty, there is a standard 25-year warranty for the casing, and the year overall guarantee. This computerized sewing machine weighs 14.6 pounds and comes with a hardcover, so it's easy to store it away. You will get 10 presser feet, a pack of needles, and bobbins together with the machine.
5. Janome JW8100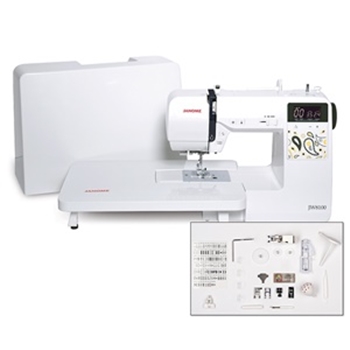 People who are knowledgeable about sewing and need a versatile unit usually buy computerized sewing machines because they have a lot of creative options. But this Janome is so easy to use that even beginners can take up sewing and learn the basics on it. You can choose from 100 stitches, including 20 basic and fashion ones, 18 for quilting, 27 heirloom stitches, 28 home décor, and 7 buttonhole stitches.
One of the best features about this computerized sewing machine is the heavy duty interior metal frame that is superiorly durable when compared to other machines in its class. Other features include a removable free arm, hardcover for better protection, and a 7-piece feed dog system that works on tough fabrics like fleece, wool, and knits. This machine is a good choice for quilters because it also comes with an attachable extension table and even feeds foot.
The warranty is standard, just like for the rest of sewing machines on the list – 25-year limited warranty. Even though the shipping weight is 21 lbs., the machine itself weighs around 12 pounds, which makes it very portable.
6. Brother CE7070PRW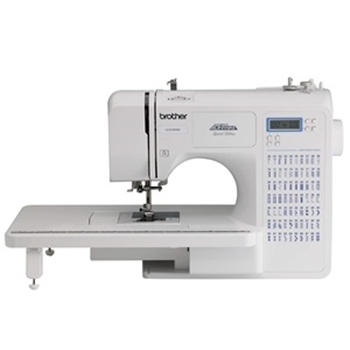 This sewing machine is quite popular on the market, and after testing it ourselves, we can see why. Starting with a fair price and good quality, this computerized sewing machine is able to deliver professional results. It has a total of 70 stitches, from basic ones to decorative, heirloom and quilting stitches. There are also 7 one-step buttonholes that adjust the size to fit your buttons.
It's easy to take on larger projects with extra work surface – this machine comes with an attachable wide table. Perfect for quilting, too. Even if the room is well lit, it's always a hassle to sew dark materials, but this machine has a LED-lit work area. Winding the bobbin has never been easier, it will do all the work for you, and all you need to do is push it to the side. The top bobbin is jam resistant, so it will save you a lot of time you would use on de-tangling.
This machine has a 25-year limited warranty as well. Shipping weight is 16 pounds, and the machine itself weighs less, so it's highly portable.
7. Singer One Vintage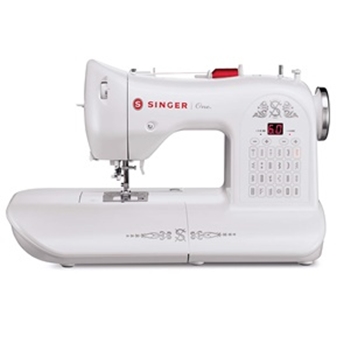 Even though computerized sewing machines are intended for more professional use, this Singer model is perfect for beginners who want to start sewing with a computerized model right from the start. But, far from it that more advanced users won't find this unit adequate for their projects. When it comes to features, this computerized sewing machine has a lot of them.
It comes with 24 built-in stitches that have everything you might need – from the basic ones to decorative, stretch, and even 2 automatic one-step buttonhole stitches. There's no need to squint your eyes to thread the eye of the needle with an automatic needle threader feature. If you need to sew layers of really thick fabric, you will find the high presser foot lifter feature very useful.
This computerized sewing machine can help you reinforce the stitching with its automatic reverse. The button is conveniently located right above the presser foot, and below the logo. Other features include drop & sew bobbin, vintage graphics, 3 LED lights for a super bright environment, and a maximum speed of 750 stitches per minute. Free arm and extra-large workspace are great for quilting projects.
This machine also comes with a 25-year limited warranty.
What is a Computerized Sewing Machine?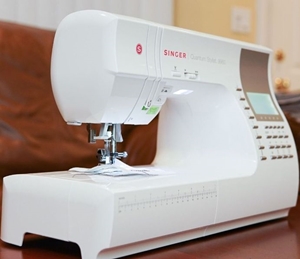 A computerized sewing machine is a unit that is fully controlled by a computer that's in charge of various motors inside. That computer operates the needle, tension discs, stitch selection, feed dogs, automatic threading, the speed, and every other part in the machine. The best feature regarding computerized sewing machines is the automatic stitching. These same motors can move the needle in all directions, up and down, side to side, and form limitless patterns.
Some computerized machines allow you to create your own stitch, with your own settings and then duplicate it on the fabric as many times as you want. Computerized units often serve as top-rated embroidery sewing machines or as the best quilting sewing machines. Another plus side of owning a computerized machine is having the ability to update the system, which means that it's not stuck with the current settings. Some updates may very well update the machine and make it run better.
Also, when you buy a computerized sewing machine, it's true that you get a predetermined number of stitches (that's always larger than in other types of sewing machines), but some units let you upload additional stitches. If you are an advanced user of sewing machines or a professional, then sewing speed is something you will definitely pay attention to. That's the point of computerized sewing machines, after all. They automate processes that take away your precious time and let you fully explore your creative side by focusing on various projects. Some computerized sewing machines can achieve stitching speed of 1000 stitches per minute.
Computerized Sewing Machine Buying Guide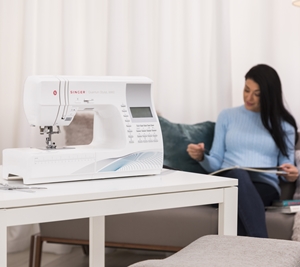 As you have seen, there are a lot of benefits to owning a computerized sewing machine, but the main issue is choosing the right one that will fulfill your needs. There are many makes and models, so knowing the complete features can help you choose the computerized machine of your dreams.
1. Automatic threader
No need to squint your eyes and lose eyesight with an automatic needle threader. This is a simple device that transformed the biggest pain of sewing. The way it works is simple: the automatic needle threader pulls the thread through the needle's eye. You just need to pull the lever, and the needle is threaded.
2. Automatic needle positioning
Needle positioning is important when you want to sew stitches exactly where you want them. The needle can be positioned up or down, but newer models can have even more needle positions. This lets you adjust the stitching. This is especially important if the machine has a zig-zag stitch option. Automatic needle positioning generally lets you sew the stitch anywhere and at any distance away from the seam.
3. Tension control
Tension control is really important in sewing because it determines the strength of the stitch. If the tension is too loose, the stitch will be too, and it can fall apart in the end. However, if you make the thread tension too strong, you can jam the bobbin or break the thread. Tension should vary depending on the type of fabric, its thickness, and the type of stitch. Decorative stitches can be a bit looser because their function is purely aesthetical.
Some computerized sewing machines have automatic tension control, so they will adjust it for each project.
4. Speed
Stitching speed directly determines how fast you will complete a sewing project. One of the biggest perks to owning a computerized machine is its automation processes, and that combined with the stitching speed can help you speed up the end results. Speed is either fixed or it's adjustable. Most computerized machines have an adjustable stitching speed.
Slower stitch speed is great for intricate work when you are creating your masterpiece, and fast stitching speed is perfect for simple but boring operations like hemming or sewing linen. The speed is observed in the number of stitches per minute.
5. Built-in Stitches
Every machine comes with a selection of stitches embedded in the unit, but many machines let you download more stitches and patterns. When it comes to manual sewing machines, a preset number of stitches is a problem, but with computerized ones, you can always add more and try them out.
6. Embroidery
Embroidery is a breeze with computerized embroidery machines. Some more advanced models let you edit the design on the screen, change colors, add or remove additional stitches, resize them, and some even let you zoom in, get a 3D view, and more. Embroidery is fun on its own, but with a computerized sewing machine, you can really edit designs set the parameters, and let the unit do its magic on its own.
7. Portability
How portable is the computerized sewing machine? Depends on the make and model of course, but computerized machines are generally as portable as the rest of the mechanical and electrical machines.
8. Case / Hardcover
Case or hardcover is an optional addition for a computerized sewing machine, but they serve a purpose. First one is keeping your machine clean and safe from dust exposure, and the second purpose is easier transportation around the house, storing it away or carrying it to classes.
9. Screen
There are several types of screens on computerized sewing machines. You can have simple LED screens with buttons next to them or modern touch screens. They can be in color, or black and white. Some screens are so advanced that you can edit the designs and patterns with a stylus, directly on the screen.
10. Jam-Resistant Bobbin
When working with threads, they can break, and often entangle or clog the bobbin. That can really be a hassle to deal with, and it definitely takes the time away from sewing. Luckily, modern machines like computerized ones often come with a jam-proof bobbin so that you don't have to deal with entanglements.
11. Memory
Computerized machines come with a certain amount of memory that lets it store a variety of patterns and stitches. If you have room on the machine, you can download new patterns and stitches, save presets, and more. Some units store various data in the machine's memory, like how long it took to finish a project, or how many hours have you been sewing.
12. Mirror Imaging
Exactly as the name suggests, this feature lets you play with the designs further. Create a design, and then mirror the image so it can be stylized from another angle. This is a cool option when you want two same patterns to face each other, and reach symmetry in your design.
How to Choose the Right Computerized Sewing Machine?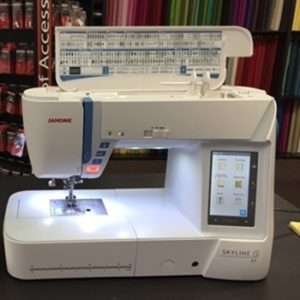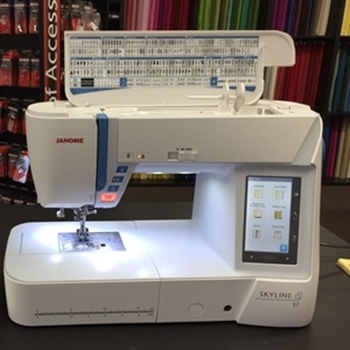 Apart from the features, there are a couple of things you have to consider when selecting the right sewing machine, whether it's the computerized one or not. First of all, there's the budget. The more functions you want, chances are that you will break the bank. But, we have selected a variety of well-performing sewing machines with a good price to quality ratio.
If you want to offer custom embroidered items for business purposes, choose the machine that will let you play with the designs. If, however, you have to complete a lot of projects as fast as you possibly can, choose the computerized sewing machine with a high stitch speed and most automatized functions.
FAQ About Computerized Sewing Machines
Whether you own one or you are considering buying one, getting to know the intricacies of computerized sewing machines is a great start to troubleshoot and find out possible solutions to your present or future problems.
1. How durable is the computerized sewing machine?
Computerized sewing machines can last up to 25 years, but it all depends on how do you use it, and do you service it when it's needed or regularly. Many manufacturers claim that you should have your machine professionally serviced at least once a year.
2. Does a computerized sewing machine require a tune-up?
If you want to prolong the machine's longevity, you should do tune-ups. This is a perfect opportunity to check the version of your computerized sewing machine, whether it needs a software update or any other sort of tune-up, which should also include mechanical cleaning. Even if it's a high quality, professional machine, you are still working with threads, lint, and dust is all around us.
3. Can I service my own computerized sewing machine?
You probably can clean it, but be aware that you will probably void your warranty. In general, it is best to let the certified technicians do the maintenance of your computerized sewing machine.
4. How often do I need to do maintenance on a computerized sewing machine?
Once a year is enough if you use it regularly. If you use the machine sporadically, well, once every 2 years should be fine.
5. Do I need to oil a computerized sewing machine?
Yes, computerized sewing machines still need oiling from time to time – unless the manufacturer specifically claims otherwise. It's recommended to just dab a bit of oil on the bobbin because there's a lot of friction there. A small amount will do, and you can do it once a month – less if you use the machine only from time to time.
6. How often do I need to change the needle on a computerized sewing machine?
Even though many sewing professionals change the needles only when they break, it is actually advised that you change the needle after 8 to 12 hours of sewing, which in general should mean after a project or two. Your stitches can suffer and get loose and sloppy if you use the needle too much without a proper replacement. The tip gets dull and can even damage the fine fabric.
7. My computerized sewing machine is displaying an error message. What do I do?
Every computerized machine comes with a manual that should also have a list of errors. First, you need to see what the error is about and whether there truly is a problem. If there is, you can follow the solution in the instruction manual, or contact the support if the manufacturer provides one.
8. What do I do when a computerized sewing machine is displaying error messages when there isn't one?
Computerized machines have a lot of sensors that help them do their work, but sometimes they will display an error message when nothing is wrong with the machine. Check to see if everything is in proper order if there's a lint roll or a jam somewhere. If you still believe that there's the error with the display messages, it could be that the sensor is malfunctioning.
This requires a technician. It would be good to send your machine for maintenance. It is possible that they will restore it to factory settings, recalibrate, check the software issues and if there's a mechanical error that needs to be fixed.
Wrap Up
Finding the best computerized sewing machine can open up a world of creative possibilities while also speed up all your sewing projects. We have taken the time to review the best ones that are currently on the market and present our unbiased research in this buying guide.
View our chart if you want to quickly compare models and see the main differences. If you happen to have any questions regarding the digital sewing machines, feel free to post them in the comments below.
As a bonus, you can check our top-rated sewing chair guide to feel more comfortable while using your computerized sewing machine.