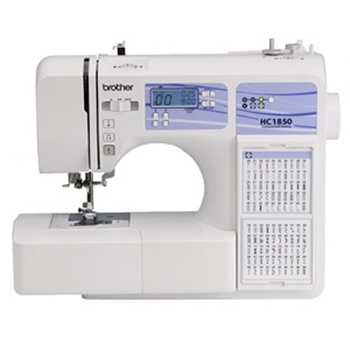 Don't you think that simple clothes and home décor are overpriced in the shops? Especially when you can make unique pieces for a fraction of the price. To do that, you need a good, reliable sewing machine. Don't worry if you don't have experience with sewing – with a modern, computerized sewing machine you can create anything quickly and with just a little effort. If you want to start making your own perfectly fitting clothes, cloth accessories and home décor pieces like tablecloths and curtains, it's time to get a computerized sewing machine.
Today, we'll discuss one of the models that we think you should consider. In our Brother HC1850 review, we'll take a deeper look into this machine's specifications, features, and warranty. Perhaps this machine can become your faithful companion and a go-to tool for creative projects for years to come.
Brother HC1850 Computerized Sewing Machine Specifications
This model is a computerized unit made by Brother. It's a great addition to any seamstress' or quilter's workspace. It's a very cost-effective model, especially since it's made from durable materials.
This model weighs only 10 pounds, so it's very portable and easy to carry.
It comes with an extension table that you can use if you need more space for your sewing. Quilters will appreciate this feature because they know a roomy workspace is essential to keeping a large quilting project under control. The other quilting-focused features on this machine are retractable feed dogs for free-motion quilting, and an included spring action foot.
This machine is very versatile, and it's perfect for sewing, quilting, and monogramming. You can choose between 130 stitches. Out of these, 8 are various buttonhole styles, and to use them, you only need to change a presser foot. The stitch styles and monogramming letters are assorted in a neat flip-chart, which makes them easier to choose.
Jam-free sewing experience is ensured by a drop-in top load bobbin system. This system makes threading easier as well, especially combined with the automatic needle threader. When it comes to stitching speed, you can use 3 different speeds, which max out at 850 stitches per minute.
Along with the sewing machine, you will get 8 accessory presser feet, among which is a zigzag, overcasting, monogramming, zipper, blind stitch, buttonhole, button sewing, and quilting foot. If you are looking to compare sewing machine models, you can read our computerized sewing machine buying guide.
Customer Support and Warranty Policy
Brother is famous among sewing machine manufacturers for two things – precision and longevity. This Japanese company has over a hundred years of experience in creating top-notch sewing equipment, so they take their guarantee for quality very seriously.
Their sewing machines are covered with 25 years of warranty on the frame, and 2 years of warranty on the electronic parts.
You can contact the Brother customer support team via their website or by phone.
What to Expect from Brother HC1850 Computerized Sewing Machine?
Coming from the world-renown Brother, this machine can be a faithful, durable companion to any hobbyist. This unit is a good pick if you need a reliable, versatile sewing machine that can take up a variety of sewing and quilting projects.
Pros
You can run this computerized model either by the pedal or the buttons.
The model is strong for its weight, and it can handle thicker fabrics as well.
It's very affordable considering all the available features.
Good official user manual
Cons
It only has one monogramming font.
You can't add new stitches even though it's a computerized machine.
Wrap Up
If you're looking for a computerized sewing machine model that you can rely on, this model by Brother is one of our top recommendations. It's not easy to find a perfect machine for yourself, especially if you're eager to do many different craft projects. A good, affordable, and versatile sewing machine such as this one is not easy to find, but we hope that our review will help you choose.
We've come to the end of our Brother HC1850 review. With it, we wanted to address the most important specifications and features of this model. If you have any questions left, or you'd just like to share your own experience or opinion of this model, feel free to leave a comment below!