If you always admired beautiful, large quilts but don't have the time to tackle such a project by hand, you need best quilting sewing machine. It is said that the oldest known quilted garment dates back to 3400 B.C. in Egypt. So, how come that this ancient craft is still so popular today? It's simple – quilting is fun, relaxing, and very useful.
Quilts are amazing because they have both decorative and practical uses. Whether you're just starting out, or you're already a professional quilter, you will find working on a dedicated quilting machine a very pleasant experience. In this article, we will help you find the right unit, and we'll tell you everything you need to know before you make your final decision. So, let's jump right into our quilting sewing machine reviews and buying guide!
See The Quick Comparison Chart
What is Quilting and Who Needs a Quilting Sewing Machine?
Quilting is a beautiful and useful craft established millenniums ago. Essentially, quilting is joining 3 layers of fabric to make a single, thick, and durable piece. In the past, quilts were often made from whichever scraps of fabric the artisans could find. Despite the scarcity, the crafty quilters of the past established quilting as something alike the mosaic-making – an art.
A quilt is made out of three layers of fabric. These are the backing layer – a single piece of fabric at the back side, the batting layer – cotton, wool, or polyester wadding prepared in sheets which provides warmth, and the top, which is decorative and arranged in patchwork out of various blocks of fabric. Quilts are stitched throughout because the three layers need to be well joined. Often, the stitching is done in patterns that are a part of the design as much as the fabric combinations are.
1. Cultural Significance of Quilts
Quilts are an important cultural heritage in the States. On their long travels, the pioneers carried quilts for both utility and comfort. Quilts were an essential part of the luggage because they're warm, durable and resourceful. That resourcefulness comes from the fact that a quilt can be made from small fabric scraps which were, at the time, more readily available than large, single pieces. Historically, quilts were commonly treasured as family heirlooms, with names and symbols representing ancestors and significant events. They offer a large opportunity for creativity and self-expression. That's why they're still popular today, and often made as tokens of appreciation and given as gifts.
2. Who Should Get a Quilting Sewing Machine?
Since quilting is such a significant part of history, it's easy to understand why many people feel that quilting is underrepresented in modern culture. We know that traditional quilting is a delicate and time-consuming craft. However, that's not necessarily true nowadays. While hand-stitched quilts surely do take a long time to complete, today we have an amazing tool which can help us create quilts for a fraction of the time, without sacrificing quality. On the contrary, machine-sewn quilts are more durable and meticulous. Finally, home sewing machines are very affordable these days, and almost anyone can have one.
Because of this, anybody who appreciates this beautiful craft can make quilts. If you'd like to make gorgeous table runners, beddings, and wall hangings, quilting is a great choice. Furthermore, quilting can be an amazing way to express individuality and creativity. Practicing some form of creative self-expression is an important part of well-being, so being quilters ourselves, we highly recommend this form of art to anyone who is looking for a new hobby.
Best Quilting Sewing Machines Comparison Chart
PRODUCT
DETAILS

JUKI TL-2000Qi Quilting Sewing Machine

Price:

$$$$$

Customer Rating:

4.3

Weight:

37.8 pounds

Size:

17.8 x 8.6 x 13.8 inches

Stitch Options:

1500

Warranty:

5 years

View On Amazon

Brother XR3774 Full-Featured Quilting Machine

Price:

$

Customer Rating:

4.3

Weight:

19.5 pounds

Size:

17.5 x 7.6 x 14.6 inches

Stitch Options:

37

Warranty:

25 years

View On Amazon

SINGER Confidence Quilter 7469Q

Price:

$$

Customer Rating:

4.2

Weight:

22.2 pounds

Size:

17 x 8 x 12.5 inches

Stitch Options:

98

Warranty:

25 years

View On Amazon

Brother PQ1500SL Quilting Sewing Machine

Price:

$$$

Customer Rating:

4.5

Weight:

33.5 pounds

Size:

7.9 x 12.6 x 19.3 inches

Stitch Options:

1

Warranty:

25 years

View On Amazon

EverSewn Charlotte Quilting Sewing Machine

Price:

$$

Customer Rating:

4.4

Weight:

16.5 pounds

Size:

15.5 x 7 x 11 inches

Stitch Options:

70

Warranty:

10 years

View On Amazon

SINGER Talent 3323S Quilting Sewing Machine

Price:

$$

Customer Rating:

4.2

Weight:

16.5 pounds

Size:

15 x 7.5 x 12 inches

Stitch Options:

23

Warranty:

25 years

View On Amazon

Brother Designio Series DZ2400 Quilting Sewing Machine

Price:

$$

Customer Rating:

4.4

Weight:

18 pounds

Size:

11 x 11.7 x 13.2 inches

Stitch Options:

185

Warranty:

25 years

View On Amazon
Best Quilting Sewing Machine Reviews
1. JUKI TL-2000Qi Quilting Sewing Machine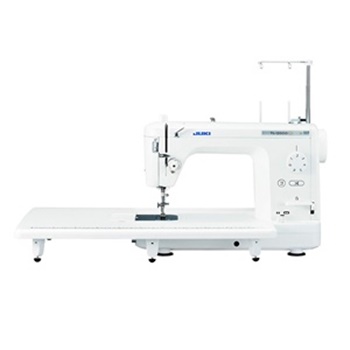 If quilting is your passion, then you shouldn't look further than the Juki TL-2000Qi. It's a great quilting machine that can also support all your other sewing projects with ease. This unit is quite durable and belongs to semi-industrial sewing machines. Some of the features that you would love on this model include an automatic needle threader and an extra-wide work surface in the form of an extension table.
This sewing and quilting machine is great for even, straight stitches that support heavy fabrics. No matter how hard you drive it, due to its aluminum body, this sewing machine will produce low vibrations. You get 3 feet with this model, the free motion foot, the straight stitch quilting foot, and walking foot.
Read More: JUKI TL-2000Qi
2. Brother XR3774 Full-Featured Quilting Machine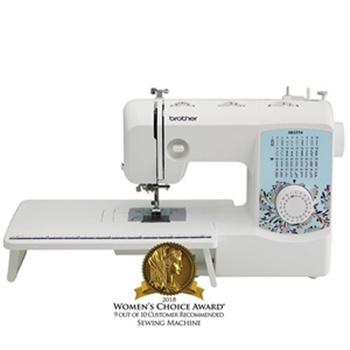 The first model on our list comes from the well-known sewing machine manufacturer, Brother. It is also the cheapest model we'll cover here. Brother's unit is truly packed with value. This affordable model can be used for many different sewing projects, and it's well equipped for quilting jobs as well.
Quilters will be happy to know that this model has a large extension table, which can be a lifesaver when working on large duvets or tablecloths. It comes with 37 stitch options. Also, this unit comes with 8 different sewing feet, most notably the walking and the darning foot. Threading this model is so easy – not only does it have a drop-in bobbin, but it also has an automatic needle threader built in. Overall, this is a great, versatile sewing machine that we recommend to anyone who wants to do many different sewing projects, including quilting.
Cherry on top – this model comes covered with 25 years of warranty, which is a telltale quality assurance coming from a respectable manufacturer.
3. SINGER Confidence Quilter 7469Q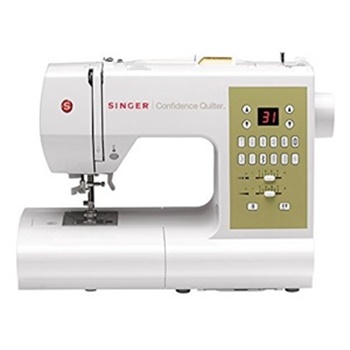 Our next pick is Singer's computerized, quilting model. With 98 built-in stitches, this model can complete a diverse list of tasks. It's not hard to thread it either, as it comes with a drop-in bobbin system and an automatic needle threader.
You can control this model mostly through buttons and slider knobs. Apart from stitch options, you can also choose stitch length and width using a slider. This model has several options which will make any quilter's life easier. There is also an extension table which comes with additional presser feet. These feet include the walking, darning, and 1/4-inch foot. Its feed dogs are easily retracted with a slider.
An innovative feature that this model has is its programmable needle up/down position. With a push of a button, you choose if the needle stops in an either up or a down position. Stopping the needle in its lower position lets you make difficult turns much easier, so this feature can be very useful for quilters.
Backed by the renowned Singer, this sewing machine comes with a 25-year long limited warranty.
4. Brother PQ1500SL Quilting Sewing Machine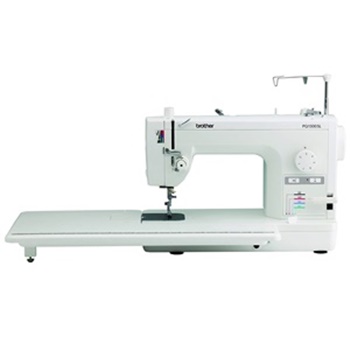 Here we have another sewing machine specifically designed for quilting, this time by Brother. If you're looking for a model that will work alongside your regular sewing machine, then this unit might become your quilting best friend.
Running at 1500 stitches per minute, this quilting machine can help you handle tight deadlines. However, it only supports the straight stitch. With a click of a button, you can leave your needle in a lower position after you're done stitching, which is useful for making difficult turns.
This machine has an easy to understand dial with 4 different feed dog and pin feed positions. It comes with a knee-operated needle lifter and an extension table with a ruler. With this machine, you can use large cones of a thread as it has a built-in telescopic thread stand. It has a fast threading system and a drop-in bobbin. This unit also comes with all the feet you need for quilting.
Brother covered this model with 25 years of limited warranty.
5. EverSewn Charlotte Quilting Sewing Machine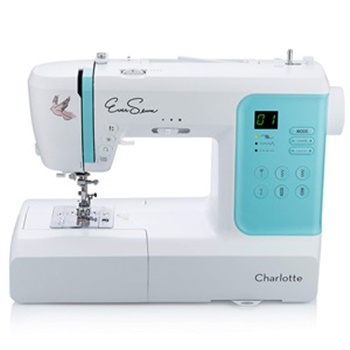 EverSewn might be a new competitor in the sewing equipment market, but their quilting-adapted machine will not leave you hanging. The first thing we noticed about this model is its incredibly sweet color scheme.
This computerized sewing machine comes with a choice of 70 different stitching styles. It's very easy to thread because it has an automatic needle threader. There's also a drop-in bobbin system with a clear cover plate, which lets you know exactly how much thread you have left wound. This model comes with 7 different presser feet, among which you'll find all of those that you will need for quilting.
Most features on this machine are button or slider controlled, and among them are stitching speed and stitch width. This model comes with easily retractable feed dogs, which makes quilting easy. However, the downside of this unit is that it doesn't come with an extension table, making it more difficult to control big quilting projects with it. Still, this is a very solid, all-purpose sewing machine that's a good choice for beginners and advanced users alike!
This model is covered by 10 years of limited warranty.
6. SINGER Talent 3323S Quilting Sewing Machine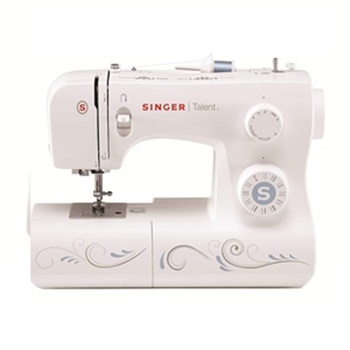 Our next pick is coming from the world-famous sewing machine manufacturer Singer. Their Talent series was envisioned as a perfect sewing machine for anyone who wants a high-quality unit which can handle many different projects.
This solid mid-range unit comes with 23 built-in stitches, giving you a wide variety of project possibilities. It boasts very easy threading – it has both the drop-in bobbin with a conveniently placed aperture and the automatic needle threader which pushes the thread through the needle eye in a matter of seconds. When it comes to quilting, artisans will be happy to know that this machine has a high presser foot lifter. It raises the presser foot higher than normal for easier positioning of thick and layered projects.
This sewing and quilting machine come with various accessories, including the darning and the walking foot. The downsides of this model are that it's slightly tight on space under the throat, and it doesn't come with an extension table. That makes handling large, bulky quilts a bit harder. Overall, we recommend this machine if you value versatility above all!
The widely known and loved company Singer covers this model with 25 years of warranty.
7. Brother Designio Series DZ2400 Quilting Sewing Machine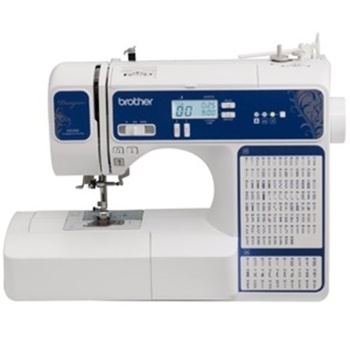 Here we have another model coming from Brother, this time, one of the best digital sewing machines. This unit comes with a record number of built-in stitches – 185 total. Out of this staggering number, 55 are alphanumeric stitches which are great for monogramming.
This unit also comes with solid lightning. It has a built-in LED lighting system which will help you achieve perfect quilt seams. Quilters will also be happy to know that there's a large extension table which can make handling large quilts much easier. This model is computerized, so it makes sense that it has automatic needle threading as well.
In the box, you'll get many feet which are useful for quilters, among which are the darning foot, the walking foot, and the 1/4 foot, which is great for piecing blocks together. This model is very versatile, so it's a solid choice for anybody looking for a machine that can handle many different projects.
This unit comes covered with 25 years of limited warranty, which is issued by the highly reputable manufacturer Brother.
How to Set a Sewing Machine for Quilting?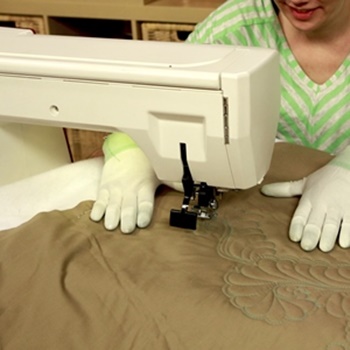 How you set up your machine really depends on the stage you're at, and the type of quilting you want to do.
Before you even start setting up your machine for quilting, let's discuss the general setting. Quilting is a very detail-oriented craft since you need to closely monitor your stitching, and that's why you should make sure to be in a well-lit room.
If you're working on a large project, you should try to set up your sewing table against a wall on your left-hand side, and ideally, in front of you. This will prevent large quilts from falling to the ground. Being very heavy by nature, large quilts are hard to maneuver when they fall off the edge of a table.
When it comes to setting up your sewing machine, there are a couple of general rules you should follow if you want to achieve the best results. First of all, always use the straight stitch for quilting, especially if you're a beginner. The beauty of quilt stitching is not in the complexity of the stitch itself, but in the way that quilters make a simple stitch pattern into a beautiful design. If you're eager to try decorative stitching, you can do that, but make sure that the style you chose is suitable and durable for very thick, layered projects.
When it comes to thread choice, use high-quality thread. In the beginning, you should use the same thread for both the top and the bobbin. There are many quilters who use a thinner thread for the bobbin, and thicker, or even very heavy decorative thread for the top. However, you'll have to get a better feeling for your sewing machine's tension before you can successfully mix these. For starters, using the same thread for both is a solid choice.
1. Joining Blocks and Edge Binding
Before you start working on batting and backing, you'll have to create your top. Admittedly, this is a very fun part of quilting. For joining fabric blocks, you should typically use 1/4 or 1/2-inch seam allowance. Since 1/4-inch seam allowance is quite narrow, it can be somewhat hard for beginners to sew smoothly and straight. We highly recommend trying the 1/4-inch presser foot. At this stage, you want to have your feed dogs up, doing the job of pulling the fabric through the machine. When it comes to joining the seams and piecing the fabric blocks together, your stitch length should be quite low, around 2 or 3, depending on the fabric, your machine, and your preferences.
2. Free Motion Quilting Setup
The main difference between free motion quilting and quilting with straight lines (in a crisscross or similar patterns) is how you position your feed dogs. For straight-line quilting, you should keep the feed dogs up. However, when it comes to free motion quilting, you should lower or cover the dogs, so that your hand controls the movement of the fabric completely. Many sewing machines manufactured for quilters will have a button for a simple and easy feed dog manipulation. If you're using a standard sewing machine, you might have to consult your manual on how to lower the feed dogs.
Once you've lowered them for free motion quilting, you should set your stitch length to 0. This setting means that all that the machine does is move the needle up and down. In free motion quilting, you're the one controlling the way the fabric moves, so you will determine the stitch length as well. An ideal number is 10 stitches per inch, but many professional quilters make higher or lower numbers, so it's not a rule set in stone. The learning curve for controlling stitch length manually can be quite steep, but you'll get the hang of it after a couple of tries.
Quilting Sewing Machine Buying Guide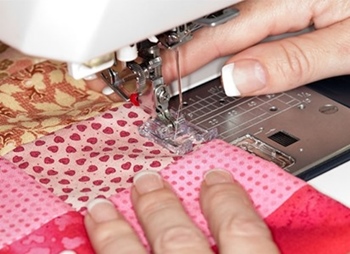 Quilting is a fun and a very rewarding hobby, but you must have some tools before you can start making your first quilt. If you're looking for a quilting sewing machine, you should take a couple of factors into consideration before you make your final pick. In this section, we will cover the most important general aspects of getting a quilting machine, and we'll take a deeper look into the specific features that set quilting machines apart from the regular sewing machines.
The most important point to take into account is whether you already have an all-purpose sewing machine or not. When searching for quilting machines, you'll notice that there are essentially two types of machines available: the all-purpose sewing machines with some additional quilting features, and quilting-only machines that have amazing quilting features but cannot perform general sewing tasks such as the zigzag stitch. In our reviews, we covered both of these types of sewing machines, and we strongly recommend choosing the one that will cover your needs in this regard.
With that said, let's take a look at the features that make quilting possible!
1. Stitching speed
In general, home sewing machines run much slower than the most effective industrial sewing machines do. Home sewing machines can make around 1000 or 1100 stitches per minute, with an average of 800 stitches per minute. When it comes to quilting, this just doesn't cut it. Quilts need to be stitched all throughout, so the faster the stitching, the better. Upscale home models made specifically for quilting can make around 1500 stitches per minute.
2. Extension table
Quilts are bulky, and often very long. That usually means that they're very heavy and hard to handle, especially when you factor in gravity. Quilting machines tackle this problem with an extension table, which expands your workspace, and helps you control your stitches much easier.
3. Throat size
Quilts require stitching across the length and breadth, and the stitching is usually started at the center. That means that you need to have enough space for your quilt all around the machine, which can get difficult at the throat. The more space there is between the engine of the machine and the needle, the easier it will be for you to handle the bulking quilt on your right-hand side.
4. Quick threading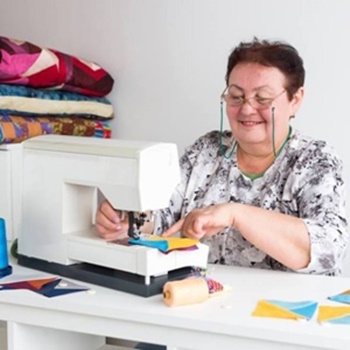 Keeping the three or more layers of a quilt can be quite the job with heavier fabrics, so quilts are stitched all throughout. Naturally, this means that a lot of thread is used in the process. Because of this, quilting machines should have quick and easy threading. Drop-in bobbin systems and automatic threaders are lifesaving additions if you want to quilt frustration-free. Thread stands for big cones of thread and large bobbin rotary hooks are a welcome bonus!
5. Feed dog adjustment
If you hope to express your creativity through free motion quilting, you should definitely look for a machine with easy to reach feed dog adjusters. Feed dogs are the rows of teeth under the needle, which move back and forth, pushing the fabric backwards. With standard sewing machines, you must partially disassemble the machine to lower the system for fabric feed. However, quilting-focused machines have easy-to-operate sliders or dials which retract the feed dogs. Some machines even have more sophisticated options.
6. Presser foot adjustment
Presser foot should also adjust along with fabric feed. While this feature is not very common, some models have a knob that controls the height and the pressure at which the pressure foot pushes your fabric. This is important when quilting, as quilts are made up of multiple layers, and especially due to the fluffy batting.
7. Presser foot knee lifter
This unique feature is not used by many companies, but it's very useful. Essentially, a knee lifter is an attachable part that lets you control the position of a presser foot with your knee. This system allows you to keep both of your hands busy with your quilt, even while changing the stitching style or making difficult turns, especially when they are combined with the needle up/down button.
Traditionally, machines stop spinning the needle as soon as you stop putting pressure on the foot pedal, after which you must manually lift the needle. However, machines that have a Needle Up/Down button let you choose whether you'd prefer the machine to finish the stitch in a low or a high position, ridding you of that unnecessarily manual task. Leaving the needle in a lowered position is especially handy for pivoting the fabric around the needle, helping you make difficult turns while quilting.
9. Quilting presser feet
There are two essential presser feet that every quilter must have – the walking and the darning foot.
In general sewing, the walking foot is used for sticky and thick materials, but in quilting, it's useful when handling the multiple layers of fabric that every quilt has. This type of foot has a set of top feed dogs which work together with the bottom ones. This way, the two sets of feed dogs push the fabrics through evenly, without any of the fabric layers puckering.
The darning foot, commonly also called the quilting foot, is used when free motion quilting. This type of foot does not apply pressure to your fabric all throughout the stitching, but instead, it only touches the fabric while the needle is in its lowest position. Essentially, it moves together with the needle, applying pressure when forming a stitch, but letting you move your fabric easily while the needle is in its upper position.
Quilting Sewing Machine Maintenance
1. Regular Maintenance
Once you get your new quilt sewing machine, you naturally want to make it last. The best way to help your machine live a long, healthy life is through proper and regular maintenance. Let's discuss proper sewing machine maintenance.
When your sewing machine is not in use, whether for a short time or for a while, use a dust cover or keep it inside a box or on a shelf. Dust is a healthy machine's enemy number one, mostly because it's very hard to clean from small crevices and holes.
Clean and dust the machine often, ideally after every 12 hours of use. If you don't use your sewing machine for a while, it's also a wise choice to clean it before the next use. In cases where you don't use your machine at all for extended periods of time, try to dust and clean it every 6 months or so, especially if you don't have a dust cover.
2. Regular Cleaning
In order to clean the machine, first, turn it off and expose the free arm if your model has it. Next, open the compartments. The first thing to do after you can reach inside the bobbin case and under the needle, is to remove old thread and lint, and then use brush or microfiber cloth to wipe the dust and small particles. While it may seem like an effective way to clean it, do not blow into your machine. It may be intuitive, but blowing can actually damage your machine because it can cause a moisture build-up.
After using your machine for a while, you may notice that it doesn't run as smoothly as it did before. If this happens, it probably means that it's time to lubricate the moving parts. The parts that need oiling up most commonly are the presser foot spring, the bobbin casing, and the parts under the stitch plate (where your feed dogs are). Ideally, consult the user manual you've got with your machine to see what needs to be oiled up when it comes to your specific model. When oiling the machine, use sewing machine oil.
Finally, take your machine to a certified shop once every two years for a regular check-up. Professionally done maintenance will ensure that your machine is in top shape and safeguard you from malfunctions caused by deterioration.
FAQ About Quilting Sewing Machines
1. Is quilting on a sewing machine hard?
The answer to this question depends on how skilled you are with sewing in general. According to many professionals, the most difficult part of quilting is sewing from the center outwards, because the thick fabric bulks up under the throat. The further from the center you go, the easier it gets to quilt. Still, compared to quilting by hand, doing it with a sewing machine is easier and faster.
2. Can I get hurt using a quilting machine?
Just like with any other machine, there's always a chance to get hurt. With sewing machines, the most common cause of injuries is broken needles and runaway fabric. Free motion quilters are especially susceptible to injuries because their handling of the fabric isn't aided by the feed dogs. However, if you take enough time to learn your machine, and you make sure to avoid distractions, you'll have no trouble conquering safe quilting. The best way to ensure safety is to start with a slower stitching speed setting.
3. Can I use a regular sewing machine to quilt?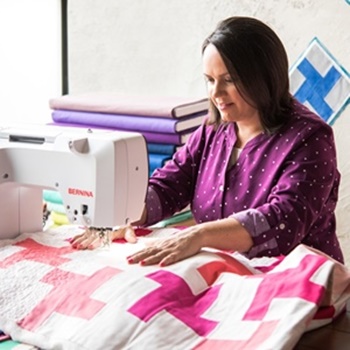 In most cases, the answer is yes, but it won't be as easy as doing it on a specialized sewing machine for quilting. Standard sewing machines are limiting to quilters for many reasons. For example, small throats don't allow you to take on larger quilting projects. The machine must have retractable feed dogs for free motion quilting, and the model must be able to work with heavyweight fabrics.
4. How large the quilting seam allowance should be?
The exact seam allowance you want to use when piecing your blocks of fabric will depend on the specific pattern you're using. However, most commonly, the top blocks are joined by a 1/4 inch, or a 1/2 inch seam allowances.
5. Do I have to use a pattern?
Quilting is not easy, and planning a quilt requires careful calculation. If you're a beginner, it'd be recommended to begin your quilting journey with a simple pattern. However, if you're an advanced quilter, you can explore your creativity and try to make your own quilt patterns!
Wrap Up
Quilting is an ancient craft that survives to this day because of its beauty and intricacy. However, with the help of modern technology, making quilts do not have to be exhausting. Sewing machines provide us the amazing opportunity to create wonderful pieces of art in a fraction of the time it takes to do it by hand.
We hope that our quilting sewing machine reviews helped you find the perfect model for you. Feel free to consult our buying guide again if you're still not sure about all of your needs and requirements. The best quilting sewing machine is waiting for you!