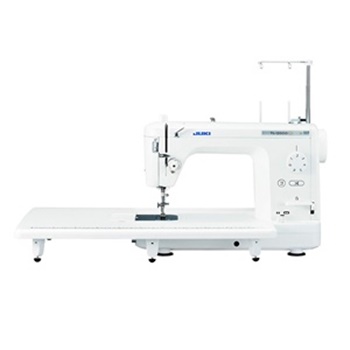 If you're a quilter, you know how hard it is to find a good quilting machine. Most sewing machines out there come with dozens of unnecessary stitching options and extra features, but they lack in the areas that are important to quilters. Because of that, finding a good sewing machine that can handle both sewing and quilting can be tiresome. But don't worry – we've got you covered.
Today, we'll take a look at one of the models we'd highly recommend to any quilter. In our JUKI TL-2000Qi review, we'll dive into the specifications, features, and warranty covering this model. Hopefully, we will help you end your search for the perfect quilting machine!
JUKI TL-2000Qi Sewing and Quilting Machine Specifications
If you're looking for a straightforward machine that is specifically made to handle quilting the right way, Juki's got your back. With the only stitching option being the straight stitch, this machine is perfect for quilters, but it cannot handle complex sewing projects with stretchy fabrics. However, the one stitch it does make, it makes it well. It has an unbelievable speed of 1500 stitches per minute, which is almost twice as fast as a basic sewing machine, making sure you will be zooming through projects.
In fact, this model is considered semi-industrial, so it's highly recommended for professionals who have heavy workloads on a daily basis. This heavy-duty model can stitch through layers upon layers of tough cloth, so you can handle any project with it, no matter how unruly the fabric is. This model weighs a lot – over 35 pounds, and for a good reason – both the arm and the bed of this model are made of die-cast aluminum, which ensures that the machine doesn't vibrate and shake, even when working in top speeds.
Quilters will also enjoy the included extension table, that can help you handle projects of large dimensions. Free motion quilting is a joy with this machine, not only due to its speed but also due to the easily accessible switch for lowering the feed dogs. An uncommon feature that this machine has is the automatic thread cutting. Threading is quite simple, and it has an automatic needle threader. If you need any help understanding these terms – we've got a handy guide for quilting sewing machines here.
This unit comes with only the most important accessories – the 1/5-inch quilting foot, and an even feed foot. You can check the details from its user manual.
Customer Support and Warranty Policy
Established in 1938, the Japanese manufacturer Juki has a lot of experience in creating durable, high-quality machines.
They cover their sewing machines with 5 years of limited warranty, and 2 years of coverage for the electronic parts including motors, lights, wiring, switches, and speed control.
You can get in touch with Juki customer support by filling out a form on their website or calling them.
What to Expect from JUKI TL-2000Qi Sewing and Quilting Machine?
Getting this semi-industrial quilting machine is big, but a worthwhile investment. This durable, heavy-duty model can handle almost anything you throw at it – with an aluminum frame and super-sonic stitching speed, you'll be able to zoom through any project without compromising quality.
Pros
The heavy-duty aluminum die-cast machine body ensures longevity and stability while stitching.
Topstitching speeds are extraordinary, at 1500 stitches per minute.
It's strong enough to sew through thick, heavyweight and layered projects.
Cons
The machine only has one stitching style – the straight stitch.
The warranty period is shorter compared to competitors.
Wrap Up
Quilters know how hard it is to find a good quilting machine – one that can help you handle large projects, and that doesn't require you to pay for features that you'll never use. With this model by Juki, you invest in a high-quality machine that is made specifically for quilters. Last but not least, the materials used in this model ensure that it was built to last for decades to come.
We hope we managed to address the most important aspects of this machine. We talked about its specifications and features in this JUKI TL-2000Qi review, but if you have any questions left, feel free to leave us a comment below!