If you're thinking of starting your own dressmaking business, you should consider investing in the best industrial sewing machine. Even though they're a bigger investment at first, industrial models give you so much more compared to regular sewing machines. They work much faster, give more consistent results, and most importantly, they can handle tough daily working schedules for decades on end. In the end, your initial investment pays off manyfold.
However, choosing the ideal model is tough. If you're not sure which model is the right one for you, take a look at our industrial sewing machine reviews, and consult our buying guide to learn everything you need to know before making your pick.
See The Quick Comparison Chart
Benefits of Industrial Sewing Machines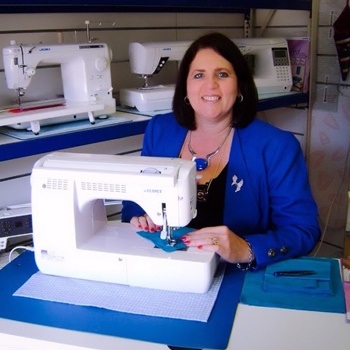 If you're still not confident whether you need an industrial sewing machine or not, it may be helpful to weigh the benefits and the price of an industrial sewing machine. Let's take a look.
1. Reliable and Durable
Simply put, no sewing machine will prove to be more reliable than an industrial model. Compared to all other sewing machine types, industrial models have the most consistent stitch quality and accuracy. Furthermore, because they're built out of heavy-duty materials able to handle heavy workloads, industrial sewing machines don't get broken as much as regular sewing machines. Finally, an industrial model is truly made to last. Typically, you can expect a solid industrial sewing machine to last as much as several decades, even with many hours of daily work behind them.
2. Very Fast
As we mentioned earlier, an industrial sewing machine can stitch as much as 5 times faster than a heavy-duty model, or as much as 10 times faster than the top-rated sewing machines for beginners. Compared to mini sewing machines, the difference is even more astonishing, with industrial models making 15 times as many stitches per minute.
The real numbers are as follows: Mini sewing machines generally cap at around 350 stitches per minute, while a general home-use sewing machine makes between 400 and 800 stitches per minute. Heavy-duty models are quite fast with their speed ranging from 800 to 1200 stitches every minute. Industrial sewing machines are a clear winner when it comes to speed, with some of the most popular models making as much as 5500 stitches per minute.
3. Automatic Features
Anybody who has tried sewing on a good, old mechanical sewing machine will quickly fall in love with an industrial model. Similar to the best computerized sewing machines, industrial machines often have handy features like automatic thread trimming. Even though this may not sound like a huge help, it does make an immense difference when you're putting several hours into sewing every single day.
Best Industrial Sewing Machines Comparison Chart
PRODUCT
DETAILS

Juki DDL-8700-H Straight Stitch Industrial Sewing Machine

Price:

$$

Customer Rating:

3.8

Mounting:

Tabletop

Stitches per Minute:

5500

Stitch Selection:

1

View On Amazon

Janome HD1000 Industrial Sewing Machine

Price:

$

Customer Rating:

3.9

Mounting:

Base

Stitches per Minute:

840

Stitch Selection:

14

View On Amazon

Rex Portable Walking-foot Industrial Sewing Machine

Price:

$

Customer Rating:

3.9

Mounting:

Tabletop

Stitches per Minute:

800

Stitch Selection:

1

View On Amazon

Juki Exceed F600 Pro Special Sewing Machine

Price:

$$$

Customer Rating:

4.9

Mounting:

Base

Stitches per Minute:

900

Stitch Selection:

625

View On Amazon

Brother PQ1500SL Industrial Sewing Machine

Price:

$$

Customer Rating:

4.5

Mounting:

Base

Stitches per Minute:

1500

Stitch Selection:

1

View On Amazon

Singer 191D-30 Commercial-Grade Sewing Machine

Price:

$$$

Customer Rating:

3.9

Mounting:

Tabletop

Stitches per Minute:

4000

Stitch Selection:

1

View On Amazon
Best Industrial Sewing Machine Reviews
1. Juki DDL-8700-H Straight Stitch Industrial Sewing Machine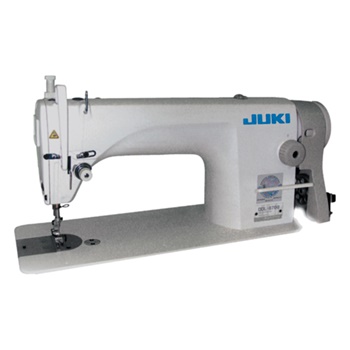 Juki is a famous sewing machine manufacturer from Japan, and their machines are among the most popular industrial models around. And for a reason – the Juki DDL-8700-H is an incredibly powerful sewing machine.
First off, you will never be late with your projects anymore, because this machine can make up to 5500 stitches per minute, made by its powerful servo motor. You can make very short length stitches as well, with the possibility to do as many as 6 stitches per inch, and the longest setting making each stitch 5 mm long.
The machine has an automatic lubrication system, which makes maintenance ever so simple. There are other convenience features as well, such as a knee lifter, and fully and retractable feed dogs that allow projects like freehand quilting. This machine only does the straight stitch, but it does it well. The fully metal construction promises long years of dutiful service, with all parts of this sewing machine made to be sturdy and durable. This tabletop sewing machine comes disassembled, so you will need to do a bit of assembling before you can start using it.
2. Janome HD1000 Industrial Sewing Machine
If you're looking for an industrial-grade sewing machine that has the versatility and stitch variety of a home-use sewing machine, Janome has got the thing for you.
Even though it's not huge, this sewing machine is as sturdy as industrial models. That's because both its body and the casing are made out of cast aluminum. It comes with its own base, and it weighs around 20 pounds, so you'll be able to move it and store it away if you need to free up space. However, the main advantage of this sewing machine is its versatility.
It comes with 14 built-in stitches, including buttonhole settings. You can easily adjust tension and stitch length with easy to use dials. There is an easily accessible backstitching button too. The bobbin is front loading, and the machine comes with a handy free arm for the easy cuff and sleeve hemming. An interesting feature of this Janome is a ruler printed on the front of the machine, which can save you some time. It can make up to 840 stitches per minute, and due to its full metal construction, it never shakes even when running at full speed.
3. Rex Portable Walking-foot Industrial Sewing Machine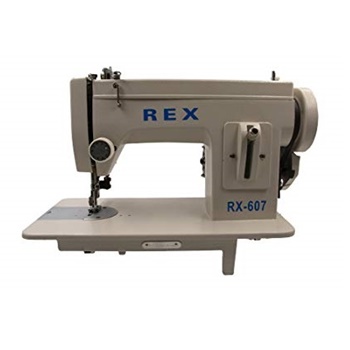 Next up, we have a simple, yet affordable industrial sewing machine model made by Rex. The RX-607 is an all-metal cast iron sewing machine that any business would be happy with, as it gives you solid performances for a very low price.
It can run at 800 stitches per minute, and it comes with a pre-installed walking foot for perfectly even fabric feed. Even though this machine is relatively lightweight at 35 pounds, it doesn't shake or bob once you install it on a tabletop, even if you're working on multiple layers of very heavyweight fabrics and leathers at high speeds.
Though it only has the straight stitch option, you can adjust your stitch length to up to 6 mm, with the smallest setting giving you about 10 stitches per inch. It has a backstitching function. It comes with a 110 volt AC motor. Please note that this sewing machine model is so affordable for a reason: it doesn't come with a mounting table. That means that you'll need to get a separate sewing table, or do a bit of handiwork and cut out a hole of the right dimensions into any old desk you may own. The bed dimensions are 14 1/2″ x 7″.
4. Juki Exceed F600 Pro Special Sewing Machine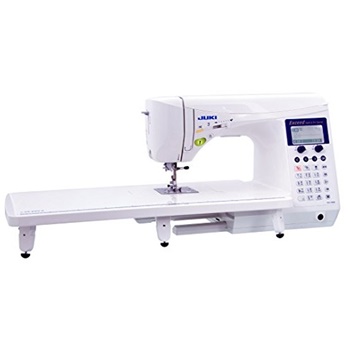 Next up, we have a Juki model which is a bit more expensive but gives a lot of bang for your buck. Made with a base and coming with an extension table, this industrial-grade sewing machine is amazing for quilting.
That's because, besides the easily accessible feed dog retraction button, this machine features an innovative random stitch. You can set it up to vary quilting stitch patterns at random to create truly beautiful quilting work without the hassle of changing everything by hand. It has an automatic thread trimmer for both the bobbin and the needle thread, so you don't have to waste your time cutting them manually.
It also comes with a knee lifter and an automatic needle threader. This computerized industrial machine is quite powerful, and due to the intricacy of its programming, it can make an astonishing 625 different stitches, including 33 utility stitches, 67 quilting options, 72 decorative stitches, 16 buttonhole settings, and so much more. It can run up to 900 stitches per minute. This machine is very reliable, has consistent stitching, and it's of very high-quality build even with its extraordinary versatility.
5. Brother PQ1500SL Industrial Sewing Machine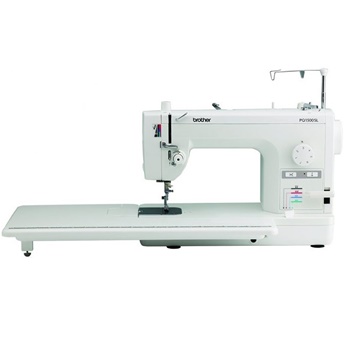 This Brother sewing machine will never leave you hanging – this single-stitch model doesn't come with the hundreds of stitches, but it does the straight stitch like a charm, every time, and it has a plethora of useful features.
At 1500 stitches per minute, this model will help you breeze through any project and reach any deadline. Coming on its own base and with an extension table, we highly recommend this industrial-grade sewing machine to anybody who does a lot of construction sewing or quilting.
It has a color-coded, easy to understand dial which makes it possible to set your feed dogs and pins into one of 4 different positions. It also has a button that sets the needle in its lower position, making sharp turns simple. The extension table has its own ruler printed out, which can be quite useful and save you a lot of time. Additionally, it has a knee lifter, an automatic thread cutter, and a telescopic thread stand which lets you use large reels of thread. The bobbin is also quick and easy to change since it utilizes the drop-in system.
6. Singer 191D-30 Commercial-Grade Sewing Machine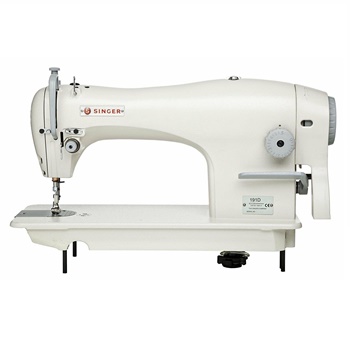 If you've ever sewn before, you have surely heard about Singer – a well-established all American manufacturer of sewing machines and accessories with a long history and tradition. You can't go wrong with this company – and if you're running a sewing business of your own, we highly recommend this industrial tabletop sewing machine.
The 191D-30 is very heavy – at 210 pounds, you will surely need help moving it, but luckily, it comes pre-assembled so you don't have to bother with assembling. This industrial machine is very powerful, and it can run up to 4000 stitches per minute. Luckily, the sturdy tabletop minimizes shaking even at super-high speeds.
However, the powerful motor uses a bit more power than others, using about 400 watts per hour at full speed. It can only make the straight stitch, with a maximum of 5 mm long. It has a few convenience features as well, including the knee lifter, telescopic thread stands, a tabletop bobbin winder which winds a second bobbin as you sew, and a self-lubricating mechanism which minimizes the maintenance requirements.
What Is an Industrial Sewing Machine?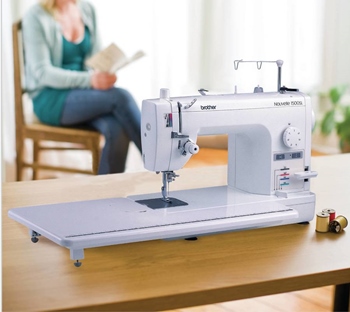 All sewing machines are made to do, more or less, the same job. They use two bits of thread to stitch bits of cloth together. However, not all sewing machines are created equal.
Home-use sewing machines are built for versatility, with computerized sewing machines coming with as many as 200 stitch options. There are special-purpose sewing machines too, such as embroidery sewing machines designed for sewing in intricate decorative patterns, and the best serger sewing machines built specifically to create that perfect hem.
What Makes Industrial Sewing Machines Special?
The unique aspect of industrial models is that they're built to be real workhorses among sewing machines. Intended for professional use, industrial sewing machines don't normally come with huge varieties of stitches, but they come with an immense power that can't be matched by regular sewing machines.
Industrial machines are meant to work for hours upon hours on a daily basis, and on top of that, they're also incredibly fast. If your goal is efficiency, there's no better choice.
You may be wondering what the difference between industrial and heavy-duty sewing machines is. Simply put, heavy-duty machines are built to work on heavyweight and tough materials, such as leather, and industrial machines can work with a wide variety of fabrics. You can check our heavy-duty sewing machine reviews for more.
While heavy-duty machines do stitch faster than a regular home-use sewing machine, they still can't reach the immense speeds of industrial sewing machines. For example, a typical heavy-duty machine can stitch at speeds of about 1000 stitches per minute (SPM), while industrial machines can reach as much as 5000 SPM – five times as fast. So, if you're looking for the most efficient way to breeze through your projects, you have a clear winner here.
However, industrial models are also heftier, and much more expensive as well. Still, if you plan on making sewing your daily work, you should definitely invest a bit more into a reliable sewing machine which won't give you headaches. Industrial machines avoid troubles that can be common with regular home-use models, such as needle jamming and skipped stitches. Once you start sewing for numerous hours every day, you'll soon realize how much time and trouble the industrial model saved you.
Types of Industrial Sewing Machines
Most industrial sewing machines are quite similar when it comes to their sewing performances. However, there's one big difference that divides industrial models into two major groups, depending on the way they stand:
1. Tabletop Sewing Machines
These are mounted on a separate table that is made with a slot perfect for the sewing machine. These types usually have their motor positioned on the bottom side of the table, with only the machine head on top of the workstation. The table is generally made with steel construction, which makes the entire sewing station very stable and sturdy. However, the mobility of these machines is very limited, as they're very heavy – ranging anywhere from 70 to 300 pounds. You may need professional help when assembling one of these models.
2. Sewing Machines with a Base
Industrial sewing machines with a base resemble regular home-use sewing machines, and they come with their own base. These machines are much lighter, and more convenient if you don't have a dedicated sewing corner.
Industrial Sewing Machine Buying Guide
You are aware that getting an industrial sewing machine is a big investment. They're often very expensive, and on top of that, they're large, heavy, and often not very portable, which means that it won't be easy to move the machine once you install it into place. Looking at all the different models currently available on the market, you may feel overwhelmed by the various choices. In this section, we will cover the most important factors that you should consider when you decide to get an industrial sewing machine, so you know exactly what to look for.
1. Build Quality
The single most important thing when buying an industrial sewing machine is getting a model that is made out of very high-quality materials. An industrial machine is a big investment, and you want it to last for decades, handling daily work with ease.
Ideally, your industrial sewing machine should have a steel or other metal inner construction. This will not only make sure that the machine lasts a long time, but it will also reduce shaking while stitching at high speeds.
If you're looking to maximize the durability of your sewing machine, you should get a model with a metal outer casing as well. As you may know, most regular sewing machines come in a plastic outer casing, but this is not a great choice for industrial models. Not only will a metal casing make your machine more durable and resistant to chipping and breaking, but it will also add to the weight which will reduce shaking.
However, you should note that the more metal in the construction, the heavier the machine is. That will not only increase your shipping costs but also make it difficult to change the position of the machine.
2. Motor and Speed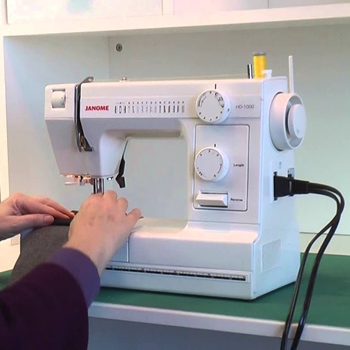 The motor of your industrial sewing machine determines how quickly it can run. In general, industrial sewing machines can make anywhere between 800 and 6000 stitches per minute (SPM). You should consider how quickly you want your machine to run. Remember that faster is not necessarily better. Running your machine at super high speeds is difficult, and requires a lot of practice. Until you've gotten quite a bit of experience at sewing at such high speeds, you may frequently end up with shaky or crooked stitch lines, which can potentially waste more time than if you sewed at a lower speed from the beginning.
However, speed is not the only thing that your sewing machine's motor determines. In general, industrial models come with either the old style clutch motor or a newer type – a servo motor. With clutch motors, it may be difficult to change speeds or go at a slower speed, which is not a problem with servo motors. Additionally, servo motors are also very quiet, with clutch motors making a very uncomfortable noise when running at high speeds. We'd always recommend going with a servo motor in an industrial sewing machine.
3. Stitch Consistency
Consistency is one of the most important factors you should take into account when choosing the right industrial sewing machine. That's why we recommend reading reviews and user experiences carefully before making your purchase. If a sewing machine tends to skip stitches, get needle jams, have tension issues, and so on, you should probably look further. After all, the goal of getting an industrial sewing machine is maximizing your efficiency when sewing, which will be very hard to do if you need to re-thread the machine or use your seam ripper to save ruined fabric after every third attempt at a stitch.
4. Stitch Selection
Generally, industrial sewing machines don't come with large selections of different utility and decorative stitches. In fact, many industrial models can only make the basic straight stitch, similar to top-rated quilting sewing machines. These machines don't have the construction which allows the needle to move from side to side. This may not sound amazing at first, but it adds to the overall stability and reliability of your sewing machine. Single stitch sewing machines are not very versatile, but their stitch consistency is superb.
You should consider what kinds of projects you want to tackle with your industrial sewing machine. If you mainly want to do construction sewing, we recommend going for a single stitch machine and having embroidery or a computerized sewing machine on the side for adding an occasional decorative stitch or monogram. However, if sewing with a zig-zag stitch is important to you, there are great multi-stitch industrial sewing machines available as well!
FAQ About Industrial Sewing Machines
1. Should I get an industrial sewing machine for home use?
As you may imagine, there's no one-size-fits-all answer to this question. Whether or not you need an industrial sewing machine depends on the volume of sewing you intend to do. If you expect that you'll spend several hours a day sewing, then an industrial model is a good choice. However, if you only want to use your machine a couple of hours every week, an industrial model is probably not necessary. Generally, you'll be happier with a computerized sewing machine if you're looking for the greatest stitch variety. However, if you really want to invest in a machine that will dutifully serve you, your children, and perhaps even grandchildren, an industrial or a heavy-duty sewing machine may be a worthy investment.
You can learn about the different types of sewing machines on our homepage.
2. What should I look for in a warranty when getting an industrial sewing machine?
Getting an industrial sewing machine is a big investment, so of course, you want to make sure that the purchase you're making is backed by a good warranty. After all, a warranty reflects how confident the manufacturer is in their product, and how much they're willing to do to vouch for its performances.
In general, since industrial sewing machines come at steep prices, you should make sure that the warranty you get with your model lasts at least 20 years for the casing and metal components, and at least 3 years on the electronic components. Sadly, in many cases, the long warranty period only applies to home use, with the warranty on commercial use lasts considerably shorter. Because of that, make sure you read the model warranty thoroughly before making a purchase, especially if you intend to put your machine to heavy-duty work.
3. Does an industrial sewing machine use more electrical power?
In the past, industrial sewing machines used to spend a huge amount of electrical power per hour especially compared to regular home-use models. However, that's no longer true, and today, the difference between smaller home-use models and industrial sewing machine power consumption is very small.
In general, home-use sewing machines use anywhere between 75 and 150 watts per hour. Industrial models, on the other hand, use somewhere between 130 and 180 watts per hour, making them ever so slightly less energy-efficient, mainly due to the immensely higher stitching speeds. However, you should check out the power consumption of your preferred model, since, though rare, some industrial machines do consume as much as 500 watts per hour.
That being said, industrial sewing machines are meant to be used for many hours every day. Despite industrial sewing machines using the same amount of power per hour, your electricity bill will, naturally, be a bit higher because of longer use.
4. How heavy are industrial sewing machines?
Industrial sewing machines, especially those made with metal casings, can be very hefty and hard to move around. The models that come without a table weigh around 40 pounds. However, the models mounted on a table can be as heavy as 200 pounds. Make sure to check the weight of your preferred model, and find someone to help you move it and set it up once your package arrives.
5. How often do I need to clean and oil an industrial sewing machine?
Compared to domestic sewing machines industrial units require more frequent maintenance. That's because they're intended for long hours of heavy-duty work.
As we discussed on our maintenance article, you should clean your home-use sewing machine after each project or every couple of months, and oil it about once a week.
On the other hand, since an industrial sewing machine handles much more work and moves far more quickly, it needs more frequent cleaning and oiling. We recommend making a habit out of brushing out your industrial model after every workday, so it's spick and span for the start of a new day tomorrow. When it comes to oiling, there's no one-size-fits-all rule, so you should consult your model's user manual for specific information. In general, you can expect to oil your industrial model about once a week, or more or less depending on how much you use it and the manufacturer's recommendations.
Wrap Up
If you're thinking of making your sewing hobby into a business, we sincerely congratulate you! It's a wonderful thing to make a living out of such a creative, productive, and fun activity. To get ready for the long hours of sewing ahead of you, you will need a new best friend – the best industrial sewing machine.
We hope our industrial sewing machine reviews helped you find an ideal model that will serve you well for years to come, and help you make your dreams a reality. We also hope we managed to give you all the information you need about these heavy-duty machines. If you have any questions left, or you want to share your own experience with one of these models with our other readers, feel free to leave a comment in the box down below.