Getting the best heavy duty sewing machine for leather is a big investment with a huge payoff. If you've decided to upgrade to a sturdy machine that will help you step up your sewing game, you've come to the right place. In this article, we will review some of the most reliable models on the market and discuss things you need to know before you make your pick.
In this article, we'll cover all the useful information you need when getting one of the units from our heavy duty sewing machine reviews.
See The Quick Comparison Chart
Advantages of Having a Heavy-Duty Sewing Machine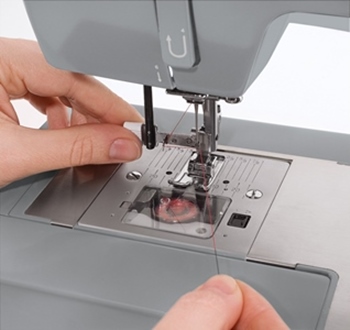 Heavy-duty sewing machines are not only for professionals, and many households and businesses would benefit from investing in a strong, durable sewing machine. Models like this have many advantages over standard home-use machines. Let's take a look at some of them.
1. Wide Choice of Fabric
You can create many things with a regular sewing machine, but you're limited to medium and lightweight fabrics. With a heavy-duty machine, you can sew with almost any type of fabric or leather out there – you can handle even the heavyweight or impenetrable materials with the right tool. Silk, Tweed, chenille, denim or suede, you name it – heavy-duty machines can work with the toughest fabrics, setting no limitations to your creativity.
2. Top Speed
If you're after speed – consider a heavy-duty machine. These models have powerful motors installed to run fast, and sturdy bodies to sustain that speed. Some of the models on our list can make over 1000 stitches per minute. With a plastic sewing machine, running at this speed would likely cause overheating, heavy shaking, jamming, and skipped stitches. With a heavy-duty model, you don't have to worry about any of these things. This means that any sewing project can be done faster and with less effort on a stronger machine.
3. No Shaking
Standard sewing machines frequently compromise durability for price and portability, so they end up with many plastic parts. Luckily, this isn't the case with heavy-duty machines. These models are made with heavier and sturdier materials, such as steel, aluminum, and brass. With heavier parts and body, the machine can sustain higher stitching speed and intensity, while not shaking at all. Many users who own standard home-use machines avoid stitching at speeds over 500 stitches per minute as the entire project can get ruined due to shaking and accidental movements. Heavy-duty models are sturdy enough to erase this problem.
4. Reliability and Longevity
Stability during work is not the only reason sewing machine manufacturers choose sturdier materials like aluminum, brass, and steel for their heavy-duty models. Other effects of these material choices are reliability and longevity. Manufacturers vouch for the quality of their products through their warranties, and most heavy-duty models are covered with 25 years of limited warranty. However, you can expect a heavy-duty machine to live much longer if you simply clean, oil and service it regularly. In general, you can expect a heavy-duty machine to be a loyal companion for the next 50 years or so, making high-quality, heavy-duty machines one of the best investments you can make.
Best Heavy Duty Sewing Machines Comparison Chart
PRODUCT
DETAILS

Singer 4452 Heavy Duty Sewing Machine

Price:

$$

Customer Rating:

4.3

Weight:

17.68 pounds

Size:

15.5 x 6.2 x 12 inches

Stitching Speed:

100 spm

Warranty:

25 years

View On Amazon

Brother ST371HD Strong and Tough

Price:

$$

Customer Rating:

3.9

Weight:

18.4 pounds

Size:

7.9 x 16.1 x 12.2 inches

Stitching Speed:

800 spm

Warranty:

25 years

View On Amazon

Janome HD3000 Heavy-Duty

Price:

$$$

Customer Rating:

4.0

Weight:

23.2 pounds

Size:

19 x 10 x 14.7 inches

Stitching Speed:

860 spm

Warranty:

25 years

View On Amazon

SINGER Heavy-Duty 4411

Price:

$

Customer Rating:

4.3

Weight:

14.5 pounds

Size:

15.5 x 6.2 x 12 inches

Stitching Speed:

1100 spm

Warranty:

25 years

View On Amazon

Singer Heavy-Duty 4432

Price:

$

Customer Rating:

4.3

Weight:

17.3 pounds

Size:

15.2 x 6.2 x 12 inches

Stitching Speed:

1100 spm

Warranty:

25 years

View On Amazon

Janome HD1000 Heavy-Duty

Price:

$$

Customer Rating:

3.8

Weight:

22.4 pounds

Size:

18.5 x 8.6 x 15.1 inches

Stitching Speed:

840 spm

Warranty:

25 years
Best Heavy-Duty Sewing Machine Reviews
1. Singer 4452 Heavy Duty Sewing Machine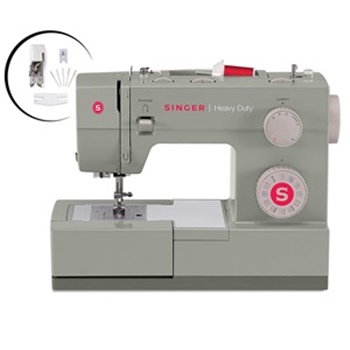 If you are a more advanced user who needs a heavy duty sewing machine, then Singer 4452 heavy duty is the right choice. Any type of fabric, any sewing project – this machine can endure it all. It is built to last, and that's why this unit has a 60% stronger motor. The heavy duty feature also has the benefit of faster sewing, even if we are talking about heavy fabrics.
Also, this sewing machine comes with 32 built-in stitches that range from basic, decorative to stretch and fully automatic buttonhole stitch. If you purchase this model, you will also get access to Singer's app classes and full sewing tutorials.
Read More: Singer 4452
2. Brother ST371HD Strong and Tough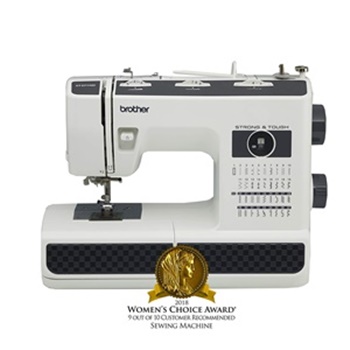 Our next model comes from the well-known manufacturer Brother. Their heavy-duty sewing machine has the largest stitch variety on our list, with 37 different styles of stitch, and a drop feed feature for free motion sewing and quilting. This model weighs around 18 pounds, and it has a sturdy metal chassis, which ensures stability during high-speed work.
This unit was designed to tackle various fabric weights, so it can even stitch through denim and silk with high precision. According to the user manual, this model doesn't require periodic oiling, making maintenance much easier. Along with the machine, you will also get a set of number 16 needles which are strong enough to pierce through layers of thick and heavyweight fabrics. It also comes with a dust cover and 6 different presser feet, including the zipper, blind stitch, buttonhole, button sewing, spring action zigzag and nonstick feet.
Pros
Doesn't require regular oiling, which makes it easier to maintain.
Good weight – it provides sufficient stability but isn't too hard to move either.
It has a wide selection of stitching styles.
Cons
The built-in workspace lightning is not strong enough, requiring an additional light source.
Many parts of this machine are plastic.
3. Janome HD3000 Heavy-Duty Sewing Machine w/Hard Case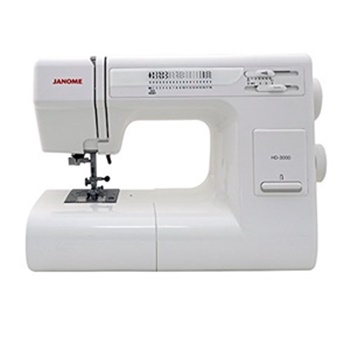 This model by the famous Janome is the most expensive model on our list, and it has got a lot to show for it. The 18 built-in stitches will help you tackle almost any project. You can select them with a simple dial system. This model has one unique feature that many quilters and winter apparel tailors will appreciate, which is an adjustable presser foot pressure. It lets you control the pressure with which the presser foot pushes the fabric down.
The model is made from sturdy materials, and it's truly a heavy-duty model. You can expect it to last for decades. Due to this, this model is the heaviest on our list. Weighing 23 pounds, it feels robust and secure, and it never shakes while running. The top speed of this model is 860 stitches per minute. It comes with many accessories, among which are special leather needles and several feed dogs like the blind hem, overedge, rolled hem, zipper, and buttonhole feet.
Pros
This machine is very robust and sturdy, making it extra durable.
The possibility to adjust presser foot pressure is quite helpful in layered fabric sewing.
This machine is a bit quieter than the others on our list.
Cons
This is the most expensive model on our list.
The machine is a bit heavier, so you can't move it from your workstation effortlessly.
4. SINGER Heavy-Duty 4411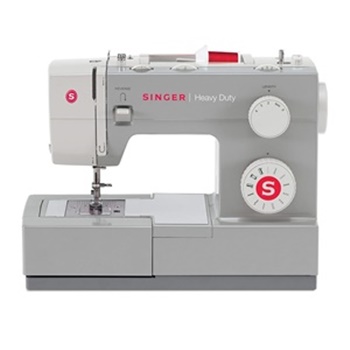 Here we have another solid, heavy-duty model by the world-renown manufacturer Singer. With an extra-large stainless-steel bedplate, this model makes sure that working with any type of material is easy and stick-free. At 1100 stitches per minute, this is one of the fastest machines on our list. The entire machine is made quite sturdy, but it's not too heavy, to ensure that the machine doesn't shake when working at these high speeds.
In fact, this machine only weighs 14 pounds, making it the most portable model on our list. If you're looking for a model that can handle long work hours but still be moved and carried regularly, Singer's got you covered. This machine comes with 11 built-in stitch styles, which is quite limited, but the selection of stitches can cover every task you could think of. It has an extra-high presser foot lifter, which is very useful for dealing with multiple layers of fabric. It comes with four presser feet – the all-purpose, buttonhole, zipper and button sewing feet.
Pros
This machine is super-fast, stitching at 1100 stitches per minute.
Weighing only 14 pounds, this is the most portable model on our list;
The large stainless-steel bedplate lets you maneuver fabrics easily.
Cons
It doesn't have an automatic needle threader, so threading is a bit harder.
It's lighter than other models, so it may not be as stable at high speeds.
6. Singer Heavy-Duty 4432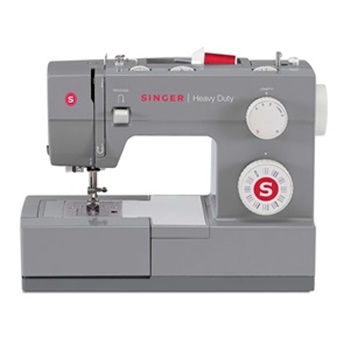 Here we have another heavy-duty model by the famous manufacturer Singer. This model is one of the most affordable ones on our list, yet it still provides great value to anybody who wants a machine they can often use. The unit comes with a selection of 32 different stitches, and a powerful motor that can move the needle at 1100 stitches per minute.
The entire inner mechanism of the machine is bound in a metal frame, which ensures high precision for many years to come. The frame adds to the unit's weight, and at 17 pounds, this machine is quite stable and it doesn't shake, yet it's light enough to be moved around and stored away from your workstation. For your quilting and layered projects, you can use the high bar presser system and adjustable pressure, which will help you control the thick fabric with ease and precision. This model comes with 4 additional presser feet, a dust cover, and various other accessories.
Pros
This is the most affordable model on our list.
It comes with a wide selection of 32 built-in stitches.
The weight of this model makes it stable but still portable.
Cons
Using large thread spools is not possible, due to the horizontal position of the thread.
5. Janome HD1000 Heavy-Duty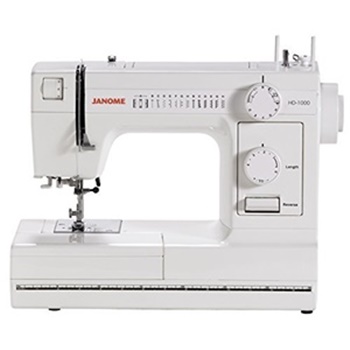 Our next pick is an ever-faithful Janome. It's a very heavy-duty model with a body encased in cast aluminum. With that in mind, your machine can serve you well for many decades. This model is quite hefty, and at 22 pounds, you shouldn't expect to move it with ease. However, with a top speed of 840, the metal frame ensures your machine won't shake.
Even with a metal frame, this model has a free arm for sewing tight sleeves, pants and cuffs. Quilters will be happy to know that it comes with easily retractable feed dogs which makes darning, stippling and the rest of free motion sewing styles quite simple. This machine has vertical thread stands, so you can use large threads with ease, which is perfect for working on a big scale quilting projects. This model comes with various accessories, including leather needles, a dust cover, and several presser feet. You can choose from a selection of 14 built-in stitches to sew, secure and decorate any project.
Pros
The cast aluminum body and a robust build ensure durability.
It has a free arm feature, which lets you tackle pants, cuffs, and collars easily.
This machine can work for hours on end without overheating.
Cons
The stitch selection is quite narrow.
This machine is a bit heavier.
What is a Heavy-Duty Sewing Machine?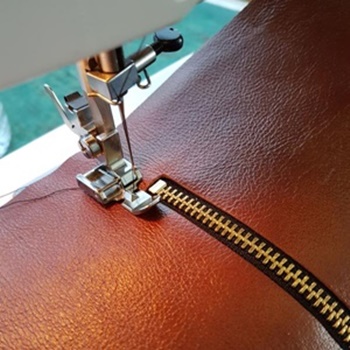 Used all around the world, sewing machines are one of the most useful machines in any household. However, most domestic-use sewing machines are not strong or sturdy enough to handle thicker fabrics and long work hours. When presented with challenging fabric or after a long work session, the lightweight home-use models often start jamming, overheating or straight-up refusing to work. If this happens to you, you should consider getting a heavy-duty sewing machine. Of course, it is possible to sew leather with a standard sewing machine but it depends on a lot of influencing factors like the type of leather.
Just as the name suggests, heavy-duty sewing machines are designed to be sturdier and more powerful. Their parts are usually made of good, strong materials which can withstand challenging sewing tasks. You can easily distinguish a heavy-duty unit from a standard, domestic-use sewing machine – heavy-duty machines are usually encased in a robust body, which looks and feels much stronger than the typical plastic body of a standard sewing machine. This alone might not seem like a big deal in theory, but after you try working on a heavy-duty machine for the first time, you'll understand the difference instantaneously. These powerful units are heavier, so they provide additional stability when you work on more ambitious projects.
Fabrics You Can Use With a Heavy-Duty Sewing Machine
Heavy-duty machines stitch faster, and they're made to handle long working hours and tough fabrics. With these sturdy models, you can stitch through nearly every fabric – chiffon, silk, denim, and even leather.
We can recommend these units to anyone who wants to try working with heavyweight fabric. With a heavy-duty machine, you can finally tackle those corduroy pants, tweed coat, and chenille bedding. These machines can handle such fabrics with ease, and tightly sew through multiple layers of thick cloth. Some units are strong enough to stitch more than 10 layers of denim. Because of this, your sewing machine will never again limit your creativity when it comes to sewing thicker, cold weather garments or quilts.
With the right needle and knowledge of how to deal with thicker fabric, heavy-duty machines can even stitch leather. Nothing is impossible – you can create suede jackets with ease if you have the right sewing machine. Pebble leather purses and wallets are not off the table either. If you get the right needle and presser foot, you can undertake projects even if they include challenging fabrics and leather that other machines can't handle.
Who Needs a Heavy-Duty Sewing Machine?
Of course, heavy-duty sewing machines are not the best choice for anybody. A heavy-duty model can be quite an investment because they are, naturally, a bit more expensive than regular sewing machines. This means that these aren't a great choice as one of the best basic sewing machines or people who only wish to work with lightweight fabrics. Because of this, we recommend that you consider what kind of projects and fabrics you may want to tackle in the future so that you can choose the right sewing machine accordingly.
In general, we would recommend dressmakers to invest in a heavy-duty machine instead of a regular one, especially if they either sew often, in large quantities, or with heavyweight and tough fabrics. If you plan to sew often, heavy-duty machines are more cost effective, despite costing a bit more than the regular units.
1. Domestic Use Sewing and Quilting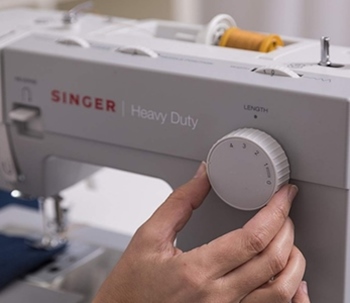 If you often sew clothes, toys and room decorations for the members of your household, getting a heavy-duty sewing machine might be a great choice. You won't have to take torn jeans and fall jackets to a professional tailor for fixing anymore, as heavy-duty models can handle thick, layered clothing easily. Furthermore, these machines are made of durable, tough materials inside and out, which makes them very long lasting. If you're looking for a machine that will also serve your children for decades to come, invest in a heavy-duty sewing machine.
On the other hand, home quilters will surely appreciate a heavy-duty machine for multiple reasons. First of all, these models typically have higher lifting presser feet, which means that you can place multiple layers under the needle without struggling for space with the presser foot. Secondly, heavy-duty machines are extraordinarily fast. Quicker heavy-duty models can make over 1000 stitches per minute, while standard home machines usually cap at around 800 stitches per minute.
The best industrial sewing machines can even run 5 times faster than standard home-use sewing machines can. With heavy-duty speeds and high presser feet, free motion quilting is a breeze. Finally, the tag 'heavy-duty' usually means that the machine has a metal frame and, thus, more weight to its body. This can be very useful to tailors handling large projects like king-size bedding or large quilts. The heavier body of the machine ensures that your machine won't shake, move or bounce, even if you handle large projects at top speeds.
2. Professional Sewing
If you're a professional tailor who produces garments, home décor or does repairs, you know how challenging long hours can be to the standard home-use sewing machine. These overheat easily, skip stitches and jam very often, so working on them for longer periods can get quite frustrating. Heavy-duty machines have more powerful motors, which not only lets them run at faster speeds, but it also ensures that your machine can handle many hours of continuous work, day after day.
These sturdy models are designed with the professional in mind, so they're equipped to handle large workloads. In addition, the manufacturers pay close attention to the choice of materials for both the inside parts and the hull of the machine. While these better materials add to the price of each machine, they also ensure longevity and resilience, making heavy-duty machines a smart investment for any business which includes sewing as a part of the process. Finally, a heavy-duty machine can immensely reduce the time you spend sewing. They can run faster without skipping a stitch or compromising stitching quality, helping you make top-notch products that your customers deserve.
Heavy-Duty Sewing Machine Buying Guide
Heavy-duty machines are a big investment, so you want to be sure to get your money's worth. In this part, we will discuss the features and traits that make heavy-duty units so cost-effective. Make sure to consider these when choosing the ideal model for yourself.
1. Material
Unlike the regular, portable sewing machines, heavy-duty machines are made to work those tough, long hours. To make sure the machine can stand up to the task, manufacturers use sturdier materials and a more robust design when they're designing them.
Most heavy-duty machines not only have a heavy metal construction and inner parts, but they are also encased in a bulky frame. The frames can be made with thick and tough plastic or metals like aluminum and steel.
As you can imagine, this brings many benefits. First off, when you invest in a well-made sewing machine, you can expect it to serve you well for a long time, even with heavy work. Metal-encased sewing machines are extremely durable and can usually last for a few decades, making them a great investment for anybody who sews regularly. The heavy frame also provides additional stability during work, which helps you go through tough fabrics with ease. But don't worry – you can still sew lightweight and thin fabrics as well, as the solid build ensures that the inner parts work with high precision.
2. Weight
A heavier body ensures that the sewing machine won't shake when you sew at high speeds or use powerful stitches to pierce through tough fabrics. However, it also means that the machine is heavier to move, so you shouldn't expect that much portability from heavy-duty machines. If you frequently attend sewing workshops, or you like having your sewing machine with you when traveling, a heavy-duty model might not be the right choice for you. These usually have to stay at the same place, and it'd be best if you don't move the machine from your workstation at all. However, there are some slightly lighter models that can be moved a bit easier, which is also useful for storage.
We think that the perfect balance lies somewhere in the ballpark of 17 pounds. In order to ensure stability and avoid shaking during work, you should look for machines that are heavier than 13 pounds. On the other hand, if you care about portability and want to be able to store your machine away when not in use, look for models that don't weigh much over 20 pounds.
If your needs are limited with little repairs, you can also have one of the top-rated mini sewing machines.
3. Stitching Speed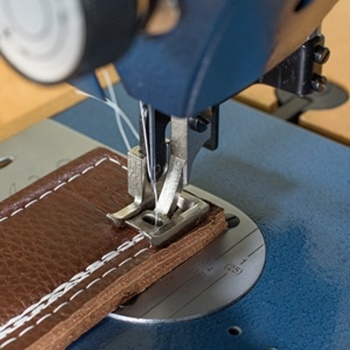 If you're a professional that requires efficiency, or you need to finish a project quickly, you'll appreciate the higher stitching speeds that the heavy-duty sewing machines can provide. In most cases, the stitching speed of these models ranges between 800 and 1100 stitches per minute, letting you whiz through any project. In fact, most regular sewing machines cap their stitching speed to 750 stitches per minute, so if you're after speed, a heavy-duty model is a great choice for you.
These units are robust enough to maintain high stitch quality even when working in very high speeds, so you don't have to waste your time sewing slowly. Due to the reliable material and design of heavy-duty machine parts, stitches rarely skip and the thread is unlikely to jam, no matter how fast you go.
There's a bonus to having a heavy-duty model when racing through projects – due to their heavier build, they're less likely to shake and jump while running at top speed. This makes controlling your work easier and ensures your stitching will never get out of your hands.
4. Stitching Styles
Even home use sewing machines can grant you a lot of freedom when it comes to stitch choice. Heavy-duty machines are not an exception, so they come with a wide array of built-in stitches. From standard stitch styles, through various specialty to decorative stitches, these machines will help you express your creativity, while not overwhelming you with an excessive choice.
Most heavy-duty sewing machines come with sets between 10 and 40 built-in stitches. Any machine should have the basic set – the straight stitch, zigzag, blind hem, buttonhole, and reinforcement stitches, but additional options are always welcome.
The possible stitch variety also depends on the number and selection of the accessory pressure feet you get with your machine. Most machines come with a set of various additional pressure feet like the zipper foot, blind stitch, buttonhole, and nonstick feet.
If you're interested in quilting, then you should also look for models with retractable feed dogs. Laying under the needle, feed dogs are the rows of steel teeth which are used to push fabric to the back, by moving back and forth. If your machine has the feature to retract the feed dogs, you can move the fabric under the needle as you please, in any direction. This is called free motion quilting.
5. Higher Lifting Pressure Foot
Heavy-duty sewing machines let you undertake projects like winter clothing or quilts, due to the powerful stitching and strong build. High lifting pressure foot is another feature that can help you work with thick fabrics and numerous layers.
The presser foot is there to hold your fabric tight while sewing, but it can only be lifted as much. This makes maneuvering with thick layers of fabric harder, before you can even begin stitching. When the pressure foot doesn't lift high enough, it can be hard to position layered projects properly, which often ends up in misplaced stitching. Some models of heavy-duty machines can raise the pressure foot higher than you usually can with regular models. This can help you set up and control your project easier, no matter how bulky it is.
6. Automatic Needle Threader
Sewing machines are a centuries-old invention, but the manufacturers keep on improving them, making them more powerful and easier to use. One newer invention that is nearly mandatory in modern sewing machines is an automatic needle threader. This contraption sits beside the needle, and it can be used to push the thread through the eye of the needle effortlessly and in a matter of seconds.
If you're getting a new sewing machine, make sure that it has this addition, as it's truly a lifesaver that has the power to make your work process much quicker and smoother. Automatic needle threaders are simple and easy to use, but even more importantly, they eliminate the harmful eye strain and the frustration that commonly comes with manual needle threading.
7. Warranty
Heavy-duty sewing machines can be quite expensive because their parts and frames are made of high-quality materials. They are meant to be used for years, so they're designed to be particularly durable and sturdy. To make sure your investment is worthwhile and safe, you should get a machine that is covered with a good and long-lasting warranty.
Most sewing machine manufacturers cover their models with customer-oriented warranties. Most often, companies vouch for the quality of their products with 25-year long limited warranties on the frame. Within these 25 years is a 2-year long coverage on electrical parts of the machine.
Of course, the specific warranty terms vary among different manufacturers and models. Make sure to check the particular warranty that comes with the machine before making your final pick!
FAQ About Heavy-Duty Sewing Machines
1. How often do I need to clean and oil my heavy-duty sewing machine?
Regular cleaning and proper maintenance are very important if you want your machine to work well for years to come. It is the key factor to avoid common sewing machine problems.
The cleaning and oiling frequency mostly depends on how much you use your sewing machine. Ideally, you should clean your machine after every project, and oil it after every 5-6 projects. If you haven't used the machine for a while, clean and oil it before you start sewing.
The particular cleaning and oiling techniques of sewing machines may differ between models and manufacturers, so consult your user manual for specific directions. However, most machines should be cleaned similarly.
2. How to clean a heavy-duty machine?
First of all, turn off and unplug your machine so you can avoid accidents. Remove the needle plate, and open the bobbin case and remove the bobbin. Then, brush off the lint and leftover thread with a brush, and even pluck it with tweezers if necessary.
Consult your user manual to find out the exact parts you need to oil, and how much oil to use. In general, only one or two drops of good sewing machine oil should be sufficient per each part. The needle bar, bobbin case, presser bar, and the thread take-up lever are the parts that require oiling more often.
3. How often do I need to service my heavy-duty sewing machine?
A heavy-duty model is a cost-effective investment because it usually requires less maintenance over time than a regular model. Due to the high quality of the building materials of these machines, they can stand up to wear and tear a lot better. Still, if you want to ensure a long life to your heavy-duty machine, you should have it serviced by a certified service shop occasionally. Basically, servicing the sewing machine is not rocket science, but still, it is recommended to be done by professional hands.
Generally, it's recommended to service the machine every year, but with these high-quality machines, that's often not necessary. If you clean and oil your machine regularly, and don't use it very heavily, you will only need to have it serviced every two years.
Wrap Up
Getting a heavy-duty sewing machine is not simple. These units are high in quality and are made to last, so making the right choice that's just for you is important. These are so many things to consider – from stitch options and speed to the build, weight, and material. Every feature can influence how happy you will be with the machine you chose in the end. However, working on heavy-duty models is a delight since they usually provide an effortless and seamless sewing experience.
It's time to wrap up our best heavy-duty sewing machine reviews and buying guide. We hope that you found all the answers you needed to approach these complex machines with confidence. If you have any questions left, or you'd like to share your own experiences with some of these heavy duty sewing machine reviews, feel free to leave us a comment below. We'll get back to you as soon as possible!