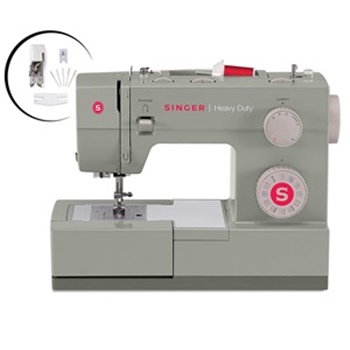 If you use a residential sewing machine, you know that thick, layered fabrics are just too much for ordinary units. This simple fact frequently ends in frustration and failed projects. But if you keep on dreaming about those corduroy pants, denim jackets, and suede purses, it's time to get a machine that can handle these difficult fabrics. What you need is a heavy-duty sewing machine.
There are many different heavy-duty models available on the market, so choosing the perfect one is not an easy task. Today, we'll take a closer look at one of the more affordable models. In our Singer 4452 review, you can learn everything about its specifications, features, and warranty. Perhaps this model is the ideal one for you!
Singer Heavy Duty 4452 Sewing Machine Specifications
If you're looking for a heavy-duty model, Singer's got you covered. This unit is there to take care of heavyweight and thick fabrics for you. It is designed to sew through multiple layers of various difficult fabrics like corduroy or denim, and even leather. This unit weighs 17 pounds, mostly thanks to its heavy, metal internal frame. It seems irrelevant, but this is actually quite important for heavy-duty machines because additional weight prevents the machine from shaking while it's stitching. Racing through a project is possible too, with this model's top stitching speed reaching even 1100 stitches per minute. This unit has 32 built-in stitch options, so you can set your creativity free.
Threading this model is very simple. Just follow the directions printed on the machine. This model has a built-in automatic needle threader, and it also has a top drop-in bobbin system which is very easy to load. If you're looking for a machine which supports free motion quilting, you'll be happy to know that the feed dogs can be lowered quite easily, with a lever. Sewing multiple layers, such as in quilts or winter clothing, is not off the table either, as you can lift the presser foot extra high on this model.
This machine comes with various accessories, but most importantly, it comes with a pack of strong #16 leather needles.
Customer Support and Warranty Policy
SINGER is one of the oldest and most well-known sewing equipment manufacturers in the world. Established in 1851, this company has almost 170 years of experience in this field. Because of this, they're considered one of the most reliable and trustworthy companies out there.
Singer covers its sewing machines with 25 years of warranty for the machine head, and 5 years for the electronic parts such as the wiring, motors, switches, and the rest.
Contacting their customer support is quite easy as well – you can reach Singer either through their website or by calling a toll-free phone number.
What to Expect from Singer Heavy Duty 4452 Sewing Machine?
Getting a heavy-duty sewing machine is not a small step, and it will surely make your sewing experience much more pleasant and simple. Heavy duty machines are made to handle tough fabrics and long work hours, so it doesn't matter if you're a professional or a hobbyist – this machine will serve you well for years to come. Consider checking the user manual of the unit to ensure this.
Pros
The stitching speed is lightning-fast, at 1100 stitches per minute.
The machine is heavy, providing extra stability while working, even at high speeds.
It can easily stitch heavyweight, thick and layered fabrics.
Cons
The model has a horizontal thread holder, so it can't take big thread spools.
The starting speed threshold is high, so starting slow is not possible.
Wrap Up
Unique winter apparel, leather purses, wallets, and belts, or simply a quickly done quilt – these are all easy to make with a high-quality heavy-duty sewing machine like this one. It doesn't matter if you only make clothes for your family, or you're a professional who sells their creations on a regular basis – you deserve a machine that can handle whatever you want to work on.
Choosing the right heavy-duty sewing machine is not easy. The market is vast, and there are many good choices. We hope that in this Singer 4452 review, we helped you understand the capabilities and the limitations of this model better. If you have any questions left, or you'd simply like to speak your mind about this particular model, feel free to leave us a comment below. Happy sewing!