There's a simple reason why you should always have the best mini sewing machine on hand: everybody loves looking their best wherever they go. But sometimes accidents happen. Sooner or later, your big night might be ruined because of a simple misstep or a moment of distraction – now your beautiful dress or suit is torn. Luckily, moments like this don't have to be the end of the world. If you prepare in advance, you can simply excuse yourself to the bathroom, and simply mend the hole. These mini sewing machines are handy to carry around and use for small repairs, and they leave you with the professional-looking results that you simply can't achieve with sewing by hand.
See The Quick Comparison Chart
Benefits of Mini Sewing Machines
Having a handheld, mini sewing machine is beyond useful, and we're sure you can see the benefits that come with having one on you at all times. Still, let's go through the most important points that served as deal breakers for many people to decide to get their own.
1. Have One on Hand Anytime, Anywhere
The most obvious advantage of a handheld sewing machine compared to its larger counterparts is that you can have one wherever you go. Whether you keep it in the glove compartment of your car, your handbag, or your suitcase, a portable sewing machine can be a lifesaver exactly because you will have it on you when you need it most.
2. No Electricity Needed
Some portable sewing machines only take the press of your hand, while others require batteries to work. One thing is for sure – you won't find yourself in a situation where you're frantically looking for a power outlet to run your sewing machine. Of course, mini-units can't match the speed of the best heavy-duty sewing machines, but then again, you wouldn't carry a good industrial sewing machine to a fancy restaurant dinner.
3. Mend Holes in No Time
Even though some parents and teachers use these for fun sewing projects with their kids, the most common use for mini sewing machines is fixing small tears and holes in clothes. Tears happen, and very often at the worst possible moment – just before a speech at a gala event or that important business meeting with the stakeholders. If you only need to fix a tear, you don't need any particular setup – simply pick the right thread, and you can mend a hole in a matter of seconds (or minutes, if it's a relatively large tear).
4. Very Affordable
Finally, the most important reason why you simply can't say "No" to a nice little portable sewing machine model is that they're ridiculously inexpensive. They bring an immense value at a very low price, and you can get a handheld model of your own for as little as ten bucks. Of course, you can go with a high-quality item as well, which will cost a bit more, but generally, a mini sewing machine will cost a fraction of a full-sized one.
Best Mini Sewing Machines Comparison Chart
PRODUCT
DETAILS

KPCB Tech Mini Sewing Machine

Price:

$$

Customer Rating:

3.9

Size:

8.6 x 6.9 inches

Type: Mini Sewing Machine
Power Source:

Adapter / Batteries

View On Amazon

Speedy Stitcher Sewing Awl

Price:

$

Customer Rating:

4.5

Size:

7.5 x 4.5 inches

Type:

Awl

Power Source:

Manual

View On Amazon

Singer 01664 Stitch Sew Quick 2

Price:

$$

Customer Rating:

3.1

Size:

8.5 x 7 inches

Type:

Mini Sewing Machine

Power Source:

Adapter / Batteries

View On Amazon

Neala Sewing Machine Mini Portable

Price:

$$$

Customer Rating:

4.1

Size:

10.2 x 10.8 inches

Type:

Mini Sewing Machine

Power Source:

Adapter / Batteries

View On Amazon

BJeteven Handheld Sewing Machine

Price:

$

Customer Rating:

4.3

Size:

2.3 x 7.8 inches

Type: Handheld
Power Source:

Batteries

View On Amazon

Yibaision Handheld Sewing Machine Portable

Price:

$$

Customer Rating:

3.5

Size:

3.5 x 8.8 inches

Type:

Handheld

Power Source:

Batteries

View On Amazon
Best Mini Sewing Machine Reviews
1. KPCB Tech Mini Sewing Machine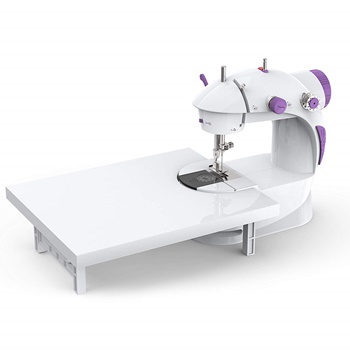 Our next pick is a mini sewing machine made by KPCB Tech. This particularly stylish white and purple sewing machine is a great pick if you're looking for a reliable machine with basic options and good performance.
With the size of the machine not exceeding 8.6 x 6.9 inches, this light, portable machine is easy to carry around the house, or even pack up for your vacation. The key accessory that makes this machine different than others is its extension table, which will make handling projects much easier, allowing you to tackle sewing you wouldn't normally attempt on such a small machine.
This easy home mini sewing machine can be run by both an adapter and a set of batteries. As a mini sewing machine, it uses two threads, and this model comes with 4 extra bobbins which are set up in a drop-in bobbin case. It's run by a foot pedal, making use very intuitive if you have any experience sewing. This machine comes with convenient design features, for example, bobbin winding, and a cuff slot for sewing sleeves and hems around pant legs.
2. Speedy Stitcher Sewing Awl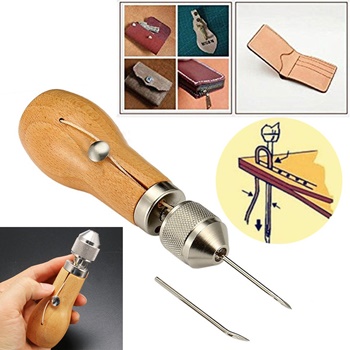 There's nothing more reliable than a good, old awl. This time, we have a Speedy Stitcher tool packaged in beautiful, retro packaging.
Even though an awl takes a bit more time and effort to use, this sewing awl will pierce through almost anything. Designed for heavyweight materials, this tool is amazing if you ever need to fix a tent, upholstery, sails, a belt, or different types of sports equipment. If you're an outdoor enthusiast and you like going on long trips to the countryside, this tool is quite indispensable since you can use it to stitch almost anything together.
This model by Speedy Stitcher has a thick, comfortable wooden handle, which will make the tool easy to use. Apart from the awl itself, you also get a straight and a curved needle, both of which are high-quality, diamond point needles, and 30 yards of waxed polyester thread, which is quite thick and resilient. With a little practice, you will be able to make a perfect lock stitch whenever you use this tool, and then you can rest assured that a torn piece of clothing or gear will never stop you from enjoying the great outdoors again.
3. Singer 01664 Stitch Sew Quick 2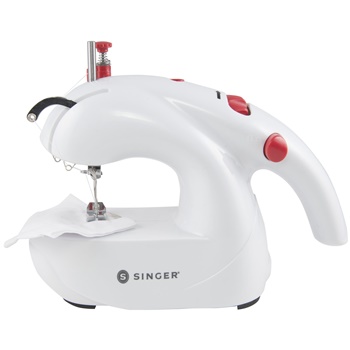 We're sure you've heard about the legendary sewing machine manufacturer Singer. This time, we present their portable, mini sewing machine with a catchy name – Stitch Sew Quick 2.
Shaped like a kettle, this handy little machine can help you do a lot of your sewing wherever you are, without the need to devote an entire desk to it. No bigger than 8.5 inches wide and less than 7 inches tall, this mini handheld sewing machine can be the tool you always needed.
Even though this machine is small, it's still powerful. It uses two spools of thread to create a stitch, and it includes a drop-in bobbin case. You can wind your bobbins on the machine directly, as it has that option too. It's mainly button operated, and you can choose between two speed settings. If you have a fitting 6 V adapter, you can run it plugged into the electric outlet, but you can carry it anywhere if you use it with 4 AA batteries. This mini sewing machine is a great choice if you want a nice little tool that you can use anywhere.
4. Neala Sewing Machine Mini Portable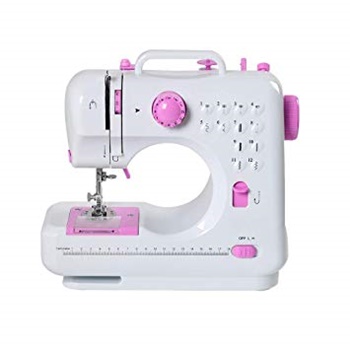 Next up, we have a mini sewing machine that is chock-full of various features and can do just about anything that a regular sewing machine can. Made by Neala, this machine may not be the cheapest on our list, but it's definitely the one to turn to if you're looking for a great variety of stitches and other sewing options.
You can choose between 12 stitch styles, including buttonhole sewing and a variety of zig-zag patterns. You can wind bobbins on it, and the machine uses a drop-in bobbin system for its two-thread stitching. This mini portable sewing machine even has a backstitching option, which makes it possible to handle complex and big sewing projects on this pretty, little machine. One of the unique features is the measuring ruler printed directly on the machine.
You can run this machine with a click of a button or with a pressure foot. It can be powered by both an included electricity adapter, and a set of batteries. The best thing about this machine is that even though it comes with so many features, it keeps a very lightweight and small size, measuring just over 10 inches in both width and height.
5. Jeteven Handheld Sewing Machine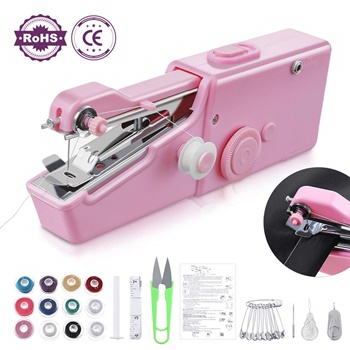 If you're looking for a handheld sewing machine which is as pretty as it is useful, Jeteven has got a beautiful little rose pink model for you.
Like most handheld sewing machines, this model creates a chain stitch using only a single spool of thread. You can use one of the 12 pre-wound bobbins with different color threads, or you can use the spindle to attach any regular spool of thread you may have. Apart from the threaded bobbins and the spindle, you also receive small scissors, a measuring tape, a set of 10 multi-purpose safety pins, two different style needle threaders, and two spare needles. Sadly, you don't get any batteries or a power cord with this product, so we recommend getting 4 AA batteries in advance.
As with other handheld models, the end of the thread of the chain stitch created by this little, convenient machine should be tied in a knot after you've made your repairs. This beautiful little machine is a great addition to any household, and it can make traveling, creative projects, and daily home repairs much more stress-free.
6. Yibaision Handheld Sewing Machine Portable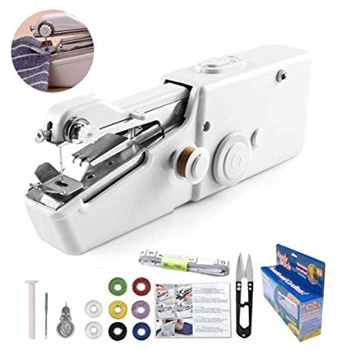 Next up, we have a handy kit made by Yibaison. This kit includes almost everything you may need to fix holes and tears on the go, wherever you are.
In the box, apart from the handheld sewing machine, you also get 9 pre-wound bobbins with different colored threads, a needle, one spindle, a pack of 10 safety pins, a needle threader, a spare needle, small scissors, and a double-sided 60 inches long measuring tape, along with a user manual in English.
The handheld sewing machine itself is very convenient, measuring no more than 3.5 x 8.8 inches, and weighing around 8 ounces. That makes it small and lightweight enough to carry anywhere you go in your handbag, making unexpected tears a breeze to handle. This model is powered by 4 AA batteries, which are not included. The machine uses a single thread, making a chain stitch out of it, so you should tie a knot at the end of each stitched line to help the stitching hold together. The big advantage of this product over others is that it comes in a comprehensive kit that includes anything you may need to fix your garments or work on simple projects with your children.
What is a Mini Sewing Machine?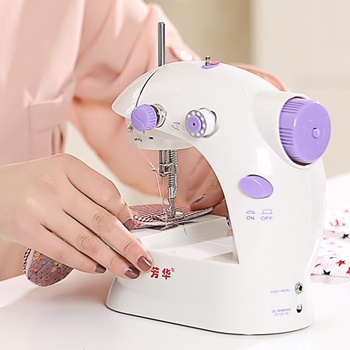 As the name might suggest, a mini sewing machine is generally a sewing tool that you can use anywhere, anytime. A mini sewing machine is made in a compact form so you can easily store it and carry it with you. They are convenient to have on hand, whether you're traveling to your vacation, attending a conference away from home, or simply want a way to mend clothes without investing in a full-sized sewing machine.
Truth be told, a mini sewing machine is not a particular type of product. Here, we will cover many useful tools, from handheld stapler-like devices, over good old awls, to machines akin to regular sewing machines but battery-operated and smaller in size. Whichever you choose, we're sure that there will come a time when you'll be grateful you have one in your bag or suitcase.
Types of Mini Sewing Machines
As we already mentioned, in this article, we won't focus on a particular type of sewing machine. Instead, we will cover various types of miniature sewing tools, which can help you mend your clothes on the go and without access to electricity.
1. Handheld Sewing Machines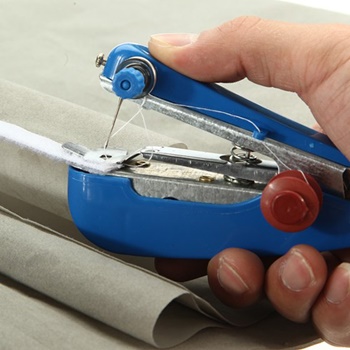 Handheld sewing machines are small machines that somewhat resemble a common office tool – a stapler. They typically only use one thread reel, and the stitches are formed as the machine forms loops out of it, which is called chain stitch. Some of the handheld sewing machines are battery-operated, and others require you to manually press the machine. They are generally good for emergency sewing or small projects, though sometimes the chain stitching can be unstable.
2. Awls
On the other hand, awls are a rather traditional and simple contraction, but they're very reliable and require no source of power. An awl is essentially a threaded needle with a handle. As you pierce the fabric, you need to manually pull the thread and make a loop. Because of this, using a stitching awl is somewhat similar to hand stitching, but the handle of the tool makes it much more convenient. A big benefit of awls is that they're usually made strong enough to pierce through tough and heavyweight fabrics like leather and denim, which is rare even among full-sized sewing machines.
3. Smaller Regular Sewing Machines
Apart from the handheld tools that we described above, we can also recommend a couple of small, portable sewing machines.  The most important difference between a regular beginner sewing machine and mini, portable models is that the latter have the option to run on batteries. This is extremely handy if you're traveling, or you want to have a model that you can use anywhere in your home. Along with the option to be powered by batteries, the mini models are, of course, smaller and lighter, which makes them easy to pack up and carry around. While a mini sewing machine doesn't exactly have the vast selection of decorative stitches of top-rated computerized sewing machines, the portable version is sufficient for any type of clothes mending, and even many simple projects.
If you want to learn more about sewing machines in general, you can find a lot of useful information on our homepage.
Mini Sewing Machine Buying Guide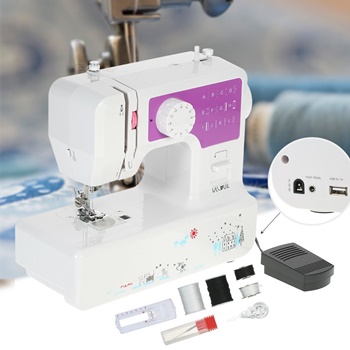 With such a diverse selection of mini sewing machines, it's natural that you may feel confused about which mini sewing machine you should get. Because of that, we prepared a small buying guide where we cover the most important factors that you should consider before making your pick.
1. Material Quality
The very last thing you want to happen is for your mini sewing machine to break while you're in the midst of an emergency suit mending in a restaurant bathroom. That's why you should consider investing in a reliable model that is made out of high-quality materials. While most sewing machines (mini or otherwise) come in a tough plastic casing, the inside mechanism should always be made out of metal.
2. Stitching Speed
A handheld sewing machine will rarely be able to work as quickly as an industrial model, but you can expect a solid 200 – 300 SPM (stitches per minute). This is very quick and quite sufficient for any emergency repair.
3. Piercing Power
A sewing machine's piercing power determines which fabrics it can work with. Even little sewing machines have the ability to work through light and medium weight fabrics such as cotton, linens, and chiffon. However, not all machines can work through several layers of denim, which might be an important factor for you at some point. We recommend you to stay on the safe side and choose a model which can pierce heavyweight fabrics like denim and corduroy with ease.
4. Included Accessories
Getting a small sewing machine of your own should be simple – you don't want to go hunting for all of the tools you need to have on hand afterward. Luckily, many models out there come with a handy set of threads, needle threaders, scissors, and so on.
FAQ About Mini Sewing Machines
1. Is a mini sewing machine as powerful as a full-sized model?
In general, you shouldn't expect a very powerful and fast machine out of a portable model. The main reason for this is that mini sewing machines usually use a set of batteries as their main power source. With such power source, getting around 200 to 300 stitches per minute is more reasonable than the heavy-duty sewing machine average of 800. However, mini sewing machines are an amazing tool to have in your glove compartment or bag.
2. Which fabrics can I sew with a mini sewing machine?
In general, most portable sewing machines can handle general clothing fabrics. From cotton, through linens, and even up to corduroy and suede, mini sewing machines are tougher than they look. Make sure to check the exact specifications of your chosen model provided by the manufacturer.
3. Can I make decorative stitches with a mini sewing machine?
Generally, mini sewing machines don't come with a wide variety of stitches. That's because they don't have the complex structure that allows the needle of regular sewing machines to move side-to-side. Because of that, most mini sewing machines only come with the ability to make a straight stitch.
4. How do you thread a mini sewing machine?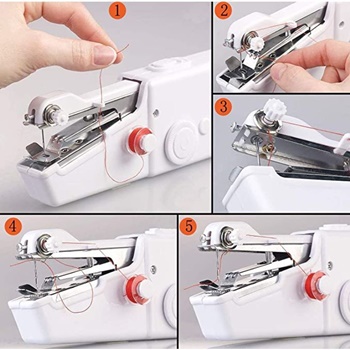 Threading a small unit is not unlike threading a full-sized sewing machine. But owners of handheld mini sewing machines need to master threading a somewhat different device.
The first thing you should do is load the bobbin with the thread you want to use. Pull out the peg on the side of the machine and the bobbin will come right off. Put a new bobbin on there, attach the peg and the spring, and press it back into the slot. Make sure the thread unwinds counter clock-wise.
Grab the end of your thread and follow the guides. First, pull the thread up through the plastic thread guide.  Then, guide the thread over the tensioner (the knob above and to the side of the needle). Make the thread go between the tensioner disks, but never wrap the thread around it – it simply needs to go over it and then down towards the needle. You can later adjust your thread tension using this knob.
Next up, your thread should go through the metal guide under the tensioner. Finally, it's time to thread your needle – but unlike big sewing machines, your thread should go back to front on a handheld device. Pull out a couple of inches of a tail through the needle, and you're ready to go!
Wrap Up
If you've ever experienced the embarrassment of your suit or pants tearing in the middle of a meeting, you know exactly how a portable sewing machine could save you the humiliation that comes with such an uncomfortable situation. One of the best mini sewing machines can truly be a life-saver on several occasions throughout life.
These machines come in various shapes and forms, and because of that, you should take your time to consider all of the factors, and choose a reliable companion that will always be there for you when you need it most. We hope our mini sewing machine reviews and buying guide helped you find an ideal model for you. If you have any questions left, don't hesitate to get in touch!