There's no better way to achieve perfect, smooth seams than with the best serger sewing machine. This piece of equipment makes the garment stitching look professional inside out. This machine is necessary for any dressmaker striving for that polished look of professionally made garments.
If you're excited to expand your sewing arsenal but can't decide which one to get, take a look at our serger sewing machine reviews. We also organized all the info you need before making your pick into a handy buying guide.
See The Quick Comparison Chart
Who Should Have a Serger Sewing Machine?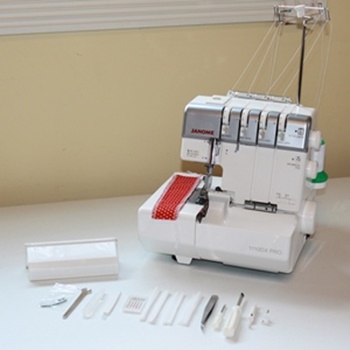 The short answer is – anybody who likes to sew! The long answer is a bit more complex.
First of all, a serger is necessary if you want to go from a hobbyist to a professional tailor. If you want to start selling your creations, a mere sewing machine simply won't cut it. Classic sewing machines cannot match the quality or the looks of a serger-made stitch, even if you use a double needle. So, if you want to make and earn on a professional-looking garment, a serger machine is definitely a worthy investment.
1. What Do You Want to Do?
If you're not looking to sell, but still want to create high-quality garments for yourself, your family and friends, a serger machine is a good asset to have. This especially goes for those who intend to sew children's clothes. Due to both rapid growth and levels of activity, children's clothes need to be extra stretchy and enduring. Standard sewing machine seams are everything but this, and they will break easily. It's virtually impossible to get a seam that's flexible enough with a classic sewing machine. Because of the high stretchiness of many serger stitches, they're a perfect choice for families who like to make their own clothing.
On the same note, if you'd like to make more stretchy garments in general, a serger machine is a great choice for a few more reasons. In contrast to non-stretchy woven ones, the stretchy knit fabrics tend to be quite hard to work with. One of the biggest issues that arise when working with knit fabrics, like lycra blends and rayon, is that their edges roll up. While this is a natural occurrence that happens due to elasticity, it can be quite a drag to stitch properly with a sewing machine. On the other hand, a serger deals with this – easy peasy.
2. What Are You Dealing With?
On the other hand, if you mainly use non-stretchy, woven fabrics, chances are your sewing machine does a good job on the seams and hems. For woven fabrics, like flannel and broadcloth, a simple folded hem is typically sufficient, and this can be done with a sewing machine. However, woven fabric seams can also benefit from a serger, as it's easier to prevent fraying and unraveling.
Finally, if speed is a factor for your projects – a serger can be a lifesaver. Working with a sewing machine, you have to devote the time to trimming seam allowance and stitching separately. On the other hand, a serger machine does this automatically, cutting the time you spend on edgework in half.
Best Serger Sewing Machines Comparison Chart
PRODUCT
DETAILS
Brother 1034D Serger Sewing Machine

Price:

$

Customer Rating:

4.3

Weight:

8.02 pounds

Size:

11 x 11.7 x 13.2 inches

Stitches Per Minute:

1300

Warranty:

25 years

View On Amazon
Singer ProFinish 14CG754 Serger

Price:

$

Customer Rating:

4.0

Weight:

13.5 pounds

Size:

14 x 11 x 11.5 inches

Stitches Per Minute:

1300

Warranty:

25 years

View On Amazon

JUKI MO654DE Portable Thread Serger

Price:

$$$

Customer Rating:

4.6

Weight:

20.1 pounds

Size:

10.6 x 13.6 x 11.6 inches

Stitches Per Minute:

1500

Warranty:

5 years

View On Amazon

Janome 8002D Serger

Price:

$$

Customer Rating:

4.1

Weight:

17 pounds

Size:

15 x 13.5 x 14.5 inches

Stitches Per Minute:

1300

Warranty:

25 years

View On Amazon

Brother ST4031HD Strong and Tough Serger

Price:

$$

Customer Rating:

4.0

Weight:

17.6 pounds

Size:

13 x 14.4 x 17 inches

Stitches Per Minute:

1300

Warranty:

25 years

View On Amazon

Singer Professional 5 14T968DC Serger

Price:

$$$

Customer Rating:

4.0

Weight:

21.6 pounds

Size:

11 x 12.5 x 14 inches

Stitches Per Minute:

1300

Warranty:

25 years

View On Amazon
Best Serger Sewing Machine Reviews
1. Brother 1034D Serger Sewing Machine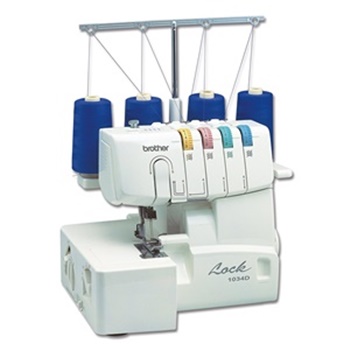 Brother 1034D is a great sewing machine if you need to have edges finished professionally. This serger can also perform edge finishing on fabrics, linens, formal wear, and even knits. There are more than 22 built-in functions for stitching that include 4-thread overlock, 3 thread-overlock, ribbon lock stitches, and more. Also, this sewing machine has a differential fabric feed, which means that it can provide a professional edge finish and even stitch quality, even on thin and stretchy fabrics.
When it comes to additional accessories, you will get 2 snap-on feet, needles and a foot controller. This model is really easy to use, and it comes with an instructional video and printed manual.
Read More: Brother 1034D
2. Singer ProFinish 14CG754 Serger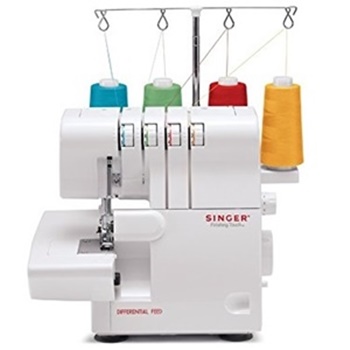 This model from the legendary sewing equipment manufacturer Singer comes as a great choice for any home seamstress. Weighing only 13.5 pounds and coming with a built-in handle for easy transport, this is the most portable model on our list.
When it comes to stitching functions, this serger won't leave you hanging. This 4-threader includes all possible combinations: 2, 3 and 4-thread stitching. It can also work super-quickly – moving at the rate of 1300 stitches per minute, it'll let you race through the tightest deadlines. A unique feature of this model is the capability to prevent cutting fabric with the built-in blade. The threading isn't a problem either, as it comes with color-coded instructions drawn on the machine itself. The built-in light bulb is an LED, making it extraordinarily long-lasting. The accessories that come with it are tweezers, a set of needles, a spreader and a screwdriver, and a plastic dust cover for safe storage.
This great Singer serger comes covered with 25 years of warranty issued by this reputable manufacturer.
3. JUKI MO654DE Portable Thread Serger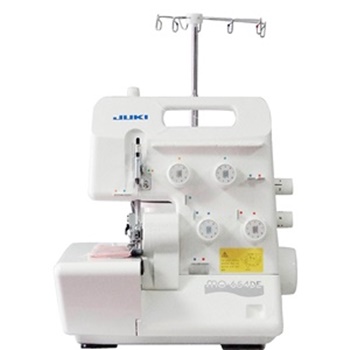 This model by Juki has everything you need – it's a sturdy, secure, yet elegant model. This is a great choice for both serging professionals and beginners.
Juki's 4-thread unit employs 2, 3 or 4 threads to do its multitude of stitching options. It also has automatic rolled hem functions. One of the features that make this model extra safe is that the blade is run by a special mechanism, and it moves out of the way while threading. It also has a safety switch which disables the motor while the side cover is open. Because of these safety features, this model is a perfect unit for beginners. The maximum stitch length of this model is 4 mm (0.157 inches), which makes it great even for heavyweight fabrics. Despite being designed extra safe, it can also run extremely fast, making up to 1500 stitches per minute.
Compared to others on this list, Juki gives a shorter warranty on this product, keeping it covered for only 5 years.
4. Janome 8002D Serger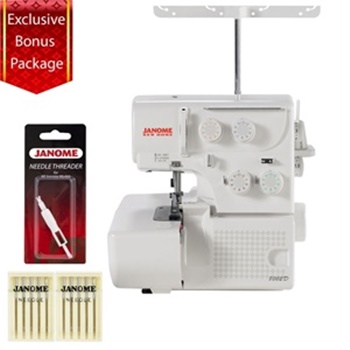 This model made by Janome America is a great step-up for any seamstress' workshop. Made slightly larger than other models on our list, this 4-thread serger is still quite light, weighing 17 pounds. This model doesn't support 2-thread stitching. However, it has a system for quick swapping to a rolled hem function, without even removing the needle plate. The threading of this model is quite easy, and it's explained in a handy instructional drawing in the bottom compartment. It can run quite fast at 1300 stitches per minute. The strong suit of this model is its extraordinary differential feed span with the lowest starting at 0.5 and topping at 2.25. The accessories that come in the box include tweezers, a large and a small screwdriver, and a set of needles.
Janome's serger machine is covered with 25 years of limited warranty.
5. Brother ST4031HD Strong and Tough Serger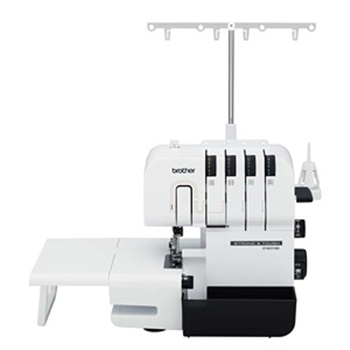 Despite its small dimensions, this model by Brother is ready to handle heavy duty work. The frame and components of this model are made from heavy-duty metal, so this machine is made to last. The downside of this model is its lack of 2-thread stitch function, as this 4-threader can only make 3 or 4 thread stitches. One of the great, unique features of this unit is its extension table that provides more workspace area. It also prevents the fabric from getting in the way of the serging.
Another much-needed issue that Brother addressed with this model is a removable tray that collects trimming waste, making cleaning much more convenient compared to other models. In the box, you can find 3 feet – standard, blind stitch, and gathering feet. There is also a set of needles, mini thread spools, spool caps, thread nets, a dust cover and a DVD with instructions for threading and use.
As with other serger machines by Brother, this model is covered with a 25-year limited warranty.
6. Singer Professional 5 14T968DC Serger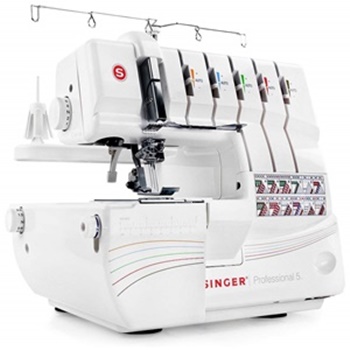 This model by the well-respected manufacturer Singer is the only 5-thread unit on our list. However, the extra number of stitching combinations also comes at a somewhat higher price.
This model utilizes 2, 3, 4 or 5 threads, which provide a large variety of different stitching functions. From simple seams to decorative edges, this serger has it all. If you want to make a rolled hem, switching is easy as it's done via a simple lever system. One of the special features of this model is its automatic thread tension adjustment, which will surely spare you a lot of trouble and thread breaking.
The maximum speed at which this serger can stitch is 1300 stitches per minute. It comes with a CD workbook, making it quite easy to master. Among its accessories, it has a needle set, tweezers, a spreader, screwdrivers, a spare cutting blade, a thread net, an oiler, and an attachable tray for trimmed fabric.
Singer covers its models with 25 years of limited warranty.
What Is a Serger?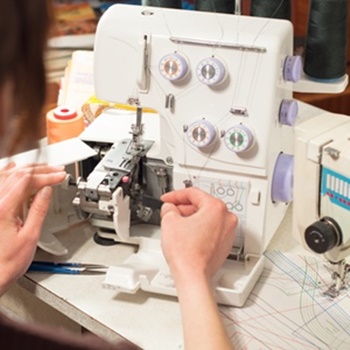 So, what are serger machines, exactly?
In the simplest terms, they're a part of sewing equipment. If you already have a standard sewing machine and you're skilled at putting it to work, then you're ready to step up your sewing game. Sergers are a bit more advanced pieces of equipment that can enhance your sewing. They are also called overlock machines in the rest of the world, but they're best known as sergers in the US.
1. What are they used for?
This type of machine is used to sew the seams and hems of a garment. That results in a neat and secure seam, with thread enclosing it. When a serger constructs a seam, it combines several lines of thread, overlocking them around the edge of the fabric. As it does this, it uses its own knife, located on the right side of the needle plate (the flat metal plate you put the fabric on). The knife is used to trim off the excess seam allowance, making sure the thread overlays the edge perfectly. In the end, you get a beautiful pattern that can be decorative, but also quite valuable in making the garment long-lasting by preventing fraying and unraveling.
2. Are they still sewing machines?
However, serger machines are not a replacement for standard sewing machines. They're made for a very specific job, which is creating the hem around the edge of the fabric, or the inside seams of a garment. Sergers can't be used for many tasks that you will need to complete when constructing a garment – from a zipper, button and buttonhole sewing to topstitching. Both the upside and the limiting factor of a serger is that it trims off the fabric. This makes it irreplaceable among sewing equipment because a regular sewing machine can't produce a seam of that quality. However, it also makes it impossible to sew fabric without cutting it, making the versatility of serger usage quite narrow.
A serger machine uses between 2 and 5 threads to stitch the seam. However, it does it differently than a classic sewing machine. Using a built-in blade at the side of the needle plate, first the serger machine neatly trims the edge of the fabric. Then, employing the several threads, it encloses the edge of the fabric with an intricate stitching pattern. In contrast to sewing machines, sergers don't have a bobbin with the thread under the needle plate. Instead, they employ two needle-like metal pieces called loopers, which create thread loops that help the machine stitch around the edge of the fabric.
Considering the fact that they use several rolls of thread at once, it may come as a surprise that sergers are typically narrower compared to a classic sewing machine. However, this makes sense – as sergers are only used to sew the edge of the fabric, there's no need for additional space in the machine through which the fabric is transported.
3. Chief goal
In general, serger machines are not an essential piece of equipment for hobbyists, as the same job can be done with a classic sewing machine, albeit with lower quality. However, they're a great addition for you if you want to step up your game. Sergers are an amazing tool to use for several tasks if you want to achieve professional-looking results and you care about the durability of your garment.
The Difference Between a Serger And a Sewing Machine
You're probably familiar with the good, old sewing machine. Essentially, the classic sewing machine makes a stitch that holds two pieces (or two ends) of fabric together. They use one roll of thread attached to the spool on the outside of the machine, and one thread rolled on a bobbin, located under the needle plate. On the other hand, serger machines use 2, 3, 4 or even 5 threads on spools, and two loopers underneath. As you can imagine, this makes the possibilities quite wide. Another key difference is that sergers have a built-in knife that trims off the ends of the fabric as it stitches.
1. Working Manner
Most sewing machines have several stitch styles, all of which do their job of holding the garment together well enough. However, as useful as they are, they have a pesky disadvantage – they leave the seam looking unfinished. What we're talking about is a leftover seam allowance. Once the two pieces of fabric are joined together, the ends that go beyond the seam are just left there.
Of course, this might not seem like a big deal, as this is only visible on the insides of the garment. However, the aesthetic appeal is not the only problem here. With time, and especially with wearing and washing, these loose ends will indubitably start fraying. At first, it might just be a couple of loose threads here and there, but sooner or later, the fraying will get to the seam. Once that happens, you can wave your beautiful, hand-made jacket goodbye.
The job of a serger machine is to keep the seams of your clothes safe and sound for a long time. It is, basically, a tool that finishes the edges of your garments. In a nutshell, a serger machine combines between 2 and 5 threads in a secure, yet stretchy seam. As it overlocks the thread, it cuts the excess fabric of the seam allowance, leaving you with professional looking seams and hems. Always clean and straight (unlike the scissors or a rotary cutter), serger trimming is done with built-in knives. The whole process is effortless and quick.
The main feature that sergers bring to the table is their ability to enclose the ends of the fabric with the thread. This way, no fraying is possible. The particular style of the stitch will depend on your taste and the serger you get, as different options are possible with different numbers of threads. But the end result is the same – a great looking, durable seam that will make your home-made garments look as professional as the ones that are store-bought.
2. Flexibility
Also, there's one more key difference between classic sewing machine stitches and those made with sergers – flexibility. Everybody knows the recognizable "pop" sound that can be heard when you stretch a shirt just a bit too much. Yes, the sound of thread breaking, the ultimate warning that your garment is falling apart. Well, this only happens with sewing machine seams, because serged seams are, in fact, stretchy. This means that, while sewing machines are essential and thus great, they're only really good for doing construction work and specific tasks like buttonhole sewing. If you plan on using not only woven (non-stretchy) but also knit fabrics (the stretchy ones), you'll be much better off assembling a seam with a serger.
That being said, a serger can't replace a sewing machine. You'll still need your old friend to install a zipper, sew a button, make buttonholes, and perform topstitching.
Serger Sewing Machine Buying Guide
So, you're ready to step up your sewing game, and start making clothes of professional quality? If you already own a sewing machine, a serger is the perfect next step. You should definitely consider buying a serger machine before other, more complex tools like a cover hem machine. However, sergers can be quite expensive, so let's take a look at everything you should consider before making your final pick!
Now, let's go through some of the most important features of serger machines. Before making your pick, you should consider your needs and requirements. We'll cover a couple of characteristics that vary the most across different models of serger machines.
1. Thread Number and Threading
Different sergers come with different stitching options, and essentially, all the difference is in the number of threads the machine supports. You'll want to use fewer threads for lightweight fabrics since more threads mean a bulkier edge. On the other hand, using as many as five threads to form some of the overlocking stitch styles can ensure outstanding durability for heavyweight and gravelly fabrics.
Serger machines come with different possibilities regarding thread count. Of course, the more thread spools a serger has, the better. However, the price of the machines rises with the number of thread spools. Some industrial models (that you can see from our industrial sewing machine reviews) come with as many as 8 threads, but you'll rarely see more than 5 threads on a home-use machine. However, the most common number of threads that home-use sergers use is 4.
Pay attention to one important detail when getting a 4-thread serger – having 4 threads does not necessarily mean that your machine can make 2, 3 and 4 thread stitches. In fact, some 4-threaders only support the 3 and 4 thread functions. So, make sure to figure out your needs before making the final decision!
Setting up the thread is often the hardest part of using a serger machine. Threading comes with a steep learning curve, no matter the number of threads your serger uses. However, after you do it a couple of times and learn the process, it will become a no-brainer. Still, it takes some time to get there, so choose a serger machine with that in mind. Most sergers have basic, numbered threading instructions drawn onto the machine itself. However, some models come with color-coded instructions, which makes the job a bit less confusing. Another great addition some manufacturers include is a threading instruction manual, whether in written or video form, for the exact model you get. This can be a great help, as the threading process can vary quite a lot among different models.
2. Stitch Length and Width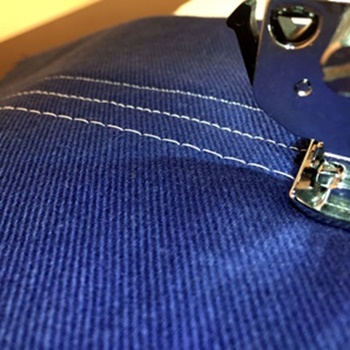 The way you adapt your serger machine settings doesn't end with choosing the right stitching style and thread number for your project. Most modern serger machines come with different stitch length and width possibilities.
Stitch length represents the space between two individual stitches. This setting determines how much of your fabric will be visible under the serged hem. Apart from the design perspective, stitch length also affects how much your hem or seam will be able to unravel. The larger the number on the stitch length dial you choose, the farther apart the stitches will be. As with other settings, the ideal stitch length mainly depends on the fabric you're using for the project. In particular, these factors come into play:
2.1 Knit or woven fabrics
Woven fabrics tend to unravel much more than knit ones do. Because of this, it's generally recommended to use tighter stitching with woven fabrics. The tighter the stitch, the less your seam allowance can unravel.
2.2 Light, medium or heavyweight fabrics
Make sure to use a stitch length that's appropriate for the weight of the fabric you're using. Tight stitching is hard to achieve on heavyweight fabrics. If your stitch length setting is too low for the fabric you're using, the thread might break or the machine might skip a stitch. Along with choosing the correct settings, it's essential to pick the appropriate needle size and thread thickness.
2.3 The end result
Finally, the look you want to achieve is also important. With a serger machine, you can make a large variety of seam and hem styles, and some of them can be an integral part of your garment's design. Take, for example, a lightweight shawl – including a tight, narrow hem that is bulky and lines the edges of the garment can be a fashion statement. On the other hand, using larger stitch length can result in inconspicuous and almost invisible edges.
On the other hand, stitch width (sometimes called cutting width) is the distance between the start and the edge of the stitch. In general, wider stitches result in garment hems that lay flat, while narrow stitches tend to roll up the fabric inside the serged seam. The ideal stitch width for your garment also depends on the fabric you're using, but in general, the rules for stitch width are not strictly defined.
3. Differential Fabric Feed
Differential feed is a feature that most modern serger machines have, but not all tailors use. However, it's an amazing tool that can create some very interesting results, so we strongly recommend trying it out on your machine.
In the middle of the needle plate, directly under the machine's needle, there are two or three rows of 'teeth'. These teeth, called 'the feed dogs' are used to automatically push the fabric through the machine, as the needles do their job. You only need to guide the fabric with your hands, as the dogs are there to do the pushing. Classic sewing machines only have two rows of feed dogs, and that's that. However, serger machine dogs come with a twist.
In sergers, there are two or three sets of feed dogs – front and back ones. The back ones are used to push the fabric out of the serger, and their speed is unchangeable. However, the front ones, that pull the fabric into the machine, have adjustable speeds. That means that the front and back feed dogs can feed the fabric at different speeds, hence the name differential feed.
The normal feed setting is usually labeled with N or 1. If you set up the feed to a lower number, usually between 0.6 and 1, the front dogs will move slower, stretching the fabric. This will result in a beautiful lettuce edge. On the other hand, if you speed up the feed by setting it between 1 and 2.0, you can create ruffles.
However, a differential feed is not only used for decorative sewing. Sometimes, when working with particularly stretchy fabrics, you'll need to adjust the feed to achieve perfectly straight seams without any wrinkles.
FAQ About Serger Sewing Machines
1. Serger and overlock machines – is there a difference?
No – Serger and overlock machines are the same thing. The difference is in the language that the manufacturer uses. The term 'serger' is preferred in North American English, while 'overlocker' is more common in British English. However, they both point to the same machine.
2. Can I get hurt while using a serger machine?
The essential parts of any serger machine are needles and a built-in blade, so getting hurt is not out of the picture. However, injuries are quite rare with proper use. Even if an accident does happen, it's unlikely you'll get seriously injured. You can avoid getting hurt by following the user manual and staying attentive while using your serger machine.
3. How often do I need to clean my serger machine?
Due to the fact that sergers cut the fabric along with stitching it, serger cleaning is done more often than with sewing machines. In fact, it's recommended to clean your serger after every use, as lint and fuzz gather up very quickly. Your overlock machine will come with a cleaning brush, but you can also use tweezers and microfiber cloth to clean it. It's not recommended to use air compressors for cleaning, as it can move or crack small, sensitive parts of the serger machine.
4. How often do I need to oil my serger machine?
The ideal oiling frequency mostly depends on how heavily and how often you use your serger machine. In general, you don't need to worry about oiling your machine if you don't use it more than twice a week. If you do use it more than twice a week, or you use it very heavily, you can oil it up about once every 2 or 3 months. If you feel that the bottom parts don't move as smoothly as they should, or that the thread snaps more often (even with adjusted thread tension), you can try oiling up your machine. However, whether you oil it yourself or not, it's important to take it to a qualified technician for regular maintenance once a year.
5. How should I store my serger machine when not in use?
If you don't use your serger on a daily basis, you should store it on a secure location where it's safe from humidity, dust and the weather. It'd be ideal to store it in an enclosed space like a wardrobe or a box. As we have already mentioned, serger machines are usually narrower than standard sewing machines. However, they weigh just as much, with many home-use units weighing around 20 pounds. Because of this, try to find a low position for the machine, as it may prove too heavy for upper shelves of wardrobes. Make sure to clean your serger machine thoroughly before storing it.
Wrap Up
Whether you're excited to start your own garment manufacturing business, or you're just looking to make unique clothes for you and your family, a serger machine is a fantastic tool to have in your arsenal. It can make your DIY project look and feel thoroughly professional, and it will surely make the products of your creativity more durable and long-lasting.
We hope that we helped you choose the best serger sewing machine that suits all your needs and that you'll make some beautiful, unique pieces of clothing with it. Finally, we tried to cover everything you need to know in our serger sewing machine reviews and guide, but if we missed anything and you have any questions left, or you'd simply like to share your own experience with one of these models, feel free to leave a comment below. We'll get back to you as soon as possible.
Bonus article: sewing chair reviews