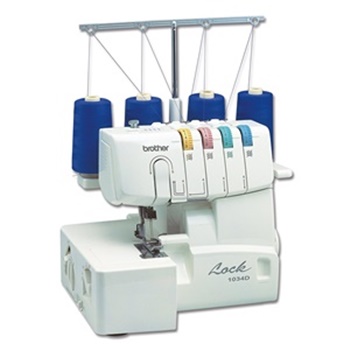 If you're eager to step up your sewing game, a serger machine is a perfect choice. With a high-quality serger, you can create professional-looking garments and home décor. The best part of it all is that you don't have to pay thousands of bucks to get a solid unit with a lot of features.
Today, we will talk about one of the models that can help any hobbyist or a professional tailor create factory-quality hems and seams, without compromising the creative process. In this Brother 1034D review, we'll dive into the features, specifications and warranty options you get with this serger model. Finding the perfect serger sewing machine with a good price and quality ratio can be quite hard on today's market, so read on to learn whether this one will suit all your needs!
Brother 1034D 3/4 Thread Serger Specifications
A serger machine can make your sewing look and feel much more professional. And with this model by Brother, it doesn't have to be a big, expensive investment. This popular serger model lets you make over 22 different stitch styles with 3 or 4 threads. Create overlock, narrow, rolled hem, and ribbon lock stitches in a matter of minutes with this super-fast model that can run at the max speed of 1300 stitches per minute.
This lightweight, 16-pound heavy serger is very easy to carry, so it's perfect for anyone who values portability. However, it's not too light, so it doesn't move or shake while working, even when running at top speeds. You can sew any light and medium weight fabrics, and even work with stretchy, knit fabrics with ease since this model has a readily accessible differential fabric feed dial. It also supports stitch width adjusting, ranging between 5 and 7 mm from the left needle. Adjustable foot pressure also lets you take full control over how your fabric is pulled and stitched. The edge-cutting blade is retractable, so you can create a wide variety of seams and hems, with or without cutting the fabric.
While sergers are never particularly easy to thread, given that they use over 4 threads, threading this color-coded model is quite easy once you do it the first time. To help you with this, the model comes with an operation manual and instructional CD in English and Spanish. Other accessories you get with this model include 2 presser feet – a multi-purpose guide, and a gathering foot, a soft cover for the machine, and various cleaning and maintenance tools.
Customer Support and Warranty Policy
More than a century ago, the Japanese company Brother started creating sewing equipment that quickly became a household favorite. Today, they maintain their good reputation by creating high-quality, durable sewing machines, and by keeping them at a modest price tag.
To ensure customer satisfaction, Brother guarantees the quality of their sewing equipment by covering their products with 25 years of limited warranty. While the frame is covered for 25 years, electronic components such as the motor and the wiring are covered for 2 years from the purchase date.
Brother customer support can be easily reached via phone or through their website.
What to Expect from Brother 1034D 3/4 Thread Serger?
If you pick this model to help you create high-quality garments and décor, you can rest assured you've invested in a long-lasting sewing companion.
Pros
Very affordable for such a high-quality machine.
Threading is made easy by instructions printed and color-coded on the machine.
Very adaptable, with easy to change stitch width, tension, foot pressure, and fabric feed.
Extremely detailed user manual with a "how-to" point of view.
Cons
It cannot handle heavyweight fabrics or projects with many layers.
Wrap Up
Great for both beginners and experts, this serger is a perfect step-up for any tailor. If your goal is to achieve beautifully stitched, neat and professional quality seams and hems, this machine is a solid choice for you. Made of high-quality materials, with a focus on precision and durability, this model by Brother can become your sewing companion for many years to come.
In this Brother 1034D review, we brushed over its most important specifications and features. If you have any questions left unanswered, or you have a comment of your own about this model, feel free to leave us a message down below!