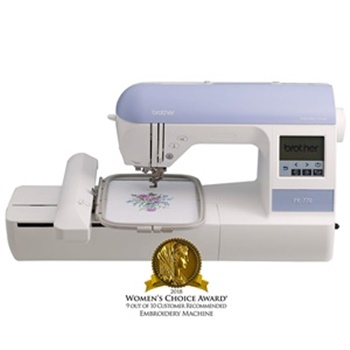 Embroidery is a centuries-old craft, and it's no wonder that it still lives today – it enriches any material with the decoration of unprecedented beauty and durability. Embroidering used to be a painstaking feat in the past, but today, it's made easy with the help of modern technologies. If you enjoy the look and the feel of traditional embroidery but don't want to waste hours on embroidering a small ornamental detail, it's time to get an embroidery machine.
In this article, we'll take a look at one of the models that will empower you to add charming and useful embroidery in a matter of minutes. In this unbiased Brother PE770 review, we'll discuss everything you need to know about this machine – from its capabilities to its weaknesses.
Brother PE770 Embroidery Machine Specifications
The world-famous sewing equipment manufacturer Brother knows how to make a great and affordable embroidery machine. If you're not happy with the dimensions that other home-use embroidery machines offer, you'll be happy to know that this model supports the 5 x 7-inch hoop. This will let you embroider larger designs and monograms.
The machine comes equipped with 136 built-in designs, among which are 10 shapes for frame design, 6 fonts for lettering, and 12 border stitches for quilts and clothes. At 650 stitches per minute, this unit is not the fastest on the market. However, since this machine isn't made to be a combination of sewing and embroidery models, this stitching speed is quite sufficient for most home embroiderers. Threading this unit is very simple with an automatic needle threader, and the top thread is neatly covered with a plastic lid. The machine has a top drop-in bobbin loading, which also cuts threading time and effort. If you'd like to brush up your understanding of these terms, you can check our homepage.
The model has a backlit LCD touchscreen display, which supports plenty of on-screen design editing features. However, this screen is in black and white. When it comes to adding custom designs, you can do this quickly and easily without having to move this 25-pound heavy machine, because this unit has a built-in USB port. You can use a thumb drive to transfer any downloaded designs directly to your machine and save it on its internal memory for future use. In fact, a bonus for getting this model is that you get access to a Brother-user exclusive embroidery marketplace. You can also consult the USB feature user manual for this.
Customer Support and Warranty Policy
Brother is a famous sewing equipment company from Japan, and it was established over a century ago. They take pride in creating durable, high-quality products, and they guarantee the excellence of each unit with a solid warranty.
Sewing machines by Brother are covered with 25 years of limited warranty. The electronic components of the machine, such as wiring, motors, and lights are covered for 2 years after the purchase date.
You can get in touch with Brother customer support by the phone, or through their company website.
What to Expect from Brother PE770 Embroidery Machine?
If you're looking for a durable embroidery sewing machine that doesn't limit you to small design sizes, this model might be a good choice. Brother machines are generally durable and very reliable, so this model is a trustworthy choice for any hobbyist and even professional tailors who want to add unique details to their creations.
Pros
A 7 x 5 hoop is on the larger side compared to other units in its category.
USB transfer of designs with many on-screen editing options.
It comes pre-loaded with 136 designs.
Cons
No smaller hoops included making embroidering small pieces of fabric impossible.
The built-in LCD screen does not have color.
Wrap Up
It doesn't matter whether you want to embroider a cute design on your child's clothes, your business logo on your products, or a border on your quilts – this machine can help you handle all of these tasks and more. With a reliable embroidery machine, you can make any item unique and personalized.
In this Brother PE770 review, we attempted to go through all of the relevant information you might need to know about this unit. If there is anything left unclear that you'd like to ask us, or you have an experience of your own that you'd like to share with our readers, feel free to leave a comment below!