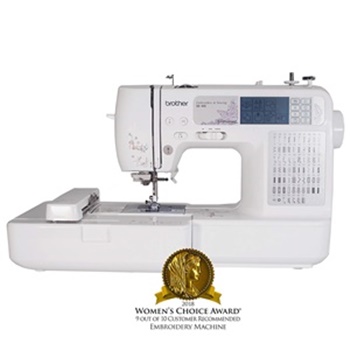 Sewing, embroidery, and quilting have existed for centuries, but remain an important part of households worldwide. It doesn't matter if you create clothes, accessories or home décor, a sewing machine is an integral part of your home. Whether you're new to sewing, or you're already a seasoned tailor, you deserve a versatile sewing machine that will help you conquer any project with ease.
Most sewing machine models on the market seem similar at first glance, but they offer a myriad of various features and options. The model we'll talk about today is no exception – Brother SE400 is one of the most versatile models we've encountered. We'll take a closer look at its specifications, features, and warranty. It's not easy to find the perfect model for yourself, but read on for our Brother SE400 review, and you might find out that it has everything you need!
Brother SE400 Embroidery Machine Specifications
This 10-pound machine comes in white and purple design, and it looks rather elegant and modern. But more importantly, this powerful machine will help you do various tasks like sewing, embroidery, and quilting.
This unit comes equipped with many options and design choices so you can unleash your creativity. When it comes to sewing, you can choose between 67 built-in stitch options. If you want to decorate your garments or create home décor, you can do so with one of the 70 preset embroidery designs or 5 lettering fonts. The largest embroidery hoop that this model supports is 4 x 4 inches large, which is not too big, but it's sufficient for most embellishing and decorating tasks. If you wish to embroider a custom design, you can easily connect the machine to your computer via a USB cable. Using the same connectivity method, you can update your machine's firmware, which you can download from the manufacturer's website. Brother provides separate manuals for the USB features and the unit itself.
As with many computerized and embroidery models, this unit has an LCD screen display. You can access built-in tutorials and guides, choose sewing options, and choose and manipulate your embroidery design. The workspace is brightly lit with an LED light.
When it comes to ease of use, this model doesn't disappoint. Threading is easy with an automatic needle threader, a drop-in bobbin, and a quick bobbin winding system. Additionally, easy to follow threading directions are printed on the body of the machine, so you won't have to go through the manuals to do it. The stitching speed is average, maxing at 710 stitches per minute. If you need help understanding these terms, you can find all the essential in our embroidery machine reviews.
The accessories this machine comes with include a soft cover, a USB cable, a seam ripper, a set of needles, maintenance equipment, and 7 accessory feet: buttonhole, overcasting, zipper, button, monogramming, blind stitch and an embroidery foot.
Customer Support and Warranty Policy
Brother is a reputable Japanese company that prides in high precision and durability of their products. They've been around for over a century, so they guarantee their products are made to live long lives. Because of this, they cover their sewing machines with 25 years of limited warranty.
If you require the help of customer support, you can contact them through their website or reach phone support. Their website is also well equipped with tutorials, FAQs and troubleshooting explanations, so if you ever have a problem with the machine, you're likely to find help there!
What to Expect from Brother SE400 Embroidery Machine?
Coming from the world-renown sewing machine manufacturer Brother, this is a machine you can count on. This combo sewing and embroidery unit is a powerful, versatile machine that can help you achieve professional-looking results with any project.
Pros
A large selection of stitches and designs to use.
Can complete many different tasks, from sewing, through quilting to embroidery.
Can be connected to a computer for firmware updates and additional designs.
Cons
The screen is black and white, so embroidering multi-color designs can be confusing.
The largest embroidering hoop is 4 x 4 inches, which is quite small.
Wrap Up
This interesting, versatile model is definitely worth considering if you're looking for a cost-effective model. Whether you're completely new to sewing or you have years of experience behind your back, this model will surely have something valuable to offer to you. If anything – this model is so versatile that it will surely give you a chance to try out some features you didn't try before.
With this, we wrap up our overview of Brother SE400 review. We hope we managed to answer all of your questions and concerns regarding this model. If there's anything left unclear, feel free to ask us and we'll get back to you as soon as we can! We'd also be happy to hear your own experiences and thoughts about this particular model, so leave us a comment below!