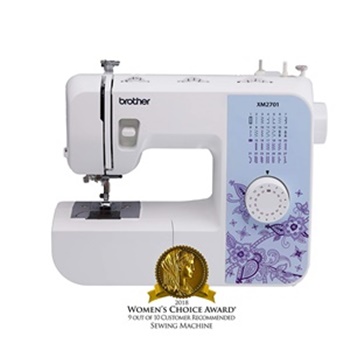 If you're in search of a new hobby, sewing is a great choice. It is useful, creative, fun, and most importantly, sewing is a vast playground with many challenges and milestones. However, when you account for all the gear and accessories, it can also get quite expensive. Trying out something new should always be fun and carefree, so it's completely natural if you don't want to spend a fortune on a sewing machine as a complete beginner. If you're looking for an affordable sewing machine model that's easy to use, we have a sweet, little model from Brother to recommend.
In this Brother XM2701 review, we'll tell you everything you need to know about this simple, inexpensive unit. We'll cover its specifications, features and warranty options, making sure we stay unbiased and honest throughout the article. So, let's begin.
Brother XM2701 Sewing Machine Specifications
If you're a complete beginner, and you'd love to explore the craft of sewing for a low price, this machine is a great pick. With one of the lowest price tags among models from its category, this unit offers a good quality-price ratio. You can try out a large variety of stitch styles, as this machine comes with 27 stitch options. The stitch possibilities range from the common straight and zigzag stitches, through the invisible blind hem, over stretchy stitches, to the stitches you can use to decorate your projects. But this is not where your stitching options end. This unit lets you manually control top thread tension, and stitch length and width. The top speed at which this model can run is 800 stitches per minute.
This machine is easy to thread, which shows that Brother made it with the beginner in mind. It has an automatic needle threader, which passes the thread through the needle eye, reducing eye strain and frustration. Furthermore, this model has a top-loading bobbin system. Compared to the old-fashioned front-load system, you can thread this machine's bobbin mode without much hassle. This model is very portable, and we recommend this 12-pound unit if you hope to attend sewing workshops or classes.
With the machine, you will get 6 additional presser feet among which are the buttonhole, button sewing, blind stitch, zipper, zigzag, and narrow hem foot.
Customer Support and Warranty Policy
Well known across the world as a high-quality sewing equipment manufacturer, Brother assures its customers they've made the right choice with great warranty options.
Like other models by this manufacturer, this unit is covered with 25 years of limited warranty. The unit's chassis casting is covered for the full duration of the warranty, while electronic components such as motors and speed control systems are covered for 2 years.
You can contact Brother customer support with ease through their website or via phone.
What to Expect from Brother XM2701 Sewing Machine?
Whether you're interested in trying out sewing for yourself, or you wish to give a lovely and useful present to a loved one, this beginner model is a great choice.
Pros
Very affordable compared to other models from its category.
A wide selection of stitch options and adjustments.
It comes with a top-load bobbin system, ensuring easy threading.
Cons
The building materials are not very durable, which is to be expected at such a price.
This model is not built for heavy workloads.
Wrap Up
Sewing is a wonderful hobby to adopt. Whether you're considering to start sewing yourself, or you're looking for a gift for a friend or a family member, a beginner sewing machine model might be a great choice. On the other hand, if you only need a sewing machine for occasional clothes fitting or mending, you can also save some money by opting for an inexpensive model like this one.
In this Brother XM2701 review, we gave our best to cover everything you should know about this model. If you have any questions left about this model, or you have your own experience to share, feel free to do so in the comment section!