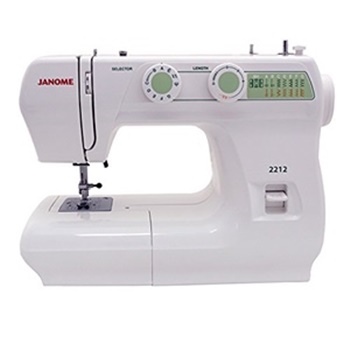 Sewing is one of the most practical and useful hobbies these days, and there are many people around the world who decide to learn the craft these days. However, sewing machines can look overly complicated. These machines have so many optional features that it's easy to get confused. Because of this, beginners often shy away – but if they have the right machine, they can thrive and start creating.
Because of this, we'd like to present some of our favorite basic models that are perfect for sewing novices. We'll talk about one of these beginner models in our Janome 2212 review, and discuss its specifications, user-friendly design, and warranty options. So, without further ado, let's start.
Janome 2212 Sewing Machine Specifications
When it comes to basic sewing machine models, Janome's created one of our favorites that we'd recommend to any beginner or hobbyist. With a dial selection of 12 built-in stitch options, you'll be able to complete any type of a project, whether that's a simple garment mending, sewing original outfits from scratch, or adding decorative borders to a quilt. You can adjust the length of any stitch you use, which helps you handle a vast variety of fabrics.
In fact, you can handle anything from sheers, through stretchy knit fabrics, to denim with this machine, even though it's a beginner's model with a modest price tag. This unit also has a free arm, which is a great feature for sewing cuffs and sleeves. If you're interested in quilting, you'll be happy to know that this model can lower the feed dogs. When you do this, the machine doesn't pull the fabric back, which means you can freely move the fabric while stitching. This lets you do the free motion stitching, which is frequently used in quilting or garment decoration.
Threading this machine is rather simple. However, it doesn't have an automatic needle threader, which means you'll have to manually tuck the thread through the needle eye. Another downside of this model is that it has a front-load bobbin system, which is somewhat more complex compared to the top-load drop-in systems. If you need help understanding these terms, take a look at our convenient beginner's buying guide here!
If you're interested in taking sewing classes or attending a workshop, you'll be able to carry this unit with little to no effort – it's very portable, weighing under 15 pounds.
Customer Support and Warranty Policy
Janome is a well-known and very respected sewing equipment manufacturer from Japan. With 70 years of experience, they're established as one of the best makers of sewing machines and gear.
There's a reason that they have their customers' trust. Janome's sewing machines are covered with 25 years of limited warranty.
Additionally, their customer support is very easy to reach by phone or through their website, or via numerous authorized dealers in North America. They also have a very helpful blog on their official website.
What to Expect from Janome 2212 Sewing Machine?
Sewing doesn't have to be difficult and complex. This machine is the perfect example. With just a couple of dials, you can handle a huge variety of projects, from simple curtains to your very own, home-made pair of jeans. With moderate use and regular maintenance, this model is sure to serve you well for many years to come.
Pros
This model is simple, easy to understand and use.
Has the ability to retract feed dogs for free-motion sewing, which is uncommon for basic models
Affordable compared to similar models.
Cons
The front-load bobbin system can be a nuisance.
It doesn't have an automatic needle threader.
Wrap Up
Many beginners have a hard time choosing the right sewing machine model for themselves. It's easy to get lost in the wide variety of models available on the market, and numerous features they offer. With this model by Janome, you'll find it easy to learn how to sew with ease, and you'll start creating your clothes and home décor in no time.
We hope we've managed to give you a clear picture of what you can expect from this model. As with all of our guides, we made sure to stay unbiased in this Janome 2212 review, so we covered both the advantages and the disadvantages of this model. If you have any questions about this great unit, or you'd like to share your own thoughts and experiences, feel free to do so in the comment section below. Happy sewing!