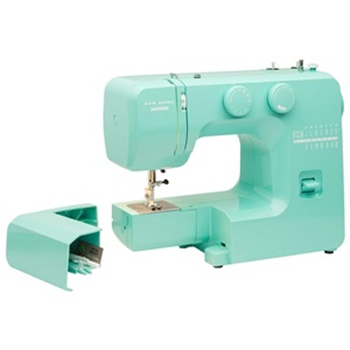 Starting to sew for the first time can be quite intimidating to complete beginners, especially if they have an unsuitable, complex sewing machine. In order to start sewing quickly and stress-free, it's essential to get a simple sewing machine without the complicated features that can be confusing. However, beginner machines don't have to be unreliable, slow or weak. In fact, our unbiased Janome Arctic Crystal review will show you that beginner machines can be as strong and durable as any other!
In this article, we'll attempt to equip you with all the knowledge you need before choosing a sewing machine for yourself. Not every model is suitable for every tailor, so read on to find out more about this model's specifications and features, both the good and bad!
Janome Arctic Crystal Sewing Machine Specifications
If you're looking for a machine that will not only do the work but also make your workstation stylish and brag-worthy, then this is a great pick. The first thing you'll notice about this model is its lovely color.
Not only is it beautiful, but this model is very simple to use as well. In fact, this unit was made with beginners in mind. However, it can also serve as a solid moderate-use sewing machine. It has a heavy-duty interior frame made of metal, so you can go through piles of projects in the years to come before it breaks.
You can choose between 15 different stitch styles with this model, 7 of which are made with a double needle. This means you're not limited just to a few basic stitches. The machine comes with a stitch length adjustment dial, which is useful when sewing through different fabric weights. Additionally, sewing cuffs, sleeves and pant legs is a breeze with a free arm.
It's very easy to start sewing with this machine. It comes chockfull of help for beginners. You don't need to flip through the user manual – threading and setting the bobbin is made simple with diagrams printed directly on the unit. The machine comes with two retractable vertical spool pins, which don't limit you to small thread. However, the bobbin setup takes a bit longer as the system is a front-load instead of a top-load.
If you want to attend sewing classes or workshops, you'll be able to carry this model easily as it only weighs 12 pounds. Despite its lightweight, it doesn't shake or jump around while stitching, even at its top speed of 800 stitches per minute. This machine comes with 4 presser feet, among which are the general foot, zipper, blind hemming, and a sliding buttonhole foot.
Compare similar models in this class in our comprehensive buying guide for beginner sewing machines.
Customer Support and Warranty Policy
Janome is one of the most famous and respected sewing equipment manufacturers around. Established in Japan 70 years ago, this company is known for its exquisite machine design and solid choice of building materials.
Janome ensures customer satisfaction by covering their machines with a 25-year long warranty. Out of these, the electronic parts like the wiring and motors are covered for 5 years. To ensure that, you can register your unit online.
You can get in touch with Janome's customer support easily through their website or by phone.
What to Expect from Janome Arctic Crystal Sewing Machine?
This solid sewing unit is built from sturdy materials, so it can last for years with regular maintenance. It's a great model for beginners, even those who've never sat in front of a sewing machine before. However, advanced tailors can make good use of it as well.
Pros
Very beginner-friendly, with diagrams and instructions available on paper, on the machine and in video form online.
Two vertical spool pins let you use large spools of thread even for a double needle.
Portable, lightweight unit that doesn't shake or jump while stitching.
Cons
Front-loading bobbin system takes longer to thread compared to top-loading counterparts.
Wrap Up
If you or your loved ones are complete beginners in sewing, you should look for a reliable sewing machine that is easy to learn and use. While it may sound like a good idea to get a professional-level sewing machine from day one, in fact, they might scare you away from sewing. We'd recommend getting an affordable, easy to use machine without the bells and whistles, but with basic functions and a heavy-duty inner frame.
In our unbiased Janome Arctic Crystal review, you can see that this model fulfills that criteria. Because of that, we'd recommend this beautiful unit to any beginner tailor, young or old. We hope we have covered everything you wanted to know about this model. If there's anything you're still wondering about, please let us know in the comment section below!