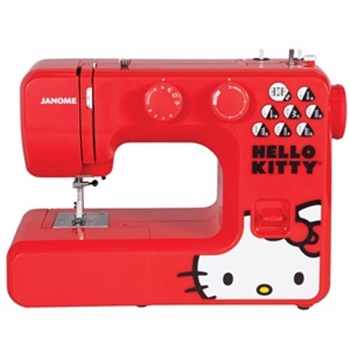 Sewing is a useful and fun hobby, but seeing overly complicated sewing machines can be a turnoff to many beginners. You and your loved ones deserve to have a sewing machine that's easy to use, but also one that can tackle many different projects. If you're looking for a basic sewing machine model that will look cute standing on your desk as well, then this adorable model might be the one!
In this Janome Hello Kitty review, we'll explain what this machine is capable of, what it's good and what it's bad at. Read on to find our unbiased opinion, and to see if this model could become your faithful sewing companion!
Janome 13512 Hello Kitty Specifications
The first thing you'll notice about this model is its super-cute design. While most other sewing machines have a white plastic cover with a simple look, Janome has gone with a bold red Hello Kitty design with their easy-to-use model. It will be a perfect addition to any child's room, and we're sure you wouldn't want to store it away because it can add some zest to any interior.
This model is very basic, so it's a perfect sewing machine for beginners who is interested in learning how to sew and first-timers. This model comes with 15 different stitching styles, and you can use both a single or a double-needle to make them. You can see two main selection dials on the machine – one is used to select the stitch you want, and the other one to set up stitch length.
This machine is simple to thread, but threading can be a bit more frustrating compared to newer models. This is because it doesn't come with an automatic needle threader, which means you must pass the thread through the needle eye yourself. Additionally, it has a front-loading bobbin system, which takes a couple more steps to thread compared to the top-loading bobbin system that newer machine models have.
This model's internal frame is made of aluminum, which makes it capable of handling thicker fabrics and layered projects without shaking or missing a stitch. The heavier frame also adds a bit to the unit's weight, so at 14 pounds, this model might be too heavy for children, but easy for adults to carry.
Customer Support and Warranty Policy
With 70 years of experience behind them, Janome is a Japanese sewing equipment company that is famous for its high-quality craftsmanship and durable machines.
Janome warranty covers defects in materials or workmanship of this model for 5 years from the date of purchase. Electronic components such as motors and circuit boards are covered for 2 years by this limited warranty.
You can contact Janome customer support via their website or phone, or you can visit one of their numerous North American authorized dealers and service shops if you need help with your model!
What to Expect from Janome 13512 Hello Kitty?
This basic unit is a perfect choice for anybody who wants a good sewing machine for making or mending clothes and home décor. It's easy to use, but it's made of high-quality materials that can handle tough fabrics, and that will ensure the machine lasts for years to come. Overall, this model is a good investment if you're looking for a machine that can handle basic needs, and that's easy to use.
Pros
Very simple, with only 2 selection dials for stitch style and length adjustments.
The internal aluminum frame makes this machine more powerful than it might seem.
It's very cute, and it can enrich any interior with its interesting, adorable design.
Cons
Threading is not the easiest since it doesn't have an automatic needle threader and it has a front-load bobbin.
Its warranty lasts for 5 years, which is shorter than the other models.
The user manual is not very detailed.
Wrap Up
Sewing does not have to be complicated and challenging – instead, it can simply be fun and adorable. This cute model is a great choice if you and your loved ones are beginners in sewing, or you simply want a sewing machine that can handle common mending and sewing. And who wouldn't want a machine that looks as cute as this one on their workstation?
In this Janome Hello Kitty review, we gave our best to deliver an unbiased, honest review of this model. If you need help with something concerning this machine, or you have an experience of your own that you'd like to share with our other readers, feel free to leave us a comment below, and we'll get back to you as soon as we can!