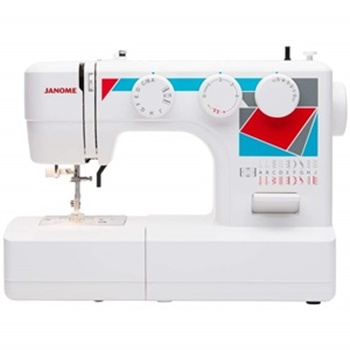 Sewing doesn't have to be difficult – with a simple, beginner machine, you can jump right into expressing your creativity, without having to worry about excessively complex functions. As you will see in our Janome MOD-19 review, this model is a great choice for anybody who wants to try themselves at mending, decorating or sewing clothes and home décor from scratch.
Finding the right sewing machine is very important for complete beginners. If you get a model that's too complex or one that doesn't work smoothly, you can get discouraged. When choosing a sewing machine, there are several things you need to consider in order to get the most cost-effective model available. But don't worry – we're there to help you pick the right one. We only recommend solid models that will serve you well. So, let's take a look at what this unit by Janome has to offer!
Janome MOD-19 Sewing Machine Specifications
First of all, we can't help but notice the beautiful design of this model. With a brightly colored, graphic look, this unit is bound to serve an additional purpose – making your workstation always ready for a photo op!
Once you conquer the basic concepts of sewing, we're sure you'll find this model very easy to use. It's simple to thread with an automatic needle threader and a top-loading bobbin system. The bobbin case also has a clear cover, so you can see when it's running out of thread and needs winding. The system for feeding fabric under the needle, the feed dogs, are very strong and come in 5 pieces. You can check the details from the user guide Janome provides.
You can also lower the feed dogs, which let you freely move the fabric while stitching. This way, you can make quilts with free-motion stitching or decorate garments in unusual stitching patterns. Inside the box, you can also find an easy to follow user manual, which can help you master this machine very quickly.
When it comes to stitching options, this machine doesn't lack them. With 19 stitch styles and easy to access stitch length and width adjustment dials, you can find just the perfect stitching style for your project. If you need to hem pants, a cuff, or a sleeve, you can do that without the hassle by using the machine's free arm.
This model comes with 4 different presser feet and a multitude of maintenance and sewing tools. If you need to compare more similar models in the same class, you can always comb through our basic sewing machine buying guide.
Regardless of which model you choose, watching beginner-sewing videos like below can help you very much.
Customer Support and Warranty Policy
Established 70 years ago in Japan, Janome is one of the most well-known and respected sewing machine makers on the market. They're known for their durable, high-precision machines.
Even though they're based in Japan, this manufacturer has a strong presence in North America as well. You can find authorized dealers and service shops very easily, but you can also get in touch with their customer support team through the website or by phone.
Janome covers their machines with 25 years of limited warranty.
What to Expect from Janome MOD-19 Sewing Machine?
This stylish machine model can help you tackle a wide variety of sewing projects. With this machine, you're not limited to lightweight fabrics, since it can easily stitch through layered and thick fabrics, so you can also make quilts with ease. Overall, this machine is very easy to master and it comes with a simple user manual, so you will find that learning how to sew is easy and enjoyable.
Pros
It comes with a wide variety of stitch options with 19 styles and adjustable stitch width and length.
Simple to use with the provided user manual.
Weighing 12 pounds, this machine is light enough to carry to a workshop, class or around the house.
Cons
Lightweight machines tend to shake while stitching quickly.
Wrap Up
Sewing is an exciting and useful hobby. It allows you to make the things you already own much more beautiful, to reinforce fabrics, fix clothes that have imperfections, or even make something completely new from scratch. Whether you'd just like to be able to mend clothes occasionally, or you're interested in sewing as an outlet for your creativity, getting a good sewing machine is a must.
However, finding the right machine can be a very challenging task, especially to a beginner. That's why we made sure to give you an honest and unbiased Janome MOD-19 review. If you have any questions left, or you wish to share your own opinion and experience with this model, please feel free to do so in the comment section below!