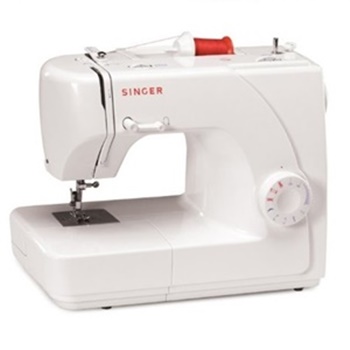 Starting a new hobby is always exciting, but also intimidating. There are so many things to learn, and very often, you can get lost in all the new information. However, getting the right tools can make this process much simpler. We're here to help you start your sewing journey equipped with the best gear available. In this Singer 1507WC review, we'll discuss one of our favorite basic models on the market.
Read on to find out what we think about this machine's specifications, features, and warranty. Like in all of our reviews, we'll keep our opinion unbiased, so we'll cover both the good and the bad sides of the model. So, let's start!
Singer 1507WC Sewing Machine Specifications
This model comes from the renowned manufacturer Singer. It's perfect for beginners and hobbyists, as it provides all the basic functions, without overly complicated settings and confusing dials and knobs. With a simple turn of a dial, you can choose from a selection of 8 built-in stitches.
When it comes to adjustments, you can control stitch length, which is useful for working with different fabric weights, and the width of your zigzag stitches. Sewing buttonholes are also quite simple, as the model comes with an automated 4-step buttonhole program. Threading this machine is simple, especially as it has threading instructions printed on the machine body and detailed instructions in English, French, and Spanish in the user manual.
However, it has a front-loading bobbin case, which is somewhat harder to reach compared to the models with a top-loading drop-in bobbin system. It has a free arm that's useful when sewing cuffs, pant legs, and sleeves. The machine doesn't encumber you with advanced settings that are hard to understand. Instead, it automatically adjusts to the basic settings you choose. If you want to read up on these features, you can check out our beginner sewing machine buying guide here.
This 13-pounder is quite easy to carry, so it's a good choice if you don't have a set workstation, or you need to attend workshops and classes with your own sewing machine. It comes with a canvas cover, so it's easy to keep it in pristine condition, shielded from dust and debris, even when you don't use it for a while. Other accessories include 4 different presser feet, a darning plate, maintenance tools, and a package of needles.
Customer Support and Warranty Policy
Singer is a brand that most people around the globe are familiar with, and for a good reason. With almost 170 years of experience behind them, this manufacturer is known for its high quality, durable machines. And they retain their customers' trust by guaranteeing quality with great warranty options.
This model is covered with 25 years of limited warranty on the sewing machine head, and 2 years on the electric parts.
If you need to contact Singer customer service, you can do that easily through their website, or by calling their toll-free customer support phone number.
What to Expect from Singer 1507WC Sewing Machine?
If you're looking for the perfect basic machine to serve as your rite of passage to sewing, this is a great pick. This machine will help you complete any sewing project without overwhelming you with complicated features. If you don't use this model heavily, it can last for decades, and become a faithful companion, perfect for any household needs.
Pros
The basic model that's very easy to learn, even for complete beginners.
The free arm makes sewing cuffs, sleeves and pant legs simpler.
Adjustable stitch length lets you handle a plethora of different fabrics.
Good instruction manual.
Cons
The installed front-load bobbin system is harder to thread than the drop-in ones.
Wrap Up
Many beginners get intimidated by the overly complicated sewing machines they see on the market today. Most of these models have so many unnecessary features, making sewing seem like rocket science when that's not really true. Singer knows this, so along with their advanced models, they also offer a selection of basic units that are designed with beginners in mind.
In this Singer 1507WC review, we examined a great beginner model, and we talked a bit about its features and specifications. If you have any questions about this model or how some of these features are used, feel free to leave us a comment below, and we'll get back to you as soon as we can!