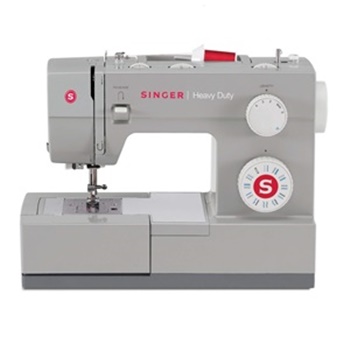 There are many sewing machines on the market that limit you to thin, lightweight fabrics. In some cases, it's even impossible to simply mend a pair of jeans, because denim can cause machines to jam. No matter your skill level, and whether you're a pro or a hobbyist, you deserve a strong, durable sewing machine that won't limit your creativity and the scope of projects you can handle.
If you're looking for a rock-solid sewing machine that will be able to work for hours on end and pierce through any fabric at top speed, we have a great recommendation. Read our unbiased Singer 4423 review to find out what this heavy-duty model brings to the table.
Singer 4423 Sewing Machine Specifications
With this heavy-duty model by Singer, you don't have to worry when tackling big projects. With a tenacious stainless-steel frame on the inside, this sewing machine is a workhorse that can handle tough fabrics and long work hours. With the metal frame comes a heavier weight of the unit, and at 14 pounds, this machine provides supreme stability.
This is especially important as it prevents shaking and jumping when the machine is stitching at top speed, which is much above an average home-grade machine with 1100 stitches per minute. This speed is achieved by a powerful motor, which is also responsible for this unit's ability to stitch through tough, heavyweight fabrics like denim, corduroy, and even leather.
This sewing machine is not only powerful, but affordable, and feature-rich as well. It comes with 23 built-in stitch styles, among which you can find 6 basic, 6 stretchy, and 10 decorative stitches, along with 1 buttonhole stitching preset. You can check Singer 4423's manual for further details.
Quilters will be happy to hear that not only does this machine come with a drop feed feature for free motion quilting, but you can also lift the presser foot extra high, which is useful when working with thick, layered projects.
You can control all of the stitching adjustments with easy-to-use dials – stitch length, width, and thread tension are at your arm's reach. This heavy-duty machine is quite easy to thread, and it comes with all the features that make a tailor's life easier – an automatic needle threader, and a drop-in bobbin.
If you want to compare similar models side by side, read our guide for beginner sewing machines for more recommendations.
Customer Support and Warranty Policy
Singer is perhaps the most famous sewing machine manufacturer in the world. Established 170 years ago in the US, Singer is well-known for its durable, high-quality machines that are built to make history.
Their warranty options follow-through that ideal. Singer covers its machines with 25 years of limited warranty on the inner frame of the model, and 5 years on the electronic parts of the unit, including wiring, motors, speed control, and the rest.
You can find numerous authorized dealers and service shops across North America. But if you'd prefer to get in touch with Singer customer support beforehand, you can do that via their website or by calling a toll-free phone number.
What to Expect from Singer 4423 Sewing Machine?
This heavy-duty model will not let you down, no matter how intense is the work that you need to do. You will be able to complete a large variety of mending, decorating, sewing and quilting projects on this durable, high-quality machine. From the first time you use this machine, you'll know that this unit is built to last.
Pros
The heavy-duty machine that can handle layers of thick fabrics like denim, corduroy, and even leather.
Very affordable for a heavy-duty machine with so many features.
Easy and quick threading with a top-loading bobbin and an automatic needle threader.
Cons
It has a horizontal thread pin, which can't hold large spools of thread.
Wrap Up
Your tools shouldn't limit the scope of your craft. You deserve a sewing machine that will be able to follow through, no matter how long your project takes or which fabric it involves. But we've got just the thing for you. In our Singer 4423 Sewing Machine review, you could see exactly why we recommend this machine. This unit stitches fast, it can handle virtually any fabric, it doesn't shake or overheat while working, and it is made to last.
We hope that we have covered everything you need to know about this model in our article. But, if you have any questions left about this model, feel free to let us know in the comment section below!