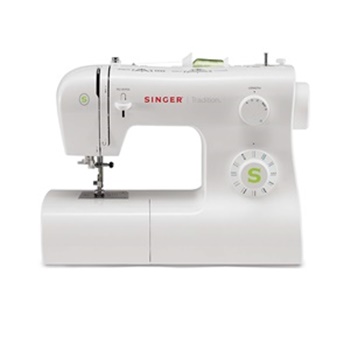 Sewing is one of the most useful and fun hobbies around. It lets you explore your creativity, but it also helps you save a lot of money on clothing and home décor pieces that can be quite overpriced in the shops. Many people think that you need to invest thousands of dollars if you want to get a satisfactory home-use sewing machine, but that's not true. Today, durable, high-quality sewing machines made by reputable manufacturers can be bought for low prices that everybody can afford.
Today, we'll tell you about one such model. In this Singer Tradition 2277 review, we'll give you an unbiased overview of its good and bad sides. We'll go through its specifications, features, and warranty, equipping you with everything you need to know before you getting a machine.
Singer Tradition 2277 Sewing Machine Specifications
When designing this model, Singer looked back at their world-famous, older sewing machines. A result is a modern machine with the elegant, curved form of the traditional models.
However, this model is not only beautiful, but it's very easy to use as well. It doesn't come with the bells and whistles that some more advanced models have, but it has all of the essential features and advanced sewing settings. In fact, this machine is perfect for both beginners and advanced tailors, because it lets you manually control the most important settings, yet it doesn't encumber you with too many unnecessary features and adjustments. You can get more detail from the instruction manual.
You can handle almost any project with a wide selection of 23 different stitch styles for a single or a double needle. Among these, you can find 6 essential, 11 decoratives and 5 stretch stitches, and 1 buttonhole stitch that's very easy to set up and adjust with the included buttonhole presser foot. When it comes to advanced settings, you can manually control thread tension, and stitch length and width, all with a simple turn of a dial.
This machine is rather simple when it comes to threading, even though it comes with a front-load bobbin system which takes a bit longer to thread compared to top-loading ones. You can save yourself the hassle of pushing the thread through the needle eye, as this unit comes with an automatic needle threader that does that frustrating part for you. Also, simple threading instructions are printed directly on the machine.
This unit boasts a heavy-duty metal inner frame, which makes it very durable and helps it run with reliable precision. Still, it's rather lightweight at just over 13 pounds, so you can carry it to class, workshops or around the house with ease.
If you want to compare more similar models, you can always refer to our detailed sewing machine for beginners guide.
Customer Support and Warranty Policy
With over 170 years of experience under their belt, the American manufacturer Singer has created many timeless household and professional sewing machines. Today, they keep up their traditional greatness by making high-quality, durable machines that are satisfying customers around the globe.
In accordance with their philosophy of excellence, they cover their sewing machines with 25 years of warranty for the internal frame and 5 years for the electronic components such as the motor and the wiring.
You can contact Singer's customer support by calling their toll-free number, or through the company website.
What to Expect from Singer Tradition 2277 Sewing Machine?
This solid sewing machine model is a good investment for any hobbyist, whether you're a beginner or an advanced tailor. This unit is a durable, precise model that comes at an affordable price.
Pros
Lets you control stitch width and length, and thread tension easily.
The heavy-duty inner frame is made out of metal, ensuring durability.
5 years of warranty on electronic components is above the industry standard.
Cons
Uses a front-loading bobbin system which is somewhat more of a hassle to thread.
Wrap Up
It doesn't matter whether you want to get a sewing machine just to mend a shirt occasionally, to decorate your pillowcases, or to bring your original dress design to life. You and your loved ones deserve a reliable, durable machine that won't break the bank, whether you're a beginner or an experienced tailor. As you can see from our Singer Tradition 2277 review, this model is a great choice for any household with moderate sewing needs.
We hope that we answered all the questions you have about this model, but if you're left wondering about something in particular, or you'd simply like to share your experience with this model, we'd be happy to hear from you in the comment section!