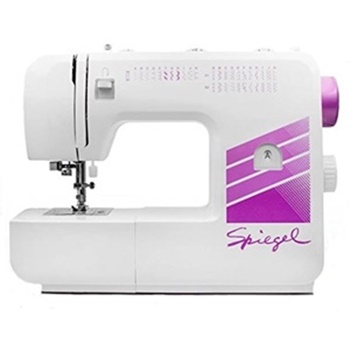 We're sure you know about Spiegel for its trendsetter fashion catalogs. But did you know this brand also markets sewing machines? In this Spiegel SP3201 review, we'll tell you about one of their easy-to-use, feature-rich models that comes at an affordable price.
This sewing machine is an ideal pick for any beginner or hobbyist with moderate needs. It can help you tackle different domestic-use sewing needs with its many features, at a low price tag. If you are not sure that sewing will become your long-lasting hobby, or you simply need a handy tool to repair your clothes, this model is a great, affordable choice. In this article, we will tell you both the good and the bad sides of this sewing machine, so read on to find out more.
Spiegel SP3201 Sewing Machine Specifications
This machine is an inexpensive model that comes with plenty of options. You get a selection of 32 different stitches, among which are a utility, stretch, and decorative stitches, and a buttonhole preset. You can adapt the stitches to your project further, since you can easily adjust the thread tension, and stitch width and length.
With this unit, you can use a double needle in addition to the common needle. If you want to try your hand at quilting, you'll be able to do free-motion stitching in a single step, as this unit's drop feed feature can be activated with a slider behind the bed. Once you're done stitching, cut the thread without reaching for your scissors, at the machine's built-in thread cutter. Feel free to refer to our beginner sewing machine buying guide if you need help understanding these terms.
You'll be able to get straight to stitching because this unit is easy to thread. It comes with a top-loading bobbin, which is simply snapped shut. The automatic needle threader is there to do the annoying part for you – push the thread through the needle eye.
The downside of this unit is its somewhat low-quality build. It isn't made of strong materials, so it's not intended for heavy use. However, you will feel that you got a good price-to-quality ratio with this sewing machine. Still, with gentle handling and cleaning, this machine should serve you well for years. Acting according to its operational manual would be enough.
Customer Support and Warranty Policy
Spiegel may not be a well-known name among sewing machine manufacturers, but they're surely a legendary fashion brand. Introducing fashion catalogs for ladies in 1912, Spiegel followed American women through thick and thin for the following century. Today, this woman-owned company designs and markets everything about fashion, including sewing equipment.
This company covers its sewing machines with 25 years of limited warranty on the chassis, 2 years on the electronic components, and 1 year for other parts.
You may contact their customer service by sending an email.
What to Expect from Spiegel SP3201 Sewing Machine?
It's always handy to be able to mend and repair clothes, decorate your favorite pieces, or to make your own designs from scratch. With this machine, you can do all of that, and for a bargain. And the quality-price ratio is quite good – with regular maintenance and gentle handling, this machine can last for years.
Pros
Feature-packed with 32 different stitch styles and adjustable weight, length, and tension.
Easy threading with an automatic needle threader and top-load bobbin system.
This unit is very affordable, and it comes from a well-known fashion brand.
Cons
Some parts of the machine are not made from durable materials.
Wrap Up
Spiegel's philosophy is "providing the quality you deserve at a price you can afford", and they didn't let their customers down with this sewing machine either. This is a solid machine that will serve well any beginner or a hobbyist tailor. With a multitude of features, this fashionable unit will help you mend, adjust, decorate and create fashion projects which express your own, unique style.
In this Spiegel SP3201 review, we tried to cover everything you should know if you're interested in getting this model for yourself or your loved ones. If we missed something, or you need help finding some additional information, please let us know in the comment section below!