Sewing patterns are incredibly helpful. Using one can allow even a beginner sewer to create something they can wear with pride. But the fact they're so handy comes at a price – reading and using a sewing pattern can be incredibly confusing.
That's exactly why I decided to make a little guide to help you understand and use a sewing pattern properly. Now, let me be honest – the first couple of times you use a sewing pattern will be very tough, but that's only until you get it all figured out. These diagrams simply contain too much information to be simple to use. But after a couple of projects, you'll be confident enough to not only copy and use a pattern but make alterations and adjustments as well. So, let's push through it and master the craft of using sewing patterns!
Pattern – check; Fabric – check; Notions – check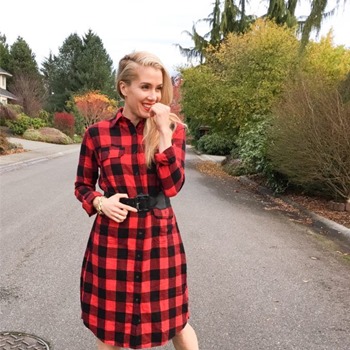 Once you purchase a pattern you like, you can simply continue shopping for everything you need. The outside of the pattern box doesn't only have the helpful line drawings that show you exactly how complex the project is.
They also contain all sorts of information, most importantly including the fabric recommendation and yardage needed for each size, and notions including thread, zippers, buttons, elastic, or anything else the project may require. Don't forget about pins and tailor's chalk – these usually aren't mentioned but you'll surely need them.
When it comes to yardage, the pattern boxes are generally good at giving you the right amount of fabric you need, but it's always recommended to get a bit more because the fabric may shrink in the laundry, or you might simply make a mistake that costs you your nerves and another trip to the fabric store.
The top of the box will tell you what sort of fabric is best used for the project. You don't have to stress about finding the very same type of fabric recommended, but you should definitely try to get something that rocks a similar weight and stretchiness.
TIP: Remember – woven fabrics are non-stretchy, while knit fabrics are stretchy. You don't have to have a serger sewing machine to sew knits. A length of bias tape or a starchy spray can make working with stretchy fabrics far less frustrating.
Once you finally have all you need, it's time to wash your fabric and let it dry. Then you can finally get sewing!
Using a Sewing Pattern
1. Iron
Once you take the sewing pattern out of the box, you'll see what an incredible amount of paper is actually crammed inside! It'll be all wrinkled, which won't make using the pattern much easier. That's exactly why the first order of business is to iron it. Of course, you should avoid using steam.
Iron your fabric as well. This will make the entire process much easier. Do it even though it takes some prep time and isn't all that interesting – it's worth it.
2. Cut Pattern Pieces
From the first glance at the sewing pattern, you'll see that the shape of each piece is outlined in several parallel lines. What are those? Well, it's simple – they're guidelines for different sizes.
If you look closely, you can see which line corresponds to which size. If you're not sure which size suits you, you can refer to a sizing chart that can be found somewhere in the instructions. Once you find the right size, pinpoint the corresponding outline of the garment piece.
You can cut the pattern directly, or get a separate sheet of paper to trace it on, and then cut. Sewing supplies shops usually sell rolls of either dotted pattern paper or transparent parchment paper that's used for these purposes. Trace the outlines and cut if you want to have the pattern for later (or if you're using magazine-issued patterns, which usually have several designs overlapping to save space), or cut the pattern directly.
TIP: Check whether the pattern includes seam allowances or not. If it does, you'll cut the fabric following the same line. If not, you'll need to cut an inch or two wider.
3. Transfer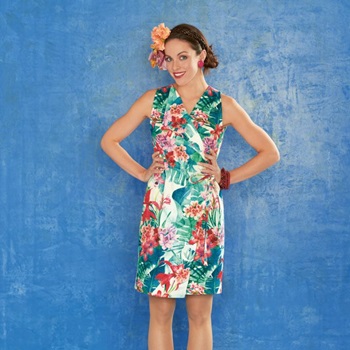 When you get all of your pattern pieces neatly cut, you should spread your fabric on the floor and start laying the pattern pieces on it. Usually, you can find a drawing with the layout that makes the best use of the fabric yardage recommended in the box.
If your pattern is symmetrical, chances are that you should lay it on a folded piece of fabric (so you get two chiral copies of each part). Check whether this is the case in the laying instructions.
Make sure that you lay your pattern pieces following the grain of the fabric. You can usually find a long arrow drawn on each piece of the pattern – it shows the direction in which the grain of the fabric should go. This is an important rule to follow because it makes sure that natural stretching during wear doesn't skew or distort the garment.
Once you find the optimal layout for your pattern, it's time to pin it to the fabric. You're finally ready to grab your tailor's chalk and draw the pattern on the fabric itself. After that, it's just cutting.
4. Sew
Yay! You're finally ready to piece the garment together and stitch it all up!
That's Sew Easy!
Once you nail down the way to read and use sewing patterns, you'll see that it's actually super easy – way easier than trying to plan and create a piece of clothing from scratch. Soon enough, you'll be able to alter and adjust the designs, and finally, start designing clothing of your own – maybe even get an industrial sewing machine and start your own brand – the sky's the limit!